Long-distance hiking is a great passion of mine. I love being able to disconnect and enjoy the beautiful nature around me.
Although I have enjoyed hiking for the majority of my adult life, I developed my passion for long-distance, ultralight hiking after thru-hiking the Appalachian Trail in 2002. Since then, I have hiked the Appalachian and Ouachita Trails, the Pacific Crest Trail and the Colorado Trail, the Alpe Adria Trail, and many other trails in dozens of countries and regions throughout the world ranging from the Alps and the Azores to the Patagonia and the Via Francigena in Italy.
Most recently, I revisited the trail that ignited my love for ultralight hiking: the Appalachian Trail. I decided to do an 18-day hiking trip with a few of my close friends. We hiked almost 200 miles and had such a wonderful time! If you enjoy long-distance hiking, put this trail on your bucket list – it truly never disappoints.
Long-distance hiking comes with many intricacies, so I wanted to share a few important elements of a long-distance hike with you:
Trail Names
Trail names are very popular in hiking and serve a very important function. When you long-distance hike, it's almost like temporarily entering into another universe—one with its own customs, rituals, ethics, and identities. We all live busy lives, and it's difficult sometimes to focus on our physical and mental well-being and truly take in what's around us. Although it may be hard to do, my biggest piece of advice for when you're out on the trail is to allow yourself to leave your other identity (and stresses) behind and embrace a new identity that your trail name represents.
Before I thru-hiked the Appalachian Trail in 2002, I had done quite a bit of research. I discovered that all thru-hikers eventually are given a trail name and many of them are far from flattering. I decided to avoid the fate of an unwanted trail name and gave myself one—"Strider". One of my favorite characters in Lord of the Rings is Aragorn, also known as Strider, and I thought this would be a good name for me. I have used it ever since! I also discovered that I'm far from the only person who took this trail name … many other thru-hikers use the same name.
I have given several people trail names over the years. Some of them include: "Gorilla," "Rocket Man," "Captain Backtracker," "Jack Reacher," "Bella," "Ma," and "The Legend". All have their own backstory.
Hike Plan
When preparing for a long-distance hike, creating a hike plan is a necessity. This helps me plan out how many miles I'll be hiking, locations I'll be visiting, and other lodging and food accommodation details. A long-distance hike can get complex, and planning in advance or entrusting someone to help you organize is so important. This is not the occasion to "wing it" – especially if you aren't experienced and/or familiar with the trail.
This was my hike plan for my recent hike on the Appalachian Trail:
Total Miles Hiked: 186.3 Miles
Miles Hiked Per Day: 14.33 Miles
Days of Hiking with Full Packs: 9 Days
Days of Hiking with Day Packs: 4 Days
Nights Camping: 6 Nights
Zero Days: 3 Days
Nights in Blacksburg: 6 Nights
Nights in Roanoke: 5 Nights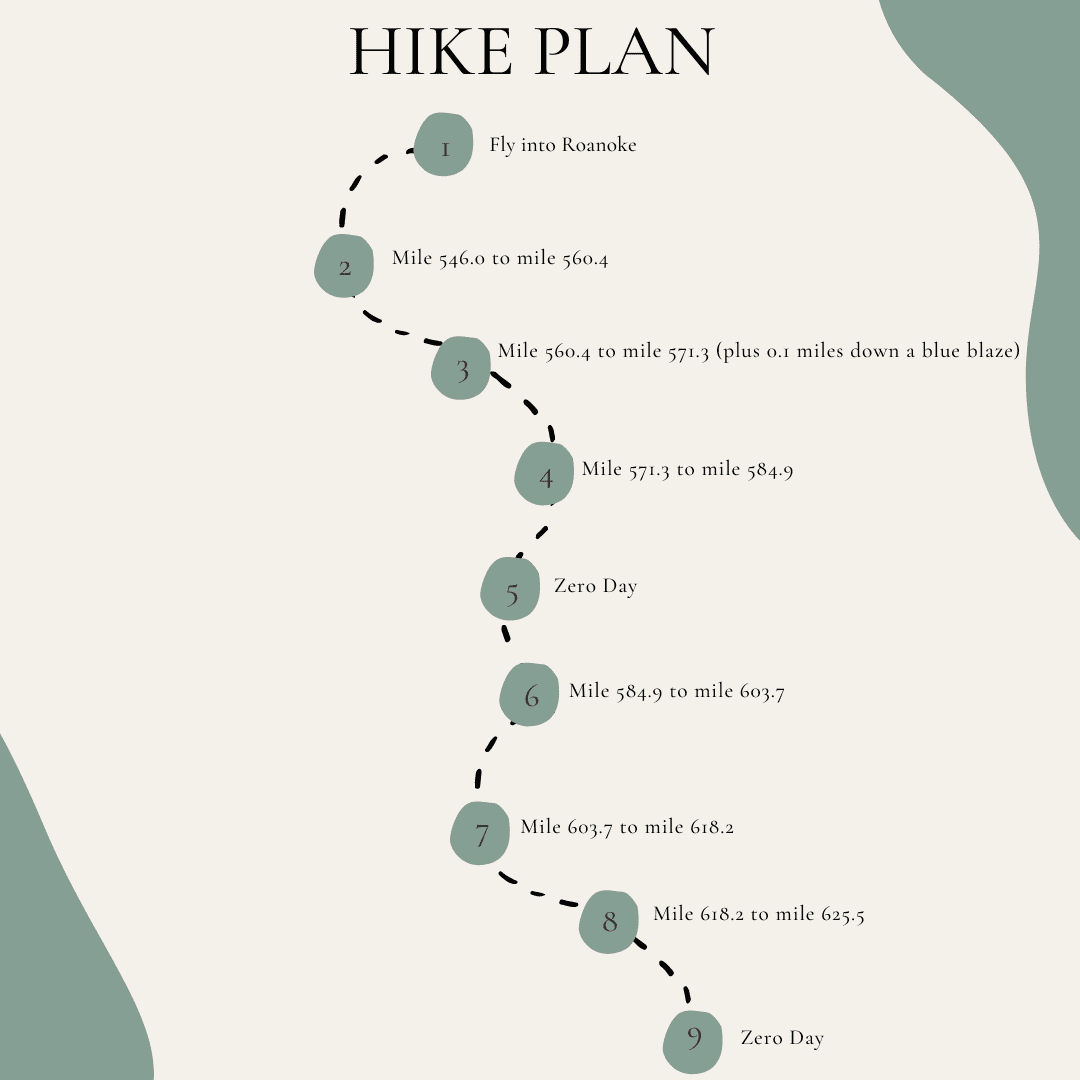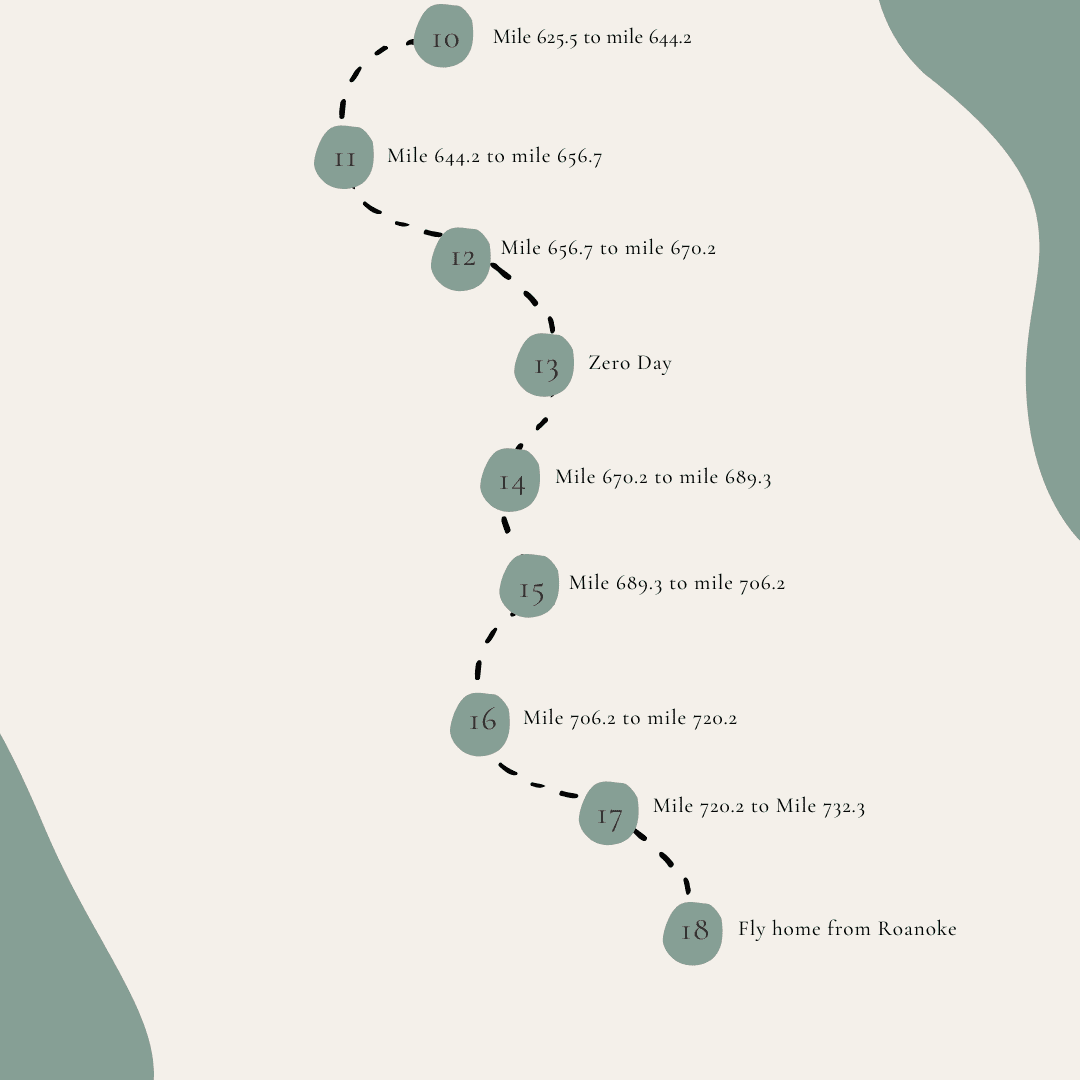 Gear List
Now I want to talk about the value of creating a detailed gear list. Long-distance hiking involves a lot of preparation, especially if you're an ultralight long-distance hiker like me. Most successful long-distance hikers aim to get their base weight under 10 pounds, so it's important to know the weight of each item you're packing to make sure that you're staying light. I find making a gear list in Excel really helpful. It helps me stay organized and keep track of every item I am packing and its weight.
Some gear lists will have more items than others depending on how long the hike is and whether or not I'm camping all of the days or staying in town for some. My recent hike on the Appalachian Trail included several days of staying in town (not camping), so I was able to pack a bit lighter.
Click here to take a look at my gear list for this hike.
Trail Eats
Lastly, I want to talk about the snacks I pack on a long-distance hike following a whole foods, plant-based diet. I want to preface: what I eat on the trail does not represent my healthiest eating. When ultralight hiking, you have to account for the weight of the item and its relative nutrient density. You also have to keep in mind that you're burning a large number of calories compared to your every day, so you have to eat more calories than you normally do as well. 
Some of my favorite trail snacks are oil-free granola (I prefer PlantStrong), granola bars (I enjoy Pro Bars), fresh produce (apples, bananas, avocados, etc.), hummus, whole grain crackers, and nuts. I also love to make my own trail mix! I typically start with one of Whole Foods' packed trail mixes called "Strider's Trail Mix" which includes raisins, almonds, cashews, hazelnuts, and walnuts. I then turn it into "gorp" by adding additional ingredients. These other ingredients vary, but I typically like to add more raisins, vegan chocolate chips, dried banana chips, baked crackers, dried mango, peanuts, and whatever other munchable foods strike my fancy. It may not be the "fanciest" food, but everything tastes amazing when you're on the trail and super hungry.
Tip: Make sure to prioritize eating your fresh produce first before it goes bad. Save the non-perishables for later.
And now you're off!
If you'd like to learn more about some of my favorite reads from the hike, click here. Or if you're new to hiking and interested in getting started, click here to read my advice for an aspiring long-distance hiker.