I was born and raised in Houston and had a pretty typical middle class American childhood during the 1950s and 1960s.
My dad worked as an accounting professor at Rice University until I was about 10 and then went into the corporate world. My mom stayed at home and looked after me, my brother, and my sister. I loved sports of all kinds, especially baseball and basketball. I was smart and did well in school. I also happened to be kind of small, so I encountered my fair share of bullies growing up. I was raised on the standard American diet. The only vegetable I enjoyed as a kid was a potato…funny how that would change! I attended Trinity University in San Antonio and University of Texas at Austin, but I never actually graduated. I didn't like being forced to read books and study topics I wasn't interested in, so I decided to only take elective classes in subjects I liked – philosophy, religion, psychology, world literature and history. By the time I left school for good I had about 120 credits and no degree.
1976: Food consciousness was born
I moved into a vegetarian housing co-op named Prana House when I was still at UT and about 22 or 23 years old. I was not a vegetarian. I really didn't know anything about food at that time, but I was interested in all-things counterculture. I also thought I would meet cool people. This turned out to be true since I met my girlfriend and future co-founder of both Safer Way and Whole Foods, Renee Lawson, there. I learned to cook, started to enjoy eating vegetables, and got so into food that I even became the buyer at the co-op. This is the moment when my food consciousness was awakened!
1978: Finding your purpose
Renee and I left Prana House soon after Safer Way opened, primarily because we were so busy working that we didn't have the time to spare for the co-op any longer. I thought it would be fun to start a natural foods store of our own, and thankfully, Renee agreed. We managed to scrape together $45,000 from family and friends to open Safer Way, a natural foods store in Austin, Texas (a play on Safeway – get it?). We were soon evicted from our rental duplex for using it as a warehouse for the store, so we began living at Safer Way on the third floor above the store.
I had a lot to learn about business and pretty much everything that I thought I knew was proven to be wrong in the first year of Safer Way. In year one we managed to lose half of the capital entrusted to us and despite the losses, anti-business people (including some of my former co-op pals) accused us of being greedy and selfish by exploiting our customers with high prices and our Team Members with low wages. That view of capitalism felt totally off base and unfair to me. We were barely getting by, and I certainly didn't think that by being an entrepreneur, I was inherently a greedy person. Safer Way taught me that that business isn't based on exploitation and coercion, but rather cooperation and voluntary exchange. The narrative that business is a zero-sum game with a winner and loser was wrong and I was going to prove it. This moment was a major unlock for me.
1980: Building a business and becoming a capitalist
In 1980, Renee and I approached another local natural grocery store, Clarksville Natural Grocery, about joining forces. It was owned by Craig Weller and Mark Skiles. We merged our two stores and the four of us opened the first Whole Foods Market on September 20. The store was 10,500 square feet and had a staff of 19. One key difference with this store was the product mix. Since we wanted to appeal to a larger potential audience of customers, we began selling meat, beer, and wine. Within six months, Whole Foods was the highest-volume natural-food store in America.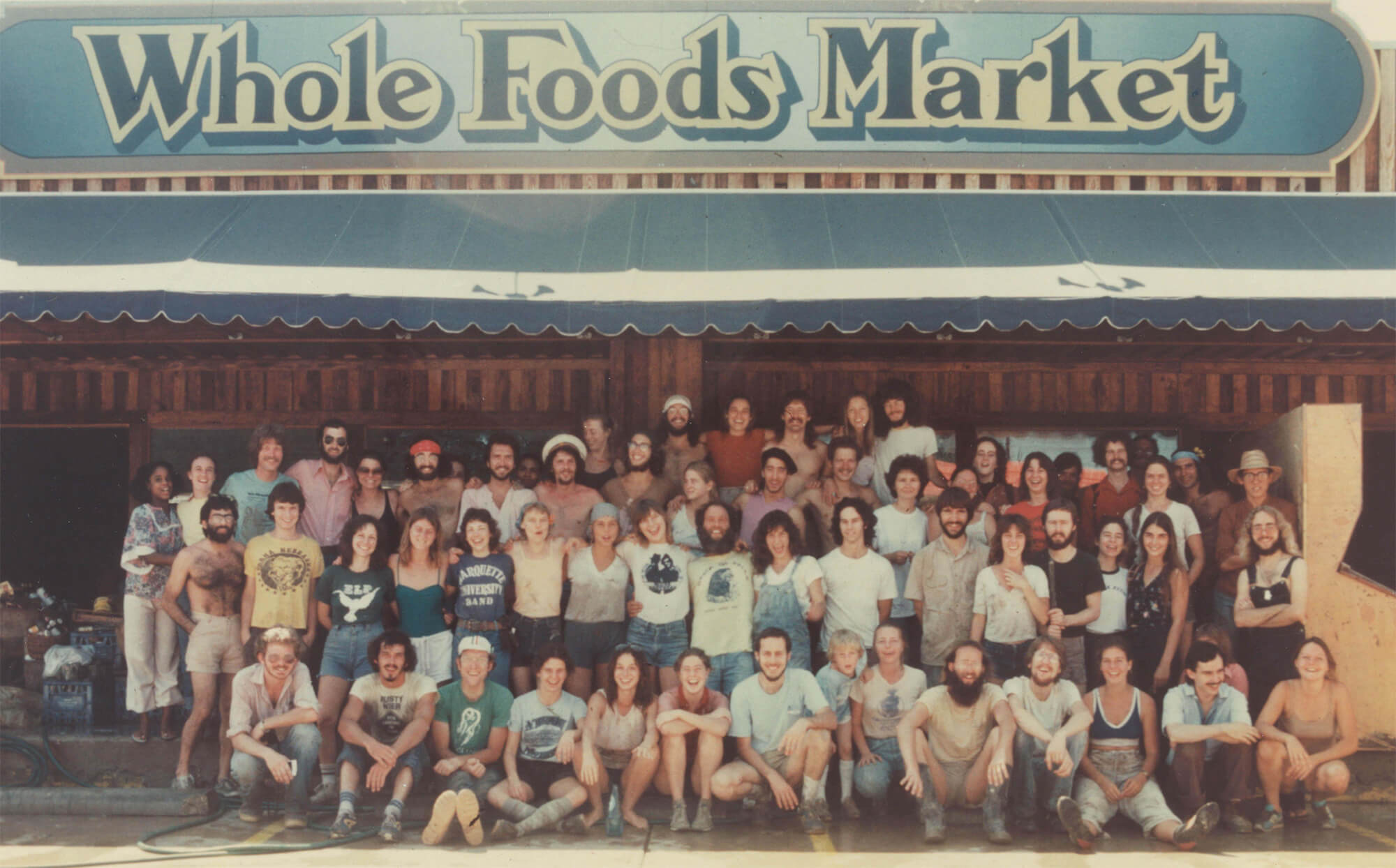 1981: The power of stakeholders
On Memorial Day one year later, what's known as the "100-year flood" ripped through Austin and severely damaged the store. Everything was destroyed and the water was so high that Renee literally had to swim out of the building. I thought that this was the end and that would never recover given the extensive amount of inventory and capital that was lost. But, after just 28 days we were back in business. Why? Because our customers, suppliers, friends, family, and community all pitched in to help us. Recovery would not have been possible without them. This was the first moment I recognized the importance of the stakeholder model (although I didn't have that language back then) and experienced the power of love in business.
1980s Expansion: Slow but steady growth
From 1982 – 1989 we opened a total of seven stores, including two additional Austin stores, and our first locations in new cities including Houston (Shepard, 1984), Dallas (Greenville, 1986), and New Orleans (Esplanade, 1987). In 1989, Whole Foods made its first move out to the West Coast in Palo Alto, California, where the natural and organic movement was already booming. This was a pivotal moment for the company and sparked growth in markets across the state of California. To fuel all this growth, we had to raise money. We ended up selling 34 percent of the business for $4.5 million, which at the time was about 10 percent of sales at the time.
During this time, we also went through a "values clarification" process with an outside consultant that resulted in the company's Declaration of Interdependence being written. Originally created by 60 Team Members who volunteered their time in 1985, it has been updated in 1988, 1992 and 1997, and 2018. Our Declaration of Interdependence reflects the hopes and intentions of many people. We do not believe it always accurately portrays the way things currently are at Whole Foods Market so much as the way we would like things to be.
1990: Berkeley Store and Labor Unions
We opened our Berkley, CA store in 1990, which was really my first eye opening experience with labor unions. We were picketed by a union for 18 months despite our Team Members lack of interest in joining a union.
1992: Think bigger – the IPO
We had ten stores at this point and cash constraints continued to be a problem. We needed a solution. The VC money we previously raised was gone and I didn't want to do another round of venture capital fundraising because it would have resulted in giving majority control of the company to the VCs. So, we decided to take the company public and get the VC hitchhikers out of the car.

The day of the IPO was one of the happiest days of my life! With an initial public offering price of $17 per share, our IPO raised $28 million valuing the company at $100 million. I felt like I had delivered to all my friends, family, and Team Members who had believed in both our purpose and my leadership. We had provided liquidity for all of them, and they were free to sell their stock and gain wealth. Eventually many thousands of them did, which created tangible wealth for themselves and their families.
From here, we began acquiring numerous additional natural foods chains, including Bread & Circus – the Northeast's largest natural food retailer and Mrs. Gooch's in Los Angeles. These were the two most important acquisitions we ever did because of the intellectual capital we gained in perishables and the tremendous influx of talented leaders who joined our team and helped take Whole Foods to the next level.
You can see a full list of the acquisitions Whole Foods made here.
I had moved to Boulder with my wife, Deborah, to work on wholepeople.com, which was an online business that merged wholefoods.com and Amrion, a vitamin company we had acquired in 1997. This venture ultimately failed because it was too expensive to operate, and the market wasn't ready for this type of service yet. We had raised $30M from VCs to fund the business, but we exited the business and took the write-off. I was very disappointed, but the experience gave me a greater sense of humility, which was important for my growth as both a person and a leader.
I discovered the physical and spiritual joys of long-distance hiking—a passion that has since led me thousands of miles on some of the world's iconic trails. I was in New York headed downtown on 9/11 when the Twin Towers were attacked, and the experience reminded me of the brevity of life. I took a five-month sabbatical from Whole Foods and hiked the 2,160-mile Appalachian trail. This experience brought about a deeper awakening of the importance of health and fitness.
2003: Wisdom from the critics
Up to this point, I considered myself well-informed on animal husbandry and believed that Whole Foods had rigorous standards that were best in class. At our annual shareholder meeting, I quickly discovered that I was wrong. For anyone who has ever led or attended this type of meeting, you know that it is common to have protestors onsite. We had several disruptive individuals present during our meeting from various animal activist groups. As I was walking out of the meeting, I was approached by a woman from VIVAUSA, Lauren Ornelas, who was one of those individuals. She told me that I was well-intentioned but misinformed about the animal welfare practices of our suppliers and challenged me to learn more.
After a summer of reading a dozen or so books to educate myself on the livestock industry and animal welfare, I learned that she absolutely was right. There was a lot I needed to learn and many things I needed to change. I personally began practicing a vegan diet for ethical reasons as a result of this conversation. This experience also catalyzed a conscious evolution to elevate our animal welfare standards at Whole Foods. We had our first multi-stakeholder meeting later that year with animal activists, ranchers, animal scientists, and leaders from Whole Foods to begin upgrading our standards. This ultimately led to higher standards for animal welfare at the company and the creation of the Global Animal Partnership (GAP).
At Whole Foods we always felt that we had a responsibility to support all the communities around the world where we trade. We created Whole Planet Foundation with the ambitious goal to help alleviate poverty through micro-lending programs in the countries where we source products. This work was inspired by the ground-breaking work of Muhammed Yunis in Bangladesh and his book, Banker to the Poor, where he wrote about his experiences.
We founded Whole Kids Foundation in 2011, which supports childhood nutrition through school salad bars, school gardens, and nutrition education for teachers, followed by Whole Cities Foundation in 2015. Whole Cities was created to help improve individual and community health through collaborative partnerships, education, and broader access to nutritious food. These nonprofits were a natural extension of Whole Foods Market's higher purpose and have made a tremendous impact in the communities we serve, both domestically and internationally.
2007 & 2008: Navigating the Great Recession
Whole Foods was hit especially hard by the stock market collapse, losing an incredible 90 percent of our overall stock. Our stock dipped down to $3.25 a share (split adjusted) and we were valued at only about twice our EBITDA. This was a scary position to be in for the company and we were worried about potential activist shareholders. We decided to take in some "friendly" capital from a private equity firm, Leonard Green. Fortunately, the market turned around in 2009 and we saw our stock regain most of its value during 2009 and 2010.
This is also the year that we acquired a longtime rival, Wild Oats, a merger that the FTC tried to block. This was a costly and unpleasant battle for Whole Foods, and it was also a difficult time for me personally. The SEC launched an investigation of me for my postings on the Yahoo! Financial Bulletin Boards under the screen name "rahodeb". Although I was posting from a personal account, this experience taught me that my actions are always associated with Whole Foods, which I talk about here.
Various mergers and acquisitions allowed us to build infrastructure and scale. We grew extremely rapidly, with our same store sales averaging about 8% for our first 35 years. In October, our stock price peaked at $65.24. This year not only represented the high-water mark for Whole Food's market cap at $24 billion, but also the year Raj Sisodia and I published Conscious Capitalism, which became a New York Times and Wall Street Journal best-selling book. The book details the ways in which businesses and capitalism can be a force for good in the world. It outlines four specific tenets—higher purpose, stakeholder integration, conscious leadership, and conscious culture and management—that help build strong businesses and foster a more positive culture across organizations.
You can read more about it here.
Times were good, but that would soon change as Whole Foods moved into a very challenging period, which would include softening comps and a steady stream of negative publicity that was harmful to the company's reputation. We really started to feel the pressures of competitive pricing in 2015 when conventional grocers started to focus on natural and organic products and creating their own lines of private label products. Our competitors now had many of the same products we carried and were underpricing us, which caused same-store-sales to slow and eventually turn negative. Whole Foods was trapped by the short-term demands of the quarterly earnings cycle as our stock declined and the company became the target of shareholder activists.
2017: Find the win-win-win
Jana Partners announced it has purchased 8.4% percent of Whole Foods stock on the day I was supposed to launch my new book, The Whole Foods Diet, in New York City. We were blind-sided – the company was under attack. Our leadership team debated many options – take the company private, try to sell to another grocer, fight Jana, or see if a very rich private investor such as Warren Buffet might be interested (he wasn't). Nothing felt right and I was very, very worried about the fate of Whole Foods. Then, one night I had a dream that Amazon bought Whole Foods. The next morning, I knew I had found a win-win-win solution! It was Amazon. You can read the note that I sent to Whole Foods team members explaining the decision here. Amazon announced it will acquire Whole Foods for $13.7 billion, with the deal closing on August 28. The first thing we did was announce price cuts for hundreds of products across our aisles and announce Prime Benefits at Whole Foods, which made huge news.
Once the merger was complete, Whole Foods and Amazon began the process of consciously working together. As with any new relationship, it took some time to figure out how things were going to work. The most important thing I needed to help navigate as CEO was ensuring Whole Foods evolved in a way that preserved the company's unique culture and didn't compromise our commitment to quality. While Amazon didn't want to change our culture or control our operations, many leaders were apprehensive about how things would change for them and their teams. Having a framework for how to approach leadership was more important than ever.
In September 2020, I published, Conscious Leadership, a follow-up to Conscious Capitalism. Conscious Leadership, a Wall Street Journal best-selling book, answers the question: how can I become a more effective leader and be the best version of myself? It builds on the vision, virtues, and mindset from my own experiences to provide a road map for innovative value-based leadership – in business and in life. You can read more about it here.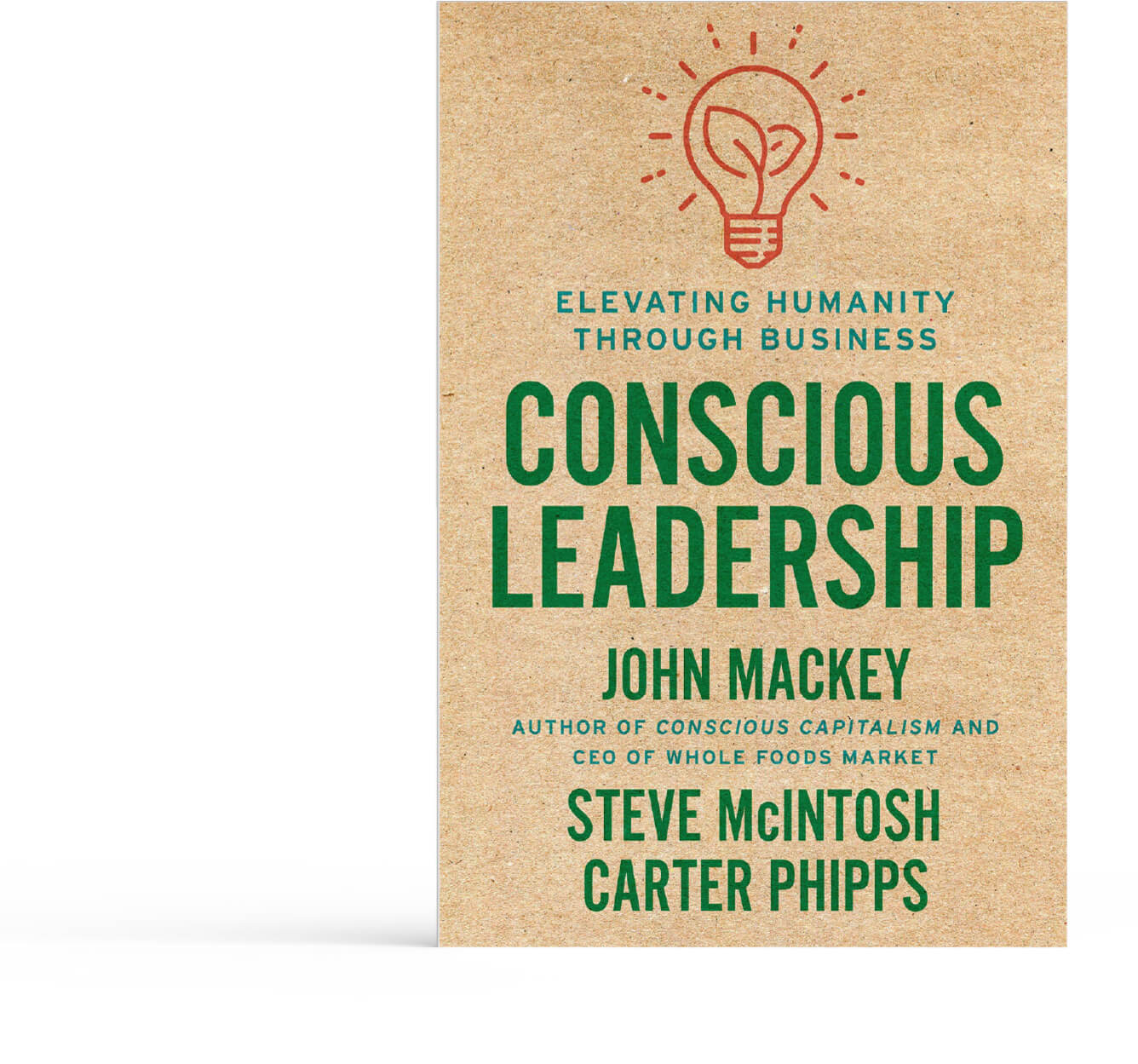 2022: Fulfilling my new higher purpose
When I retired on September 1st, Whole Foods had grown from a single store in Austin, Texas, to 540 stores in the U.S., U.K. and Canada with annual sales exceeding $22 billion and more than 105,000 Team Members. You can read more about my decision in the letters I wrote to Whole Foods
here
.
The Whole Foods Story Video.