Who doesn't love brunch? It combines the best flavors of both breakfast and lunch and is the perfect meal for a slow-starting, relaxed Sunday morning. When people think of brunch, they envision eggs, breakfast meats like bacon, sausage, and ham, pancakes and waffles, and sandwiches. You might be thinking, how can I enjoy brunch on a whole foods, plant-based diet when traditional brunch foods involve so many meat and dairy products? Luckily, there are so many delicious and nutritious whole foods, plant-based brunch options that you're guaranteed to love!
Here are a few ideas: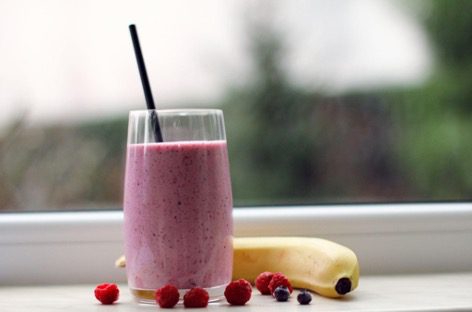 Fresh Juice and Smoothies
Who doesn't love a delicious glass of freshly squeezed orange juice with brunch? Fresh juices and smoothies are a great addition to your whole foods, plant-based brunch menu because they add a fun, colorful element to your brunch spread. There are so many fruits and vegetables that can make delicious and nutritious fresh juice (don't be afraid to combine them!). The same holds true for smoothies – they are nutrient-packed and can be as simple or as complex as you want. I find that my smoothies are extra creamy and delicious when I include healthy, homemade nut milk. My favorite is unsweetened vanilla almond milk. To learn more about what I put in my smoothie, click here.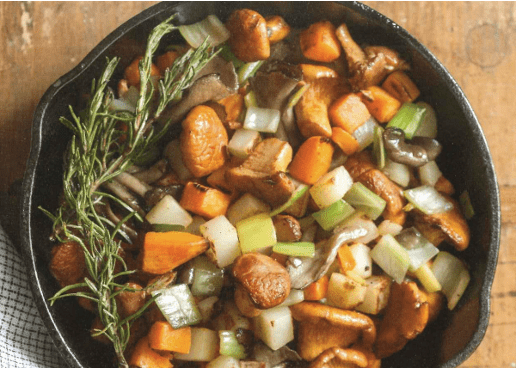 Savory Scrambles
Don't worry – a savory breakfast scramble can be filling and incredibly flavorful without traditional ingredients like eggs, breakfast meats, and cheese. From tofu scrambles to the Pacific Northwest Mushroom hash you see here, the possibilities of ingredient combinations, spices, and sauces are limitless! Choose a variety of vegetables, add your preferred potato (or several), throw in some tofu, tempeh, or beans, season generously, and pair it with your favorite whole foods, plant-based, oil-free sauce and you'll have a delicious, comforting, and good-for-you dish.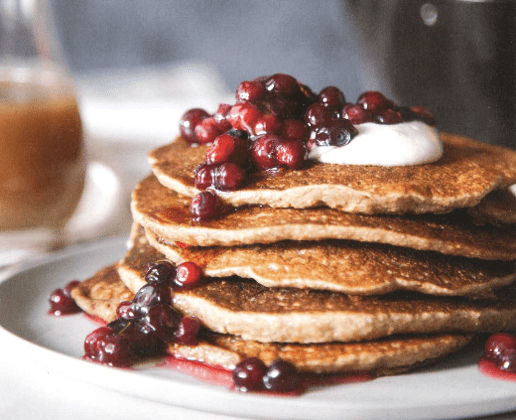 Sweet Bites
Don't sacrifice satisfying your sweet tooth! Sweet dishes like pancakes, waffles, french toast, and pastries are a delicious part of any brunch. The good news is that you can still enjoy these dishes on a whole foods, plant-based diet – you simply have to opt for healthier ingredient choices. For example, using whole wheat flour rather than traditional white flour, dates or date paste rather than granulated sugar, or unsweetened applesauce rather than eggs. With a few simple substitutions, you can enjoy your favorite sweet brunch dishes on a whole foods, plant-based diet.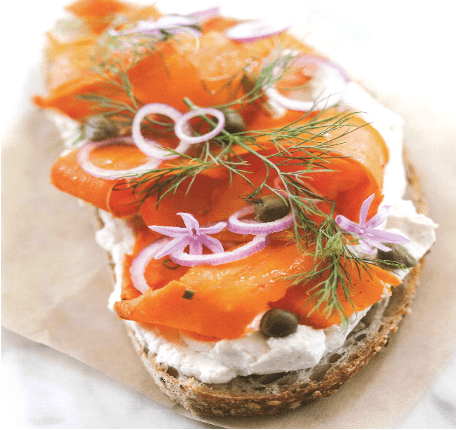 Toast Multiple Ways
Toast is a classic brunch dish and can be enjoyed savory or sweet. From topping with nut butter and fresh fruit to a classic avocado toast to a more elevated dish like the Carrot Lox Tartine with Cashew Cream Cheese, Capers, and Shallot you see here, a slice of low-sodium, whole-grain bread can serve as a delicious and nutritious vessel for a range of different spreads and toppings.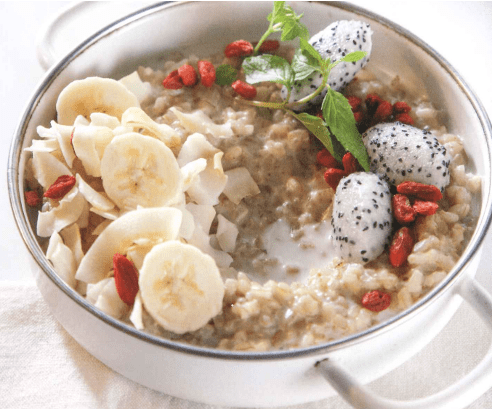 Build-Your-Owl Bowl
Building your own bowl is always a great option because it can be breakfast-oriented (oatmeal bowls or dairy-free yogurt bowls) or lunch-oriented (grain bowls or salads). This is an especially good option for brunch if you're entertaining because they are very customizable. I find that this works best when you prepare all of the ingredients, lay them out in an assembly line format, and let your guests have fun creating their own unique bowl.
My personal favorite brunch bowl is an oatmeal bowl with steel-cut oats as the base. I love to top this with fresh, organic berries (blueberries, blackberries, raspberries, and strawberries), a banana, and organic unsweetened almond milk. Sometimes I'll also add freshly ground organic flax and chia seeds too.
Brunch Quick Tip
Since brunch often involves an array of different dishes, it can be tricky to get your timing right and have everything ready at the same time. A great way to stay ahead is to prepare what you can the night before. I find it helpful to make things like pancake or zucchini bread batter in advance so I can simply bake or cook it in the morning. Cutting up all the fruits and veggies I plan to include in my dishes the night before also saves me lots of time.
For more simple, nutritious, and delicious whole food, plant-based meal ideas, and recipes, check out my cookbook!