Long-distance hiking is a passion of mine. I love being able to disconnect and enjoy nature. I decided to do a 10-day hiking trip in Slovenia in September 2021. Put Slovenia in your future travel plans, because this is an incredibly beautiful country with wonderfully kind people. We had a few hikes on this trip on the Alpe Adria trail and our guide, Doman, told me that it started in Austria at a glacier and ran 466 miles from there down to the Adriatic Sea in Italy. I was fascinated by it! I had never heard of this trail before and discovered that it is a relatively new trail– only about 10 years old. I decided it would be the perfect way for me to retire from Whole Foods and transition out of the company. After co-founding and leading the company for 44 years, this was no easy task. Whole Foods has been a major part of my life and saying goodbye has been extremely difficult for me. Getting totally absorbed in hiking a trail was the perfect way for me to transition my life to focus on my new adventures.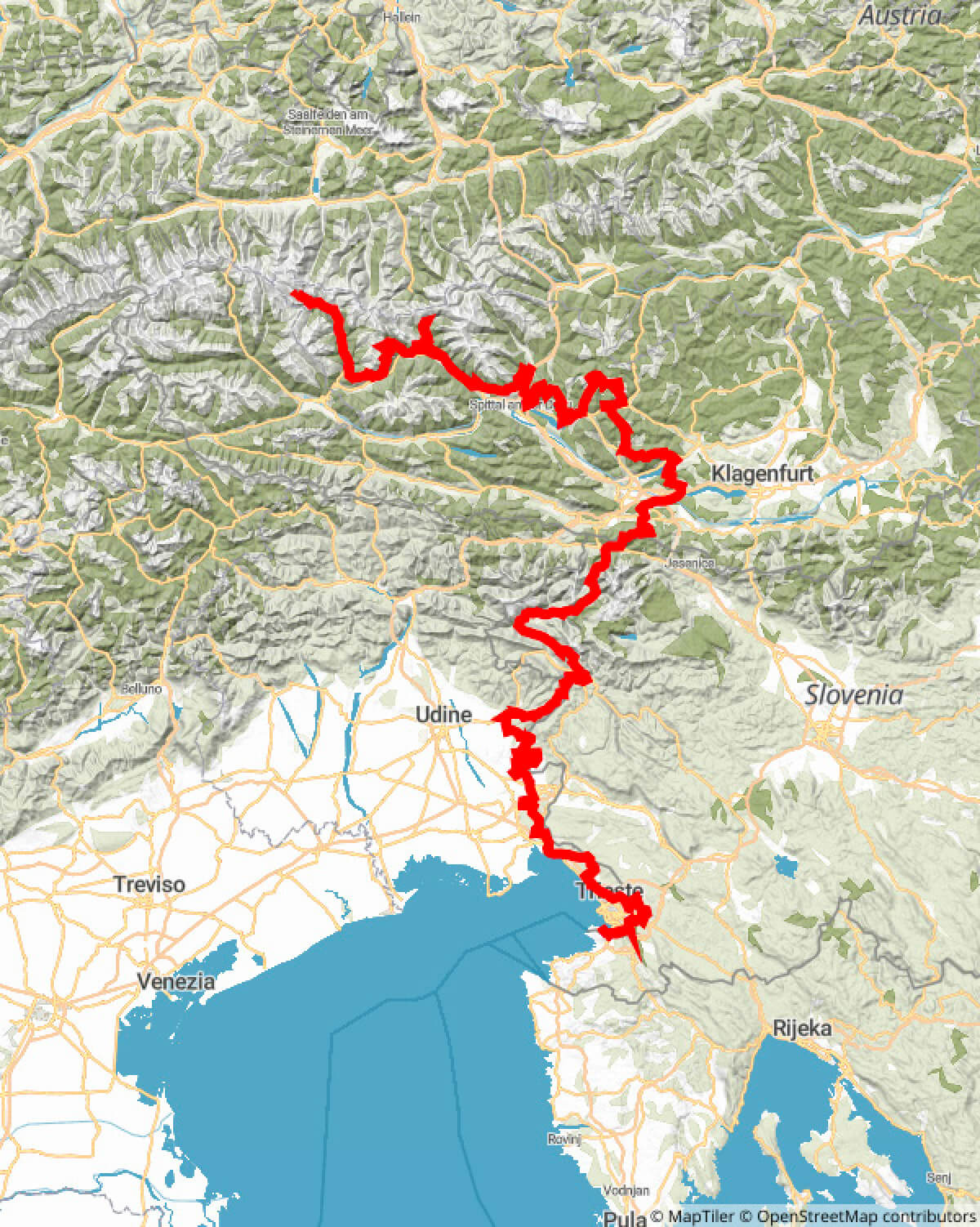 The Alpe Adria Trail was named among the seven best trails in the world by National Geographic Traveller. It begins at the foot of the highest mountain in Austria, the Grosslockner at Pasterze glacier, and it ends in Italy at the Adriatic Sea. The trail runs 466 miles long and consists of 43 stages, traveling through Austria, Slovenia, and Italy.
I hired my good friend Kathy Dragon to help organize this trip. She has created a wonderful travel company she named Whole Journeys. This trip wasn't easy to organize because no camping is allowed on this trail so we needed to have lodging and food provided every day. In addition, I have four friends who planned on hiking the entire trail with me – Evening, Heath, Glen, and Francie – plus 20 other friends who would join for different sections of the hike. There were tons of logistics to work out and Kathy did an incredible job! Over the past 26 years, she has organized about 20 trips for me all over the world.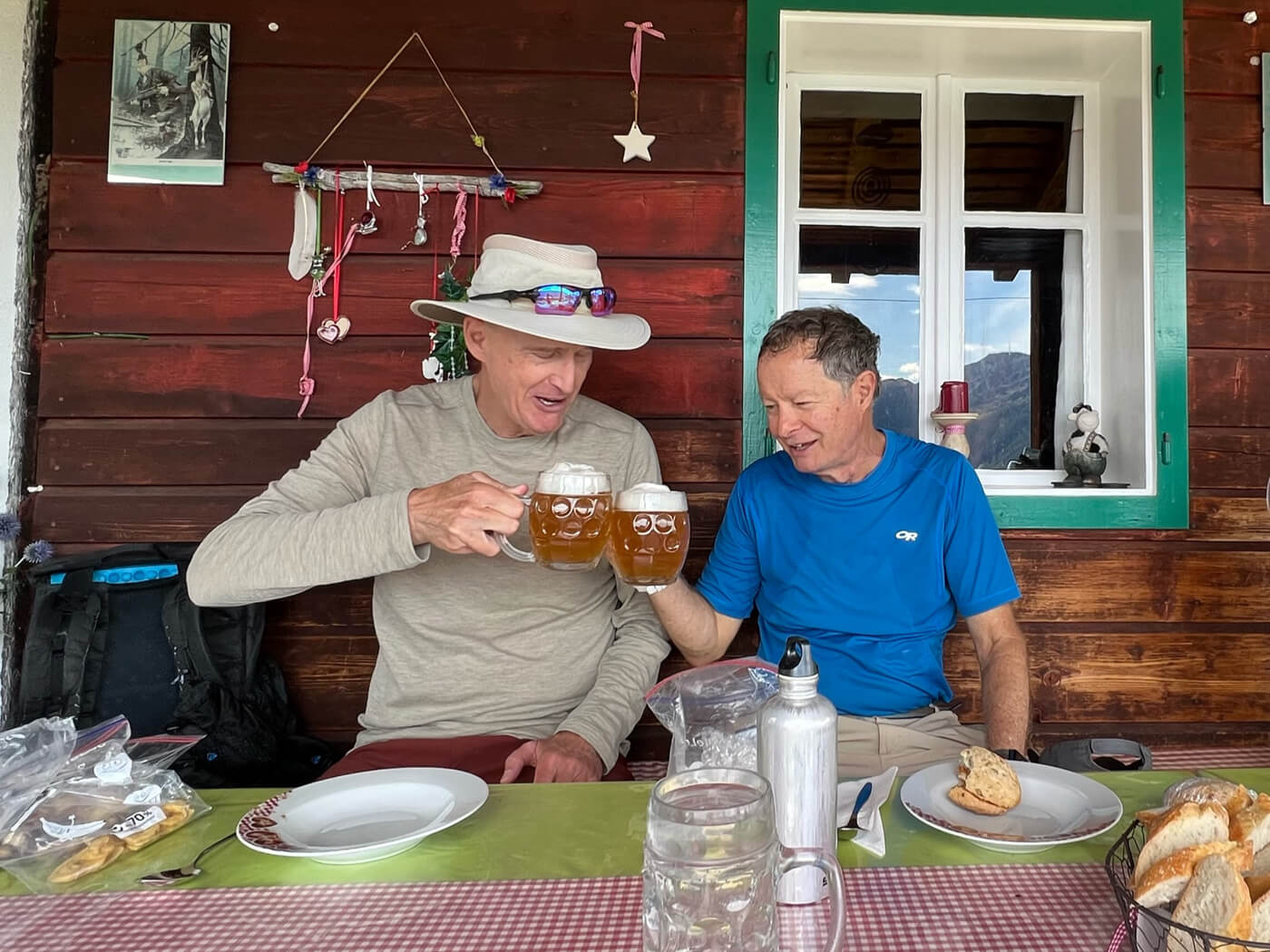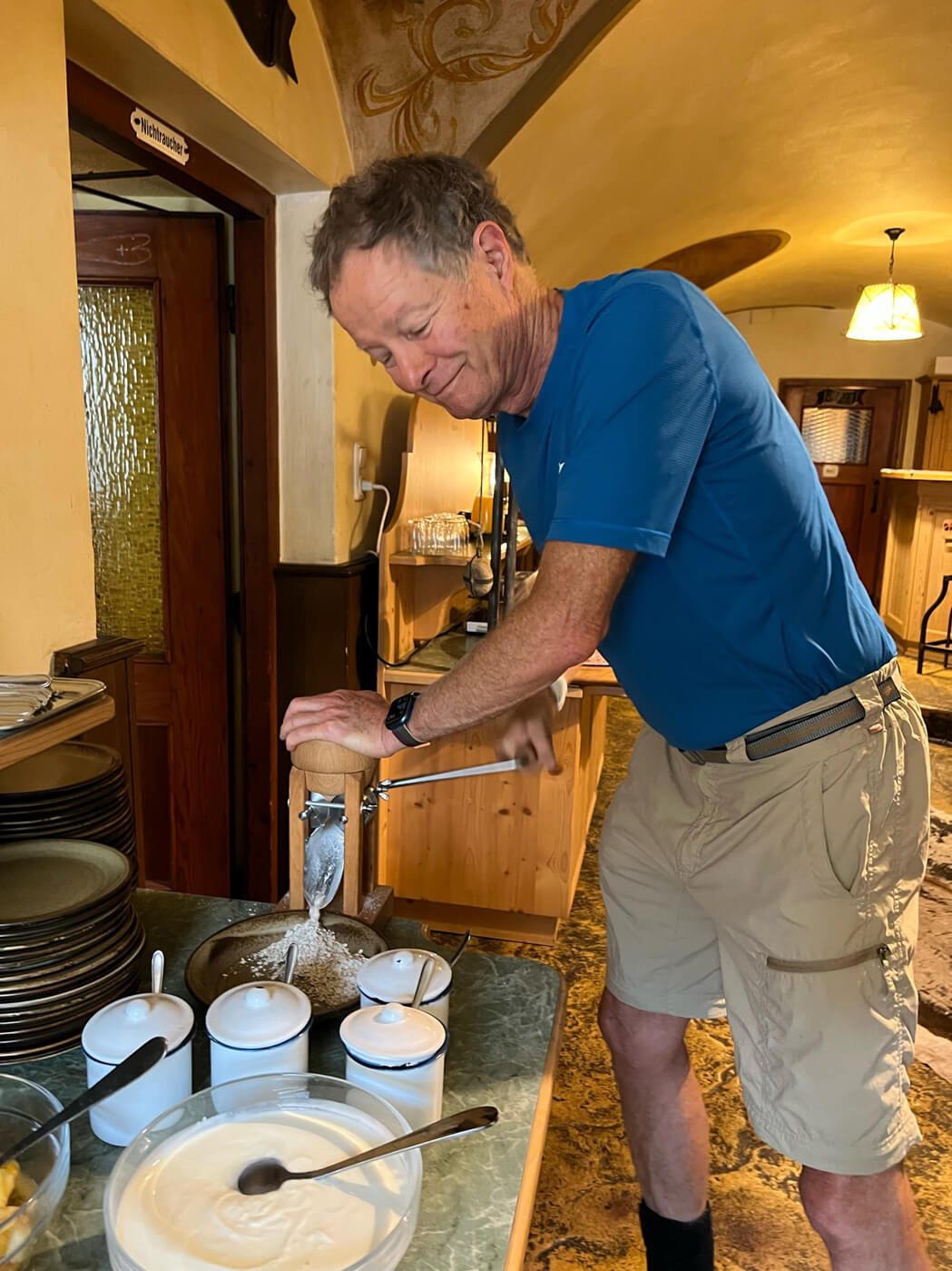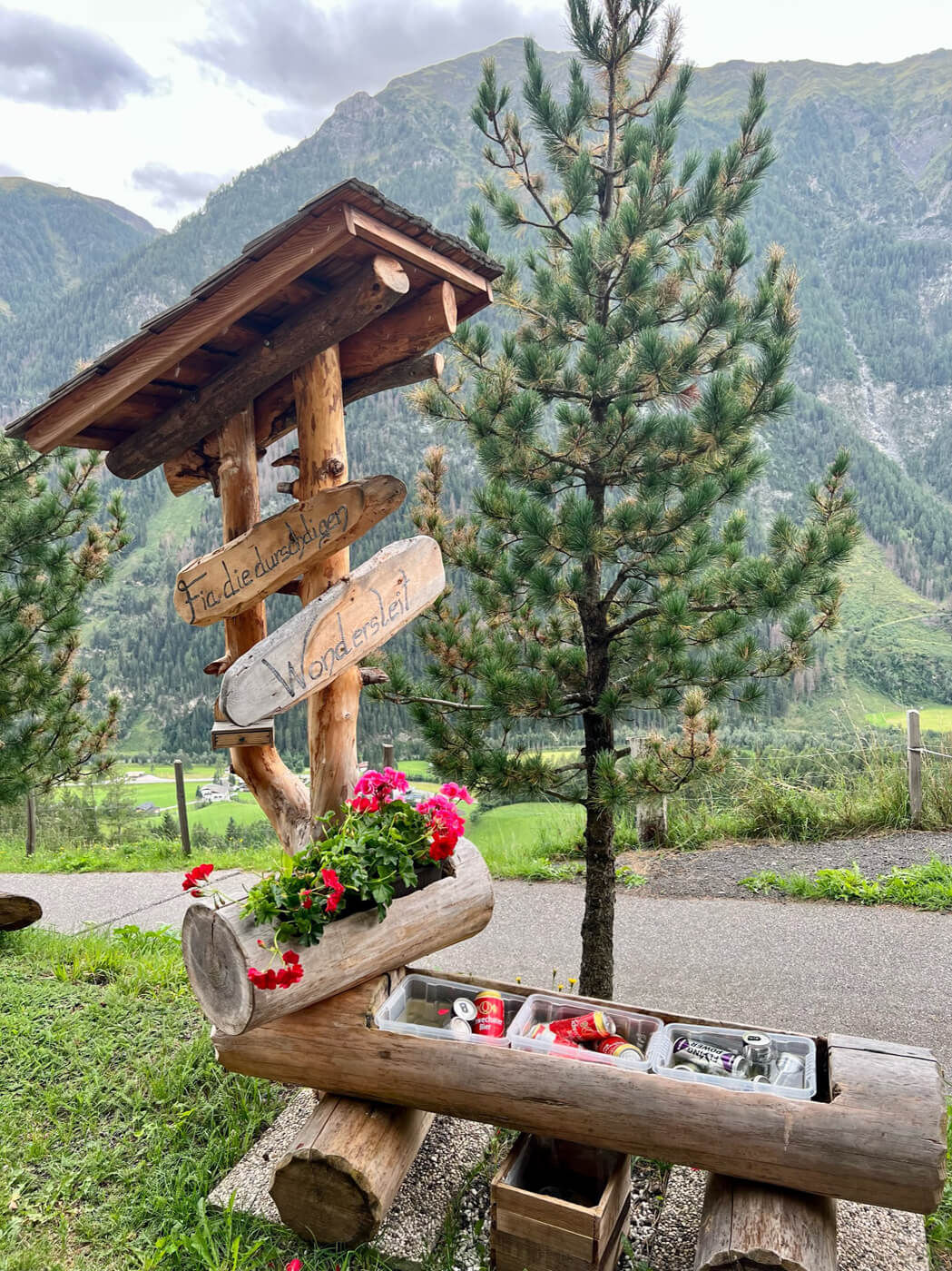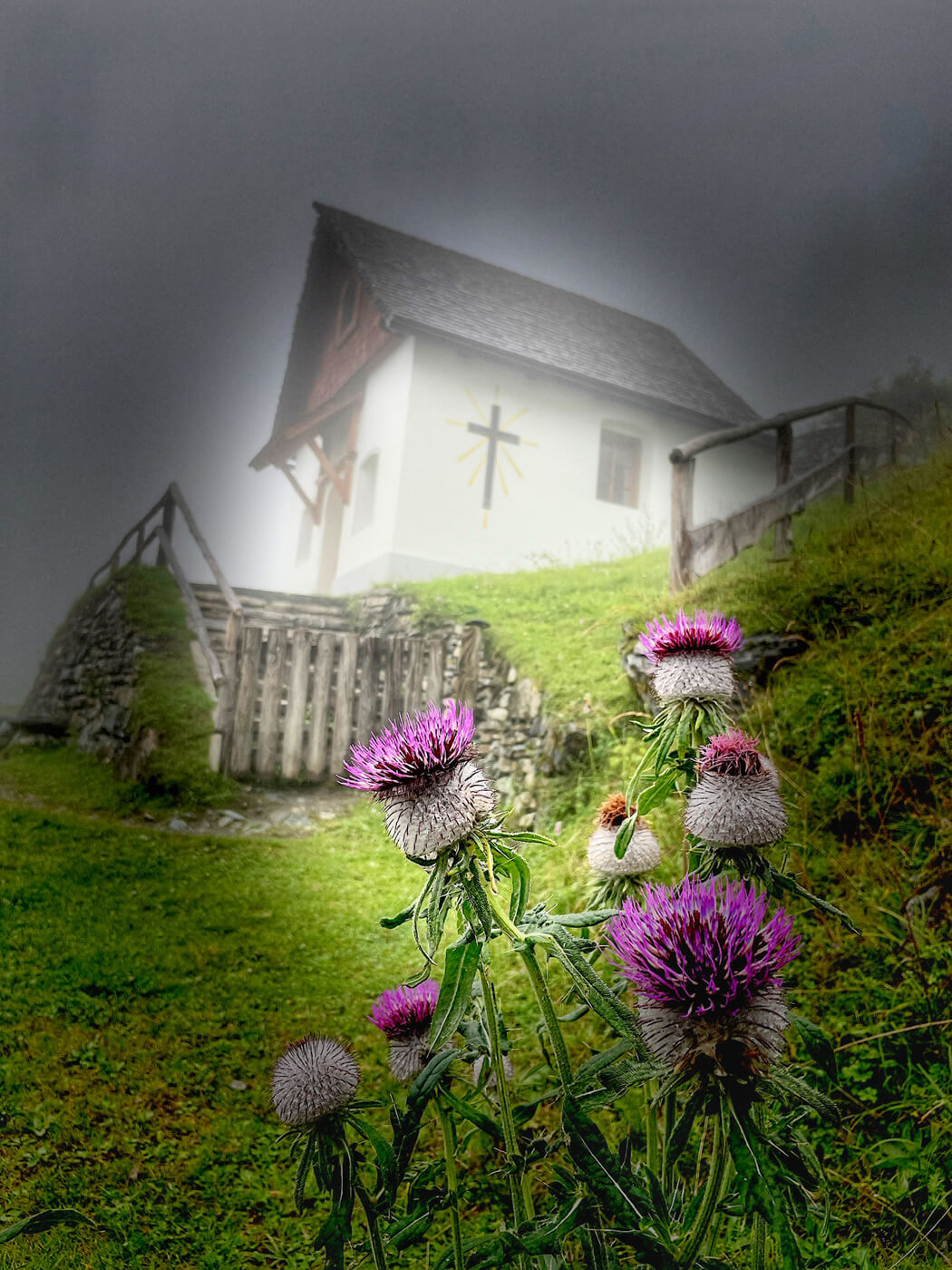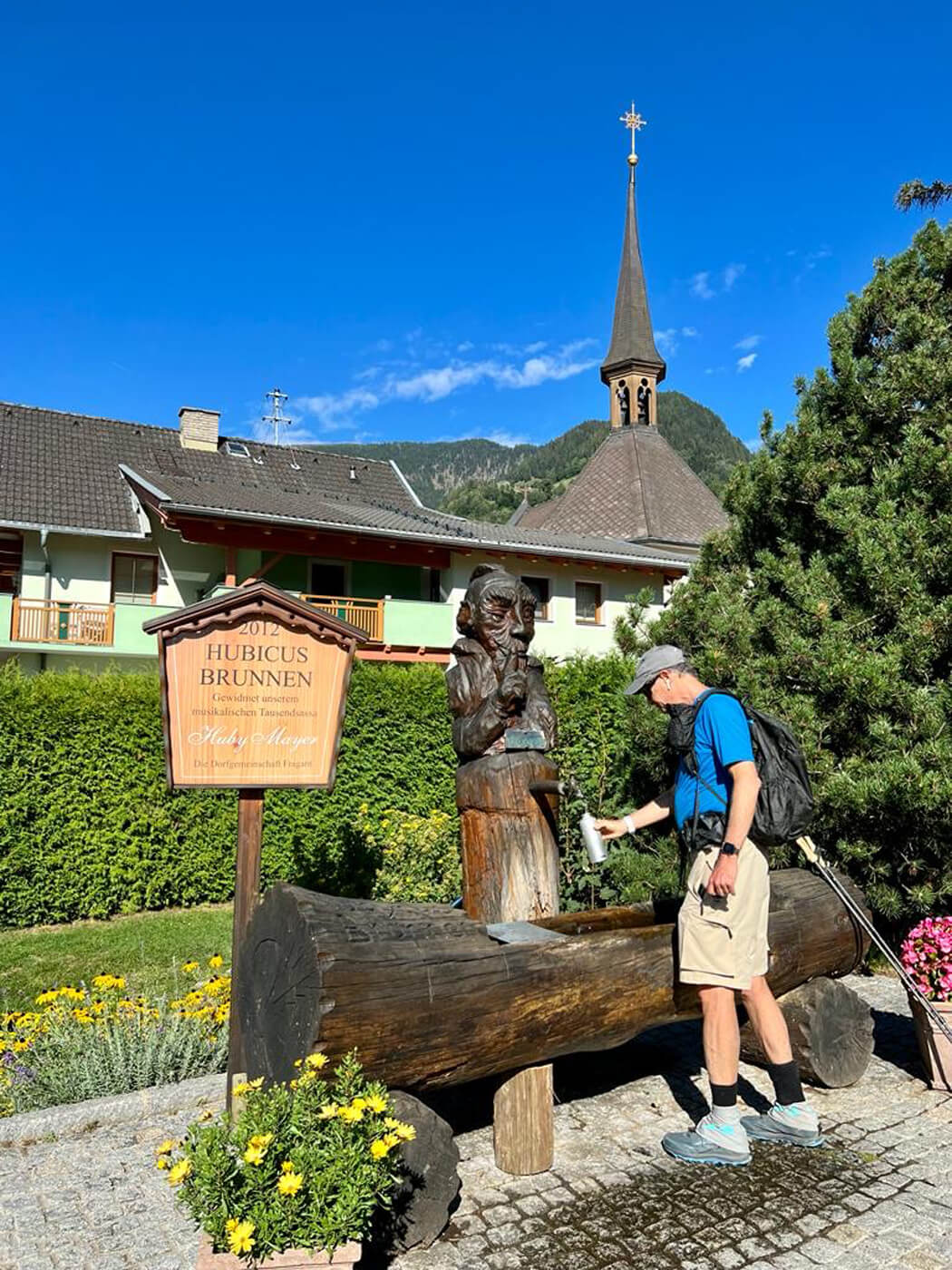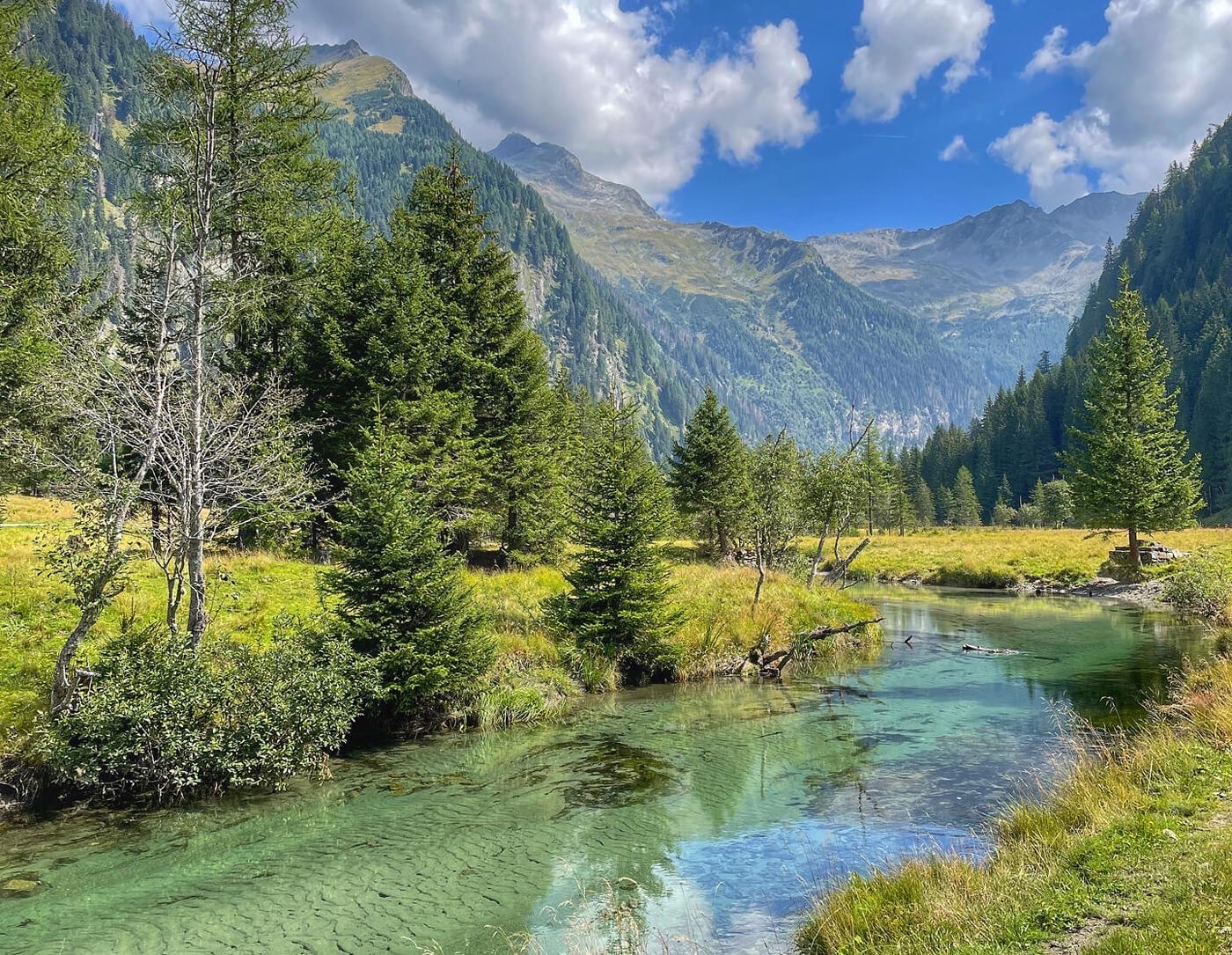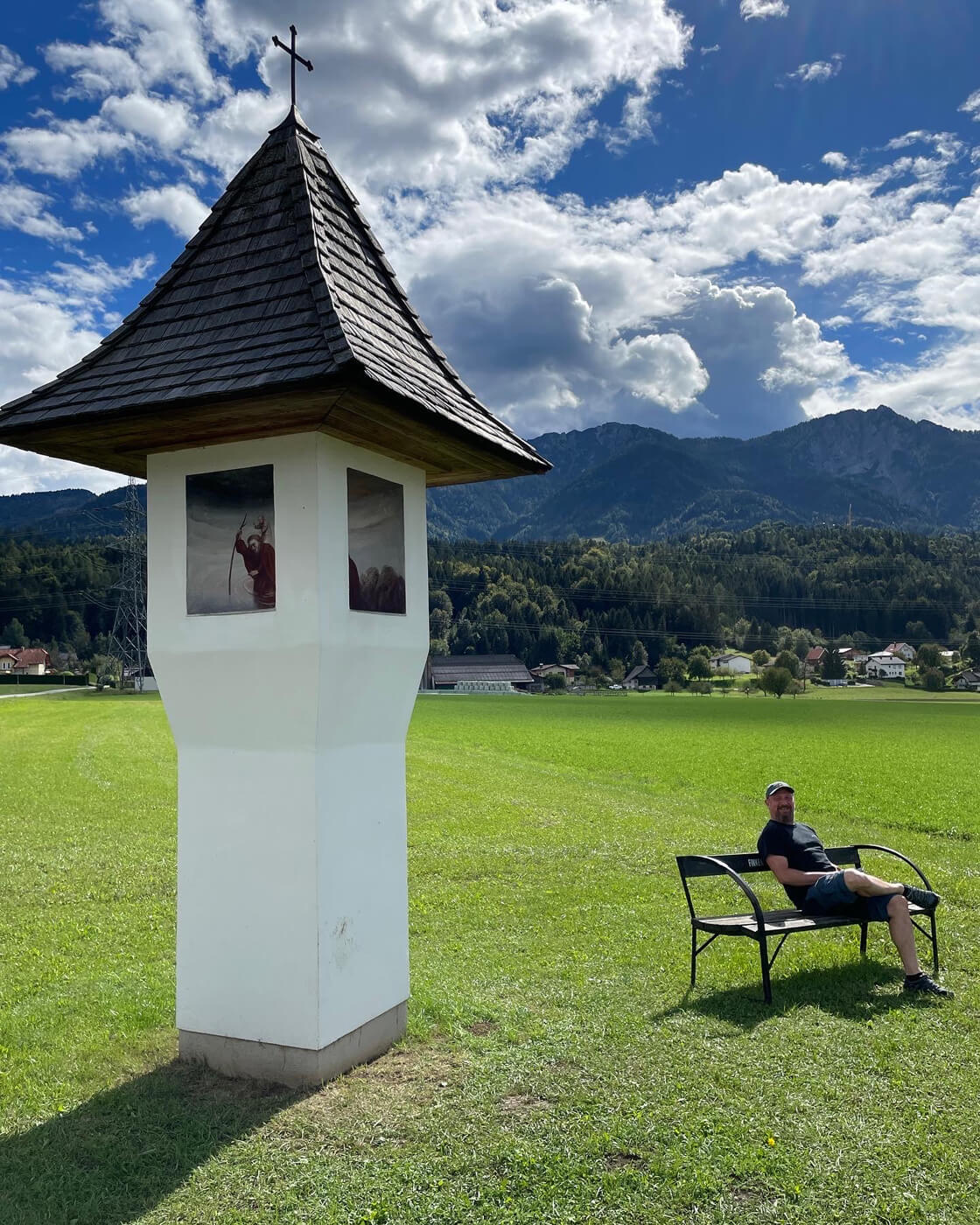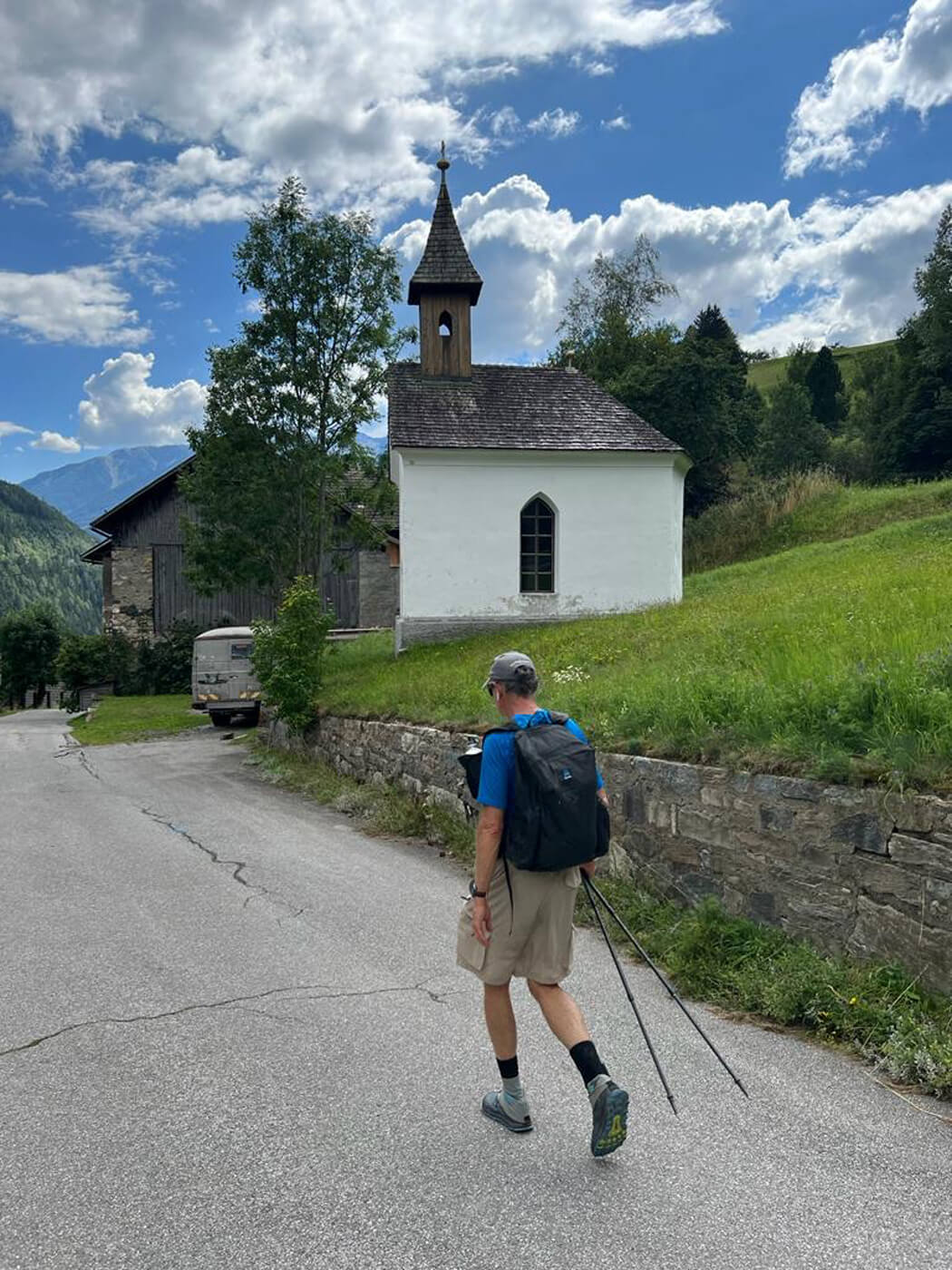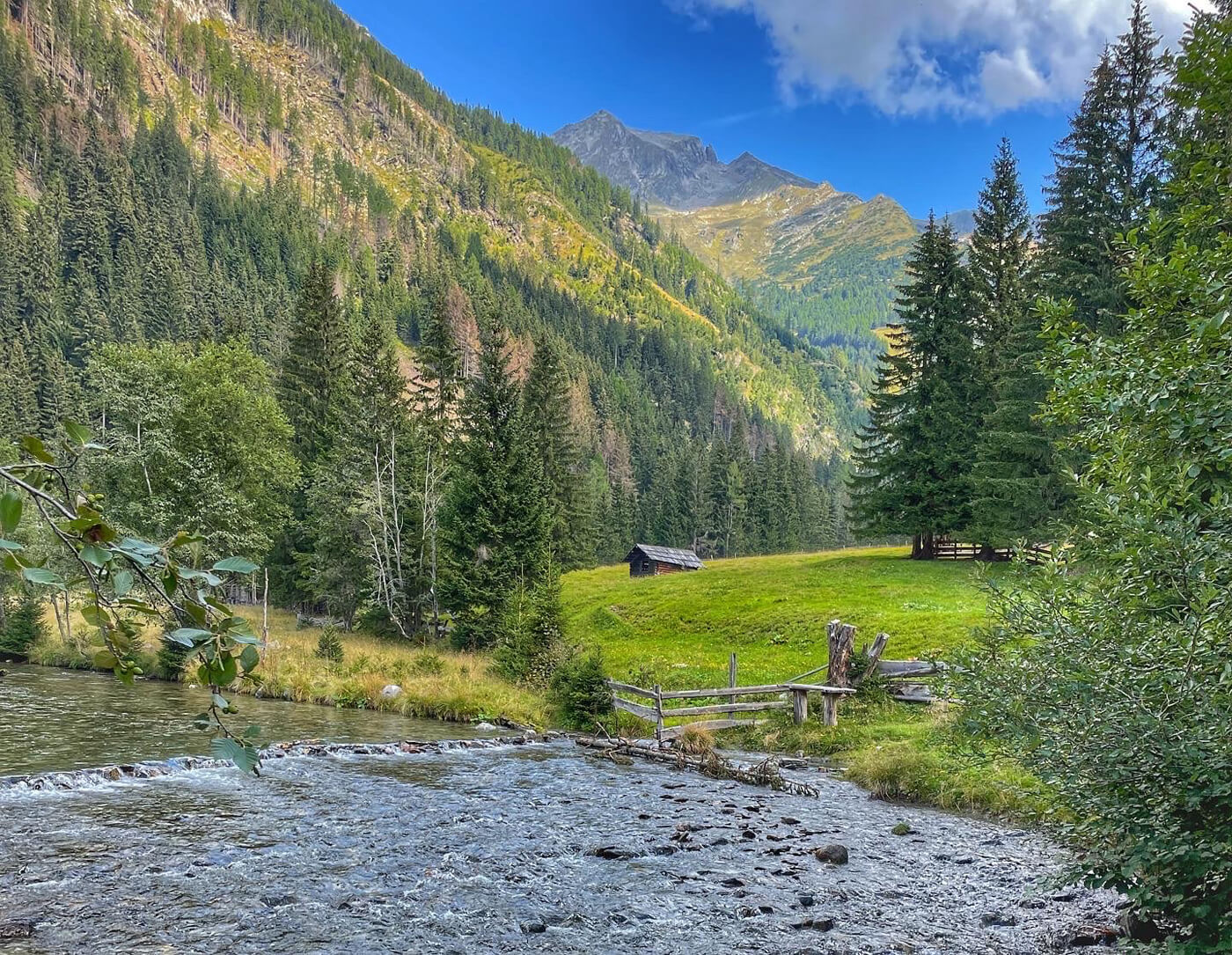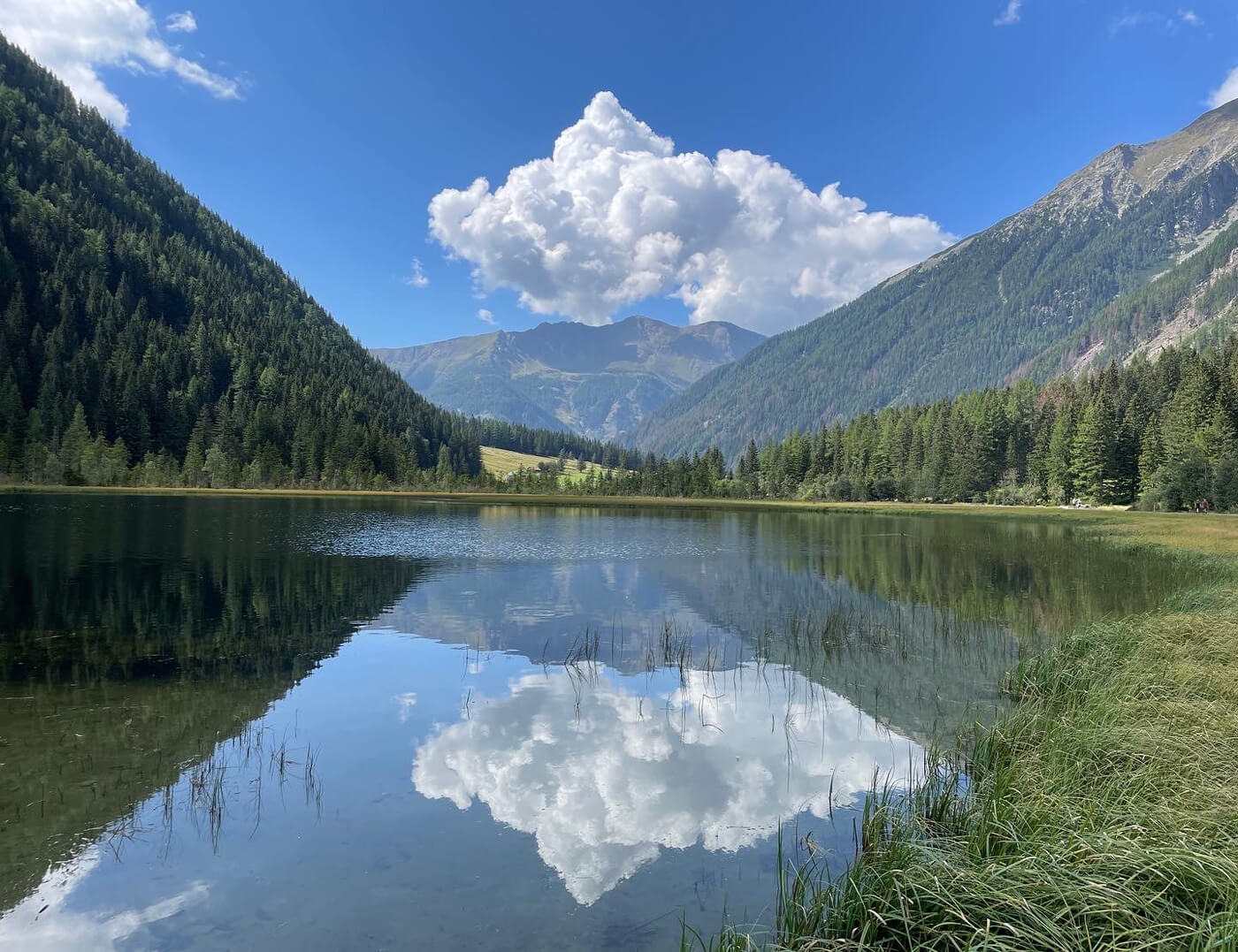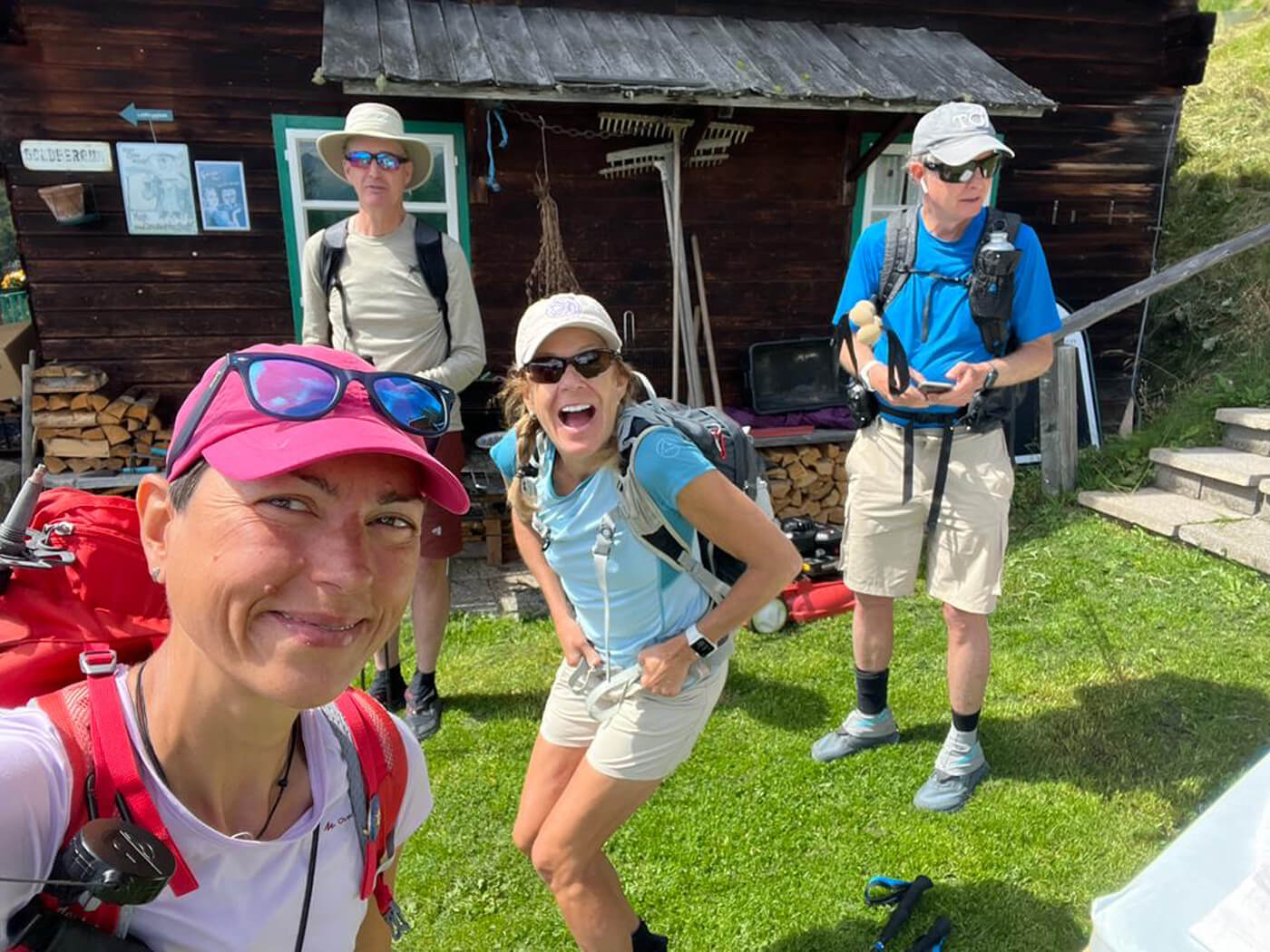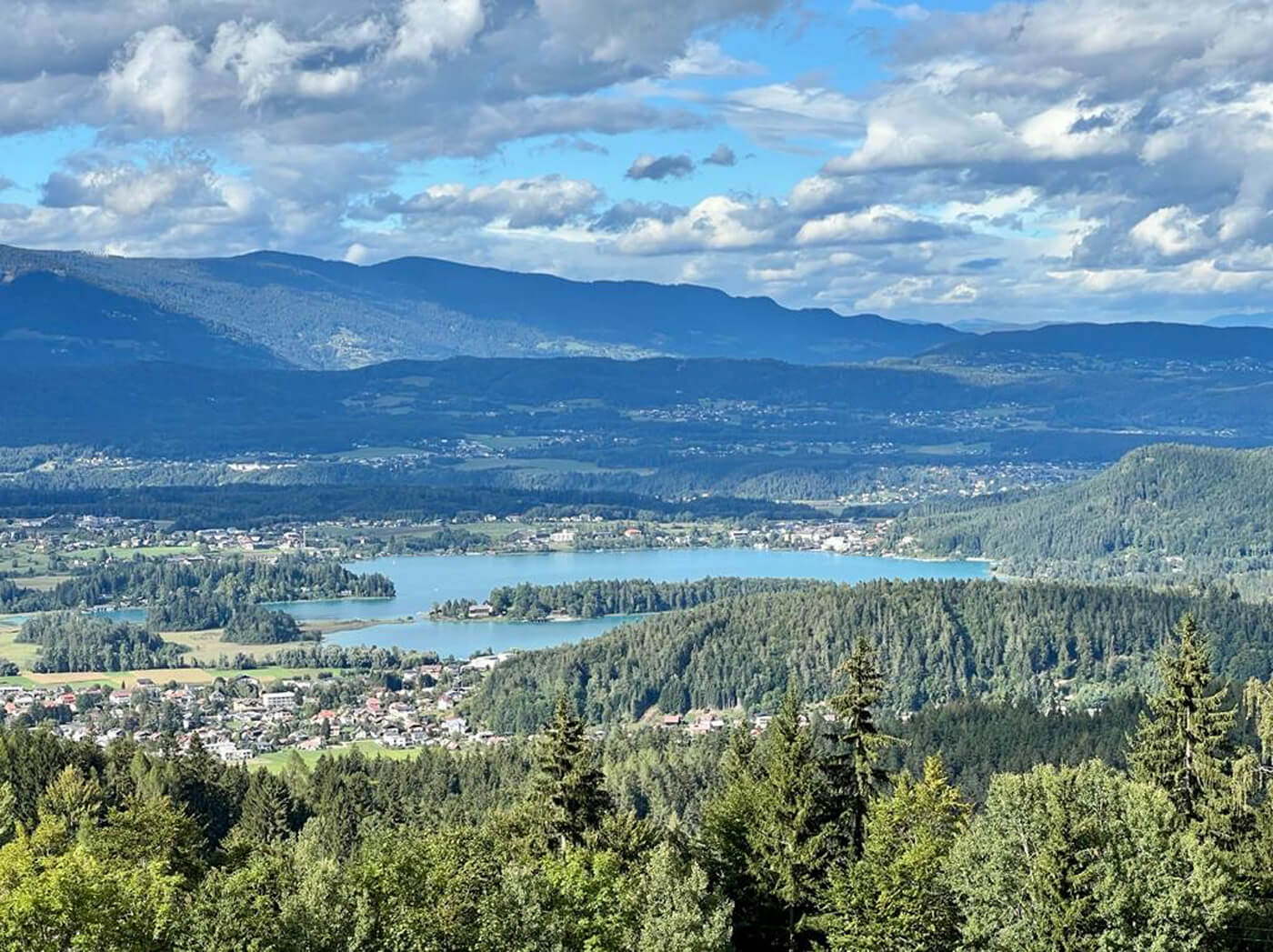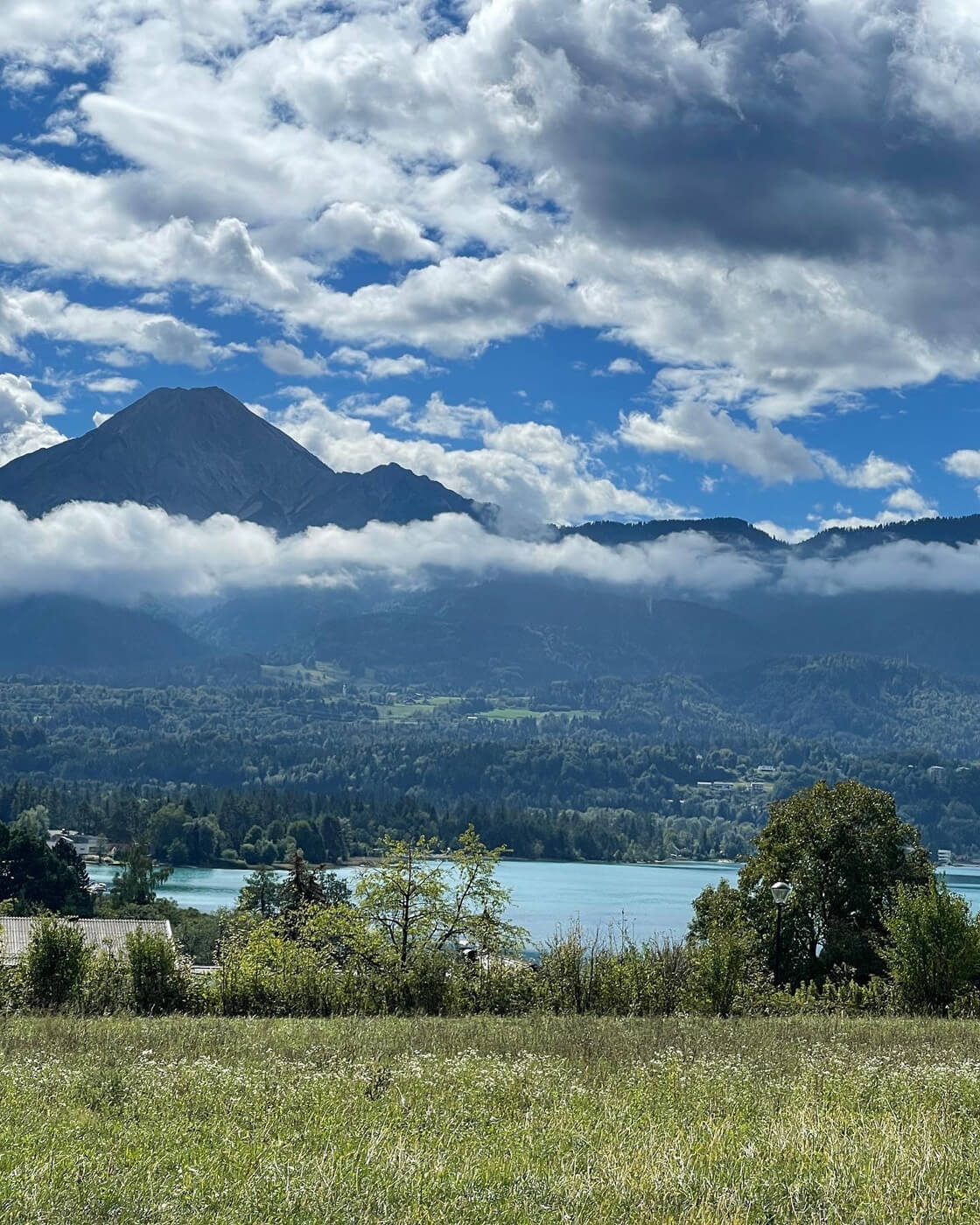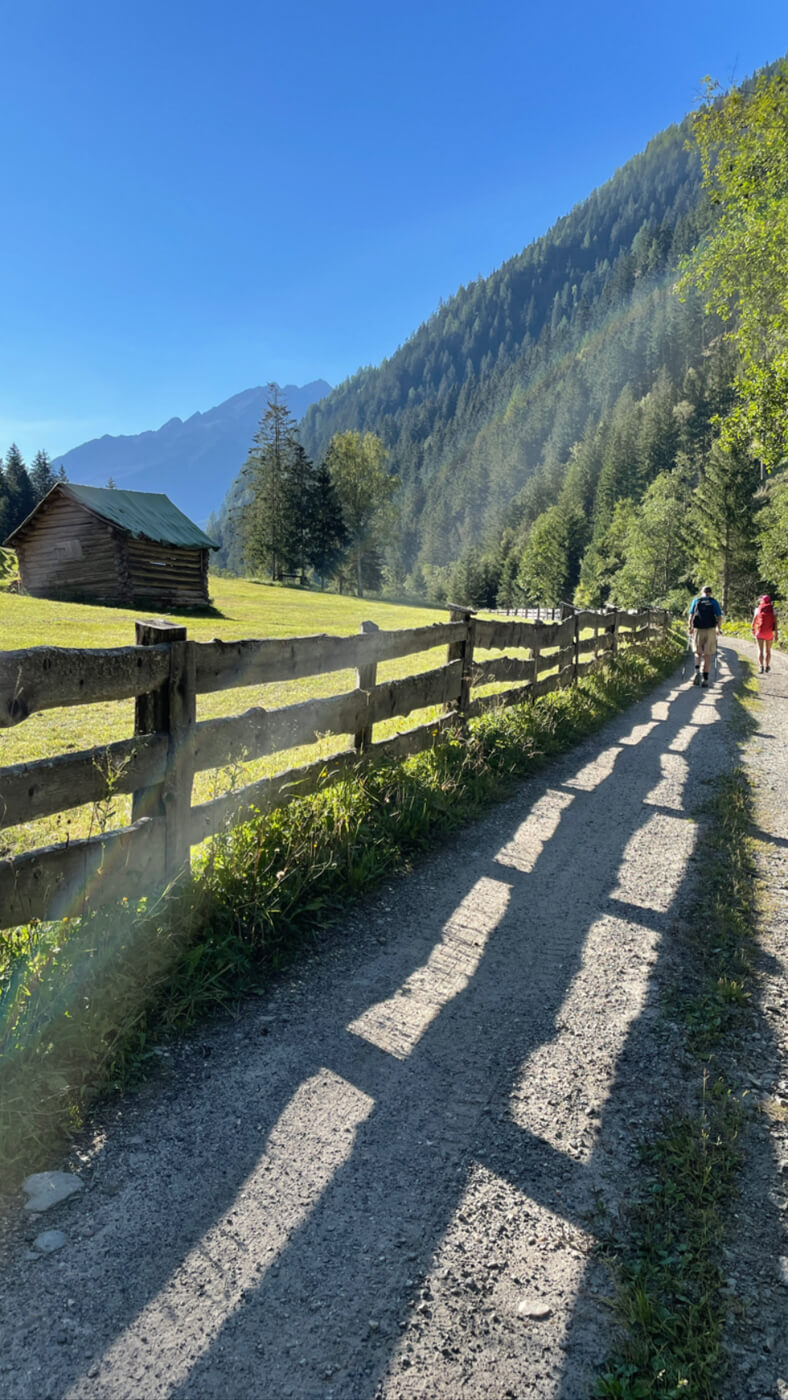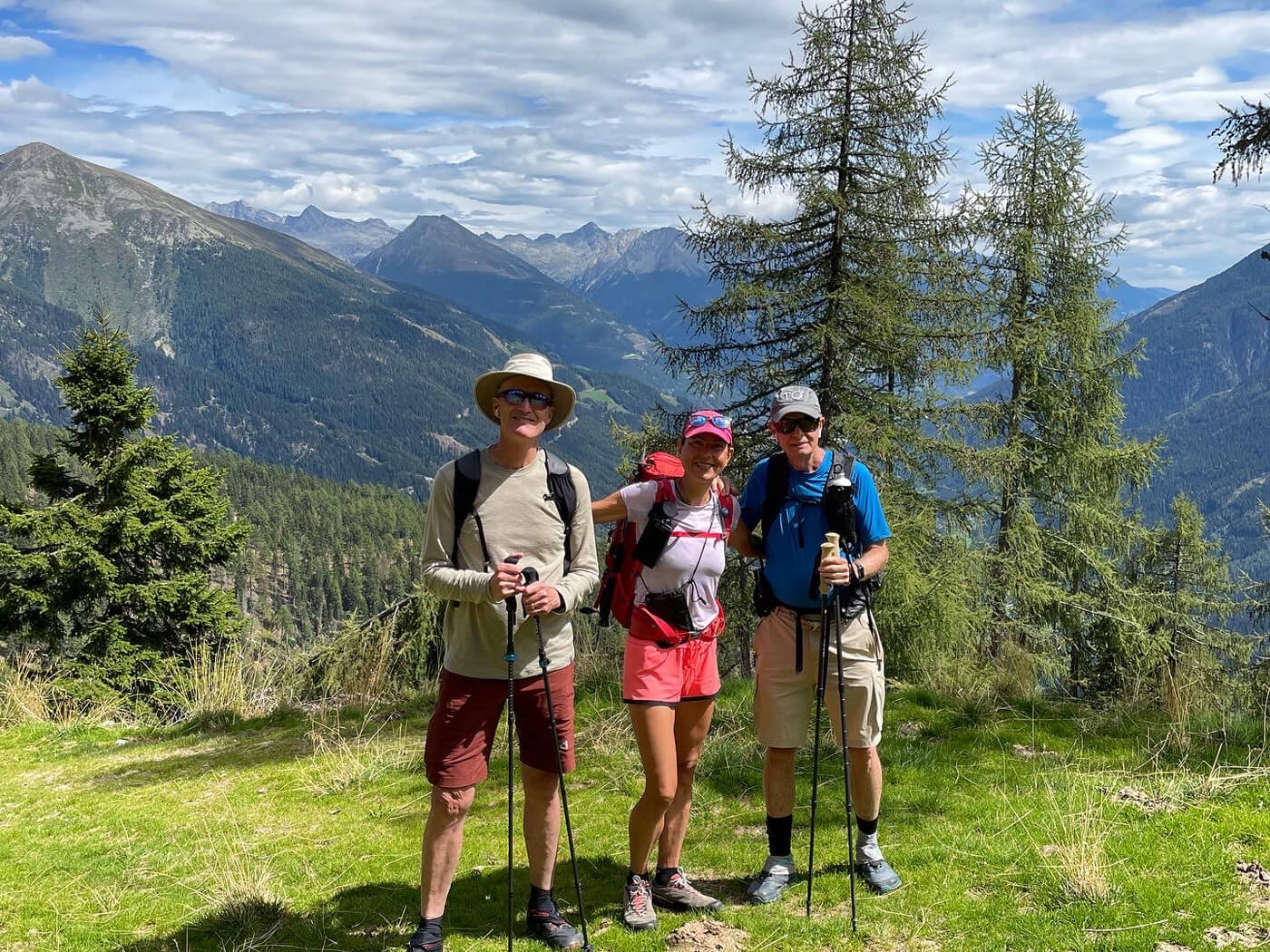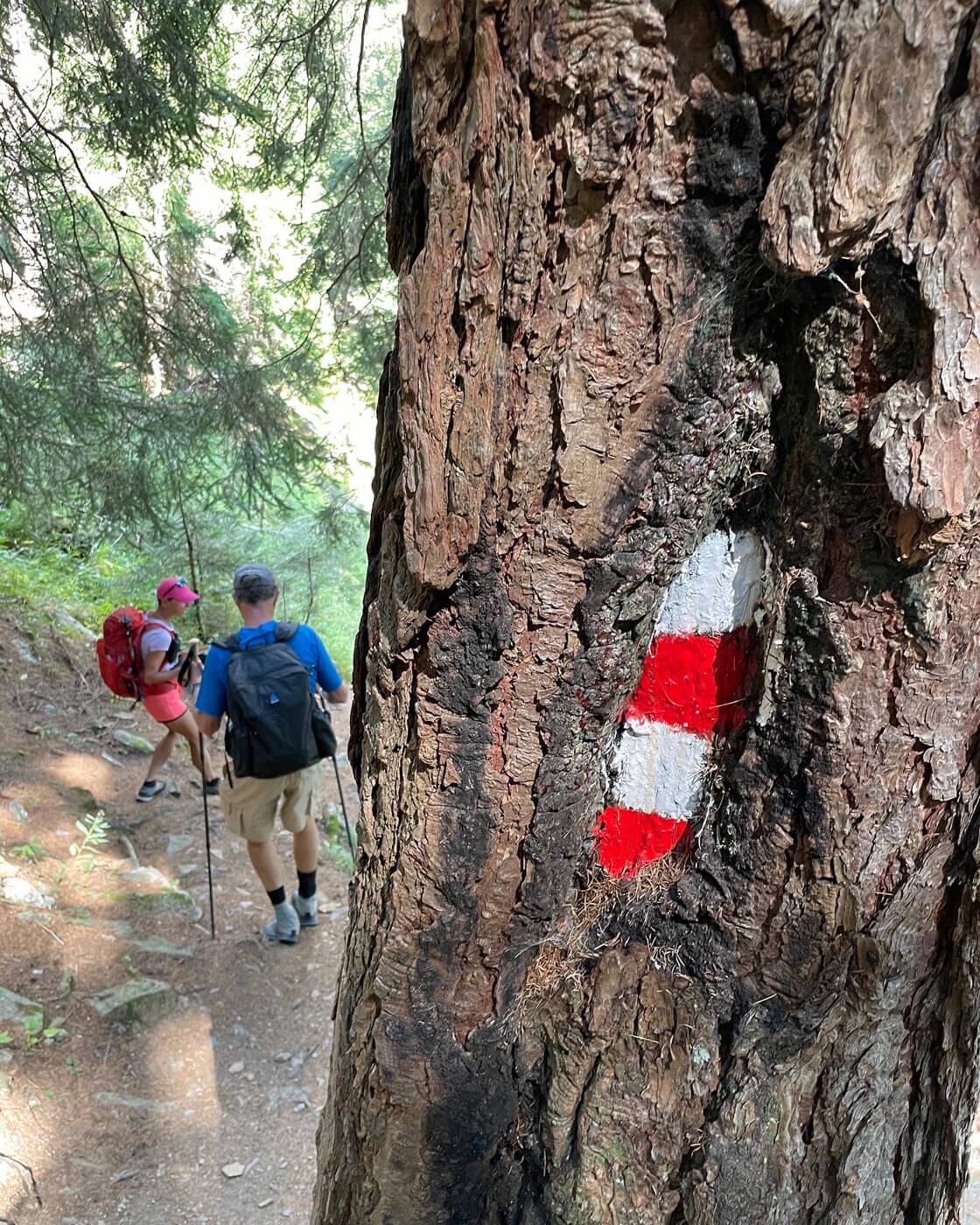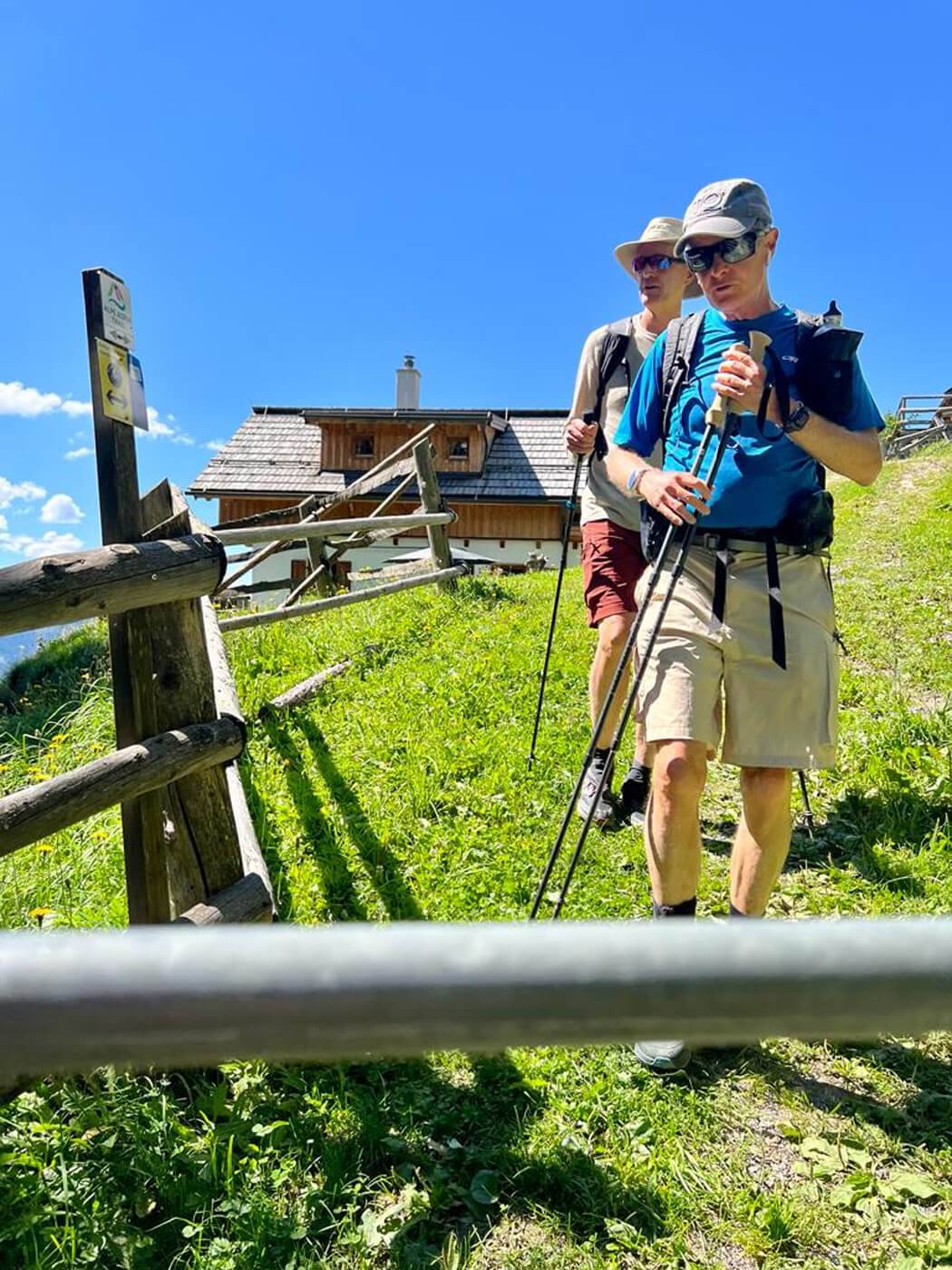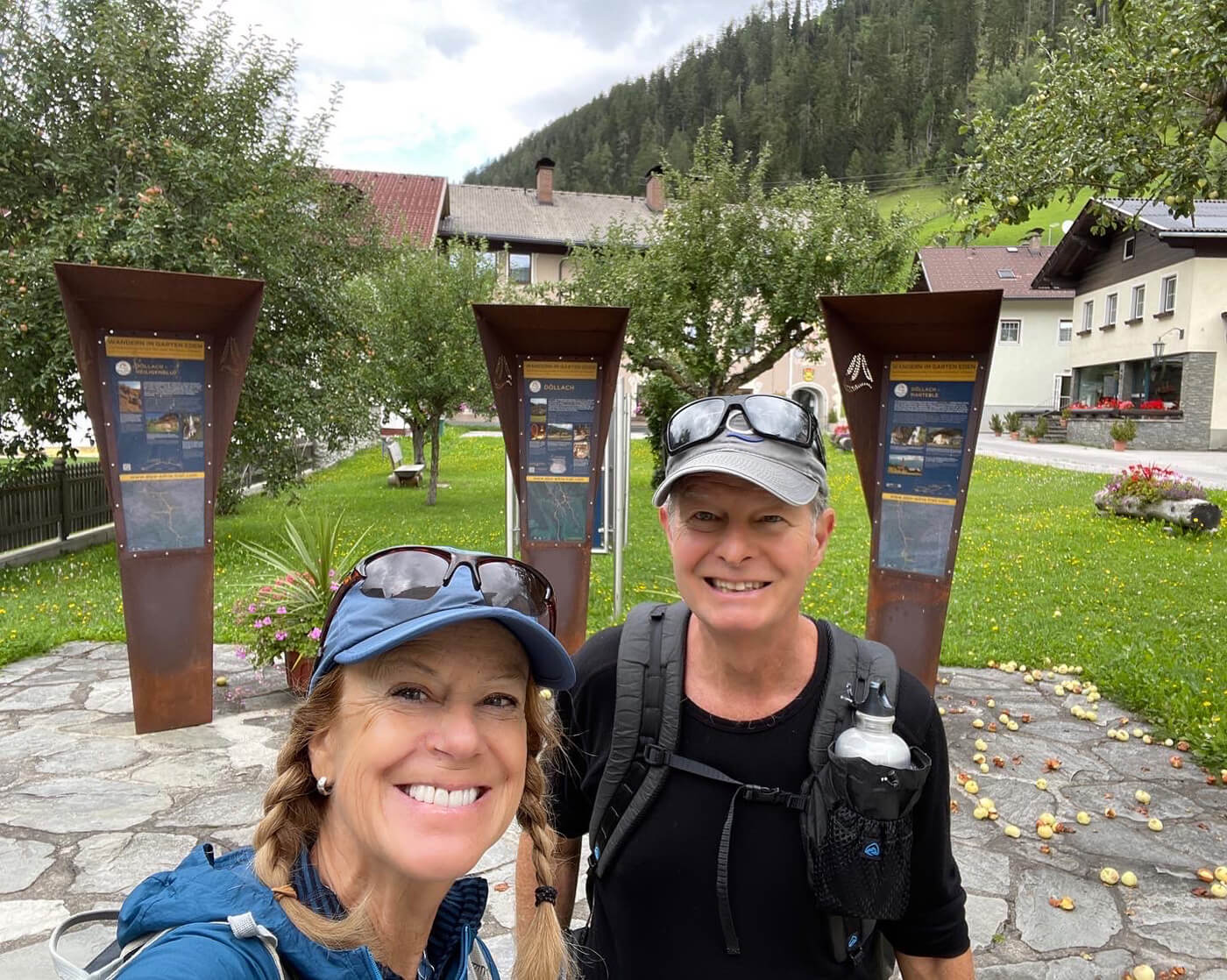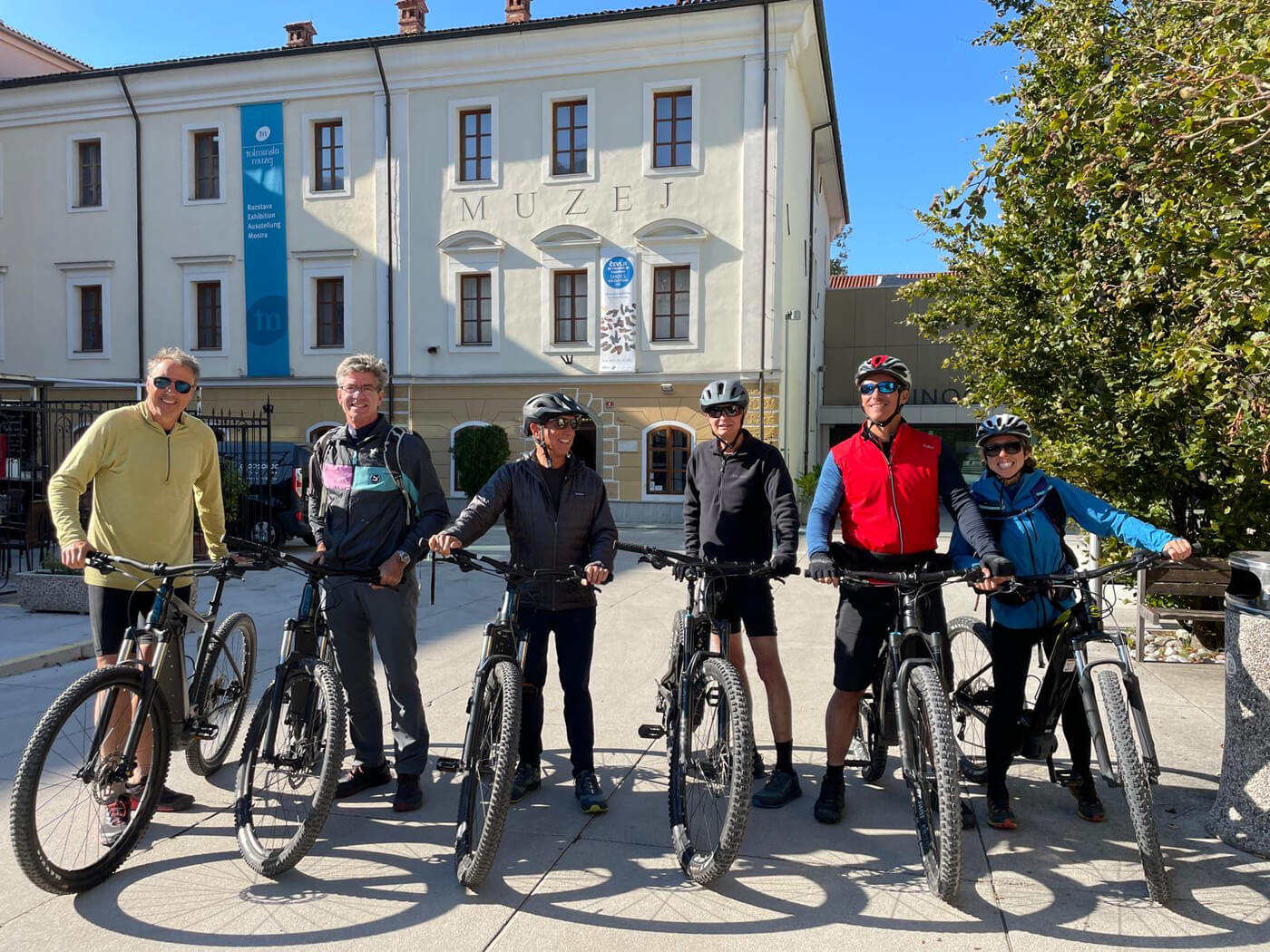 Images by Kathy Dragon
One great thing about this trail is that it has a wonderful app that you can download that provides virtually all the information you need about the trail, plus self-navigation on your smartphone via GPS. I highly recommend it! While it is possible to wander off the trail at places, it is impossible to stay lost because the GPS helps you to relocate to the trail by following its guidance on its virtual map.
Our adventure started in Austria, where we experienced a gorgeous mix of mountains, verdant valleys, and bright, turquoise lakes in Carinthia. We followed the course of the River Sava towards the Karawank mountain range, which led us to an old frontier path. This path led us to Jepzasattel, a mountain pass with spectacular views of the surrounding mountains and lakes. We also got to see the ruins of the Finkenstein Castle, which was pretty cool. We concluded our time in Austria by visiting the Faaker See, the fifth-largest lake in Carinthia, which is famous for its beautiful blue and turquoise color.
Unfortunately, after just two weeks of hiking, I developed a painful shin splint in my left leg, that took me off the hiking trail for the next three weeks. Fortunately, I was able to pivot to E-Biking, which was great fun! I typically would bike two to three hours a day both on paved and gravel trails and averaged about 25 miles per day. Austria, Slovenia, and Italy all have well-developed biking trails—far better than we typically find in the United States.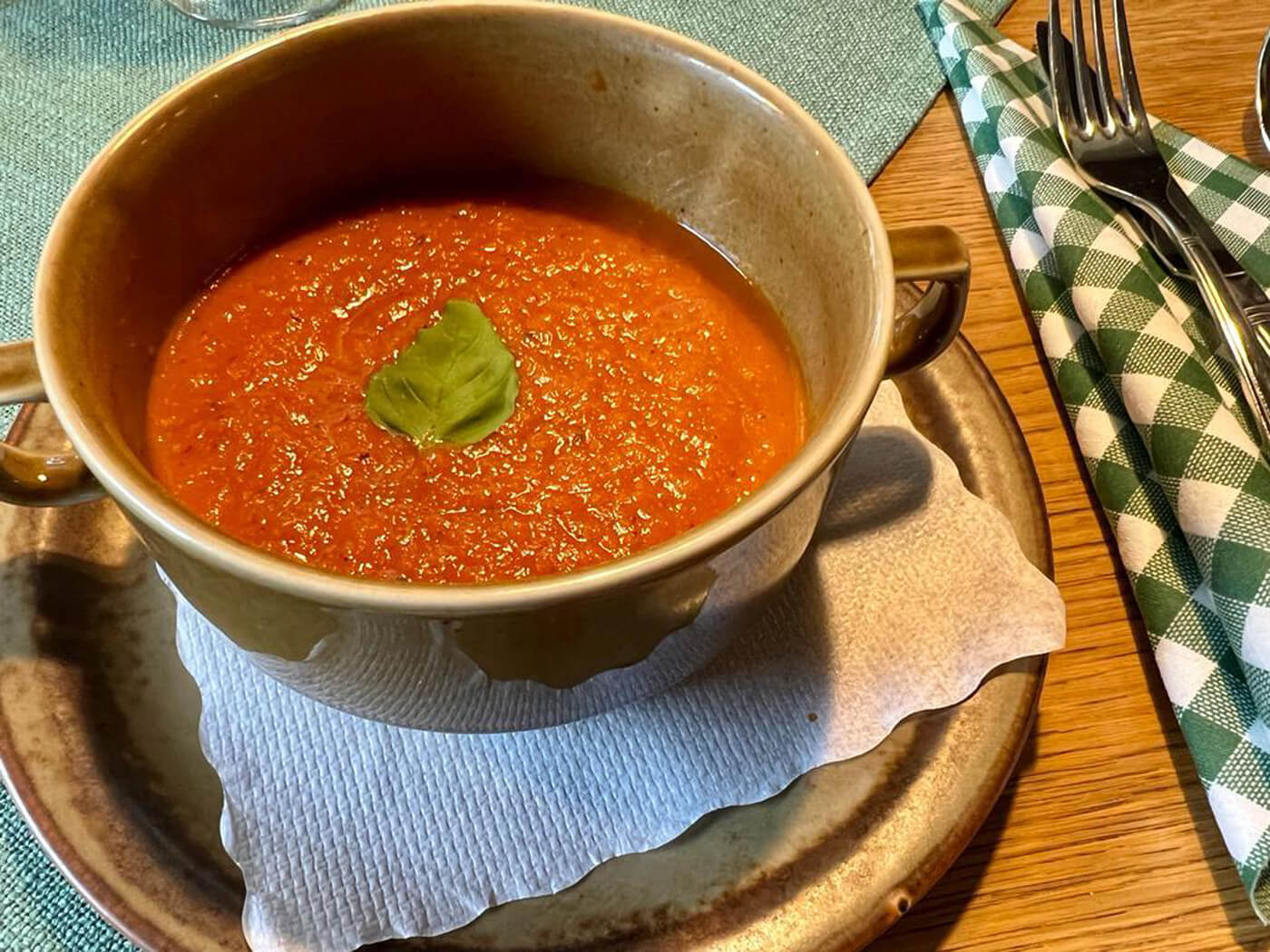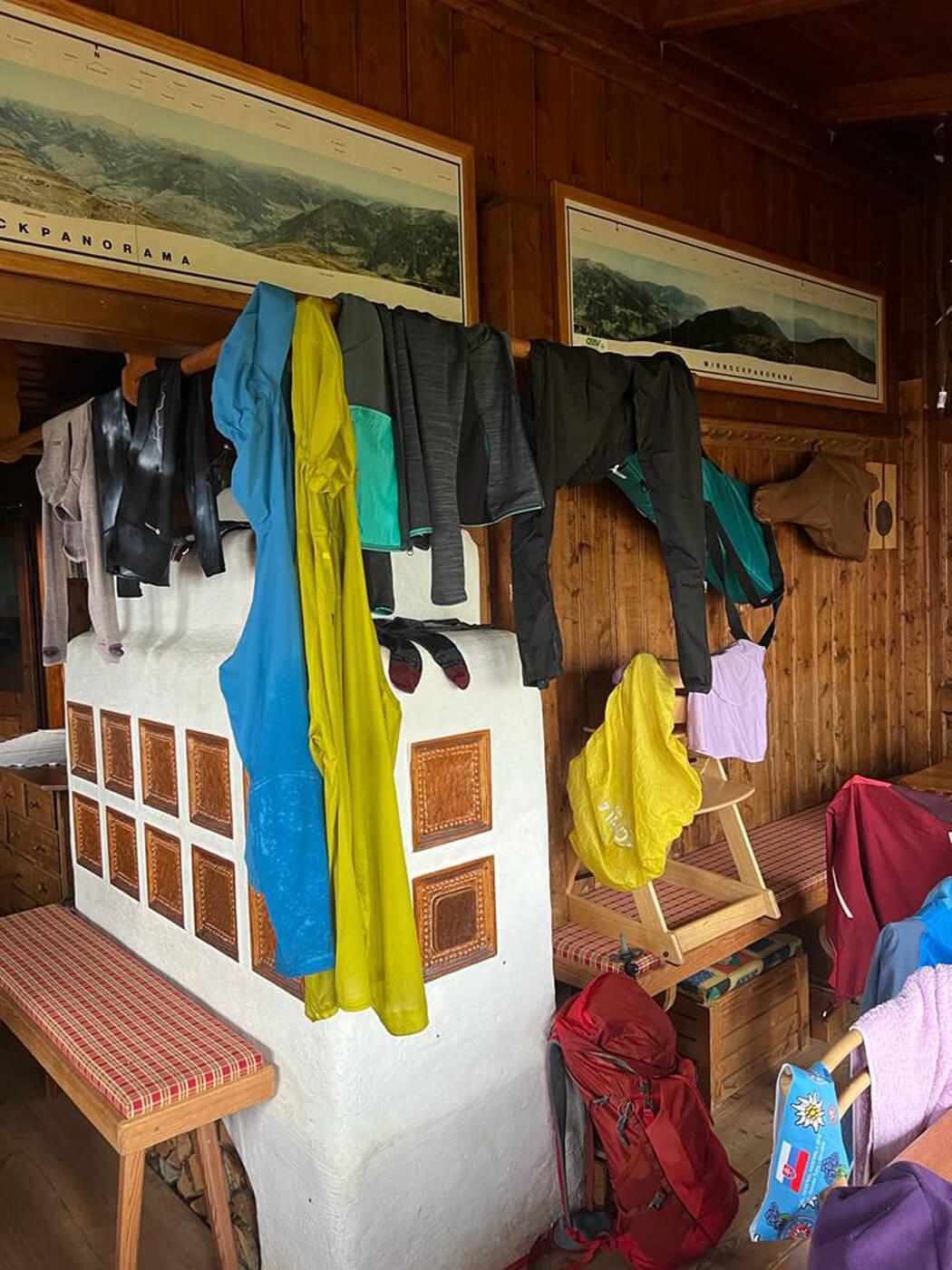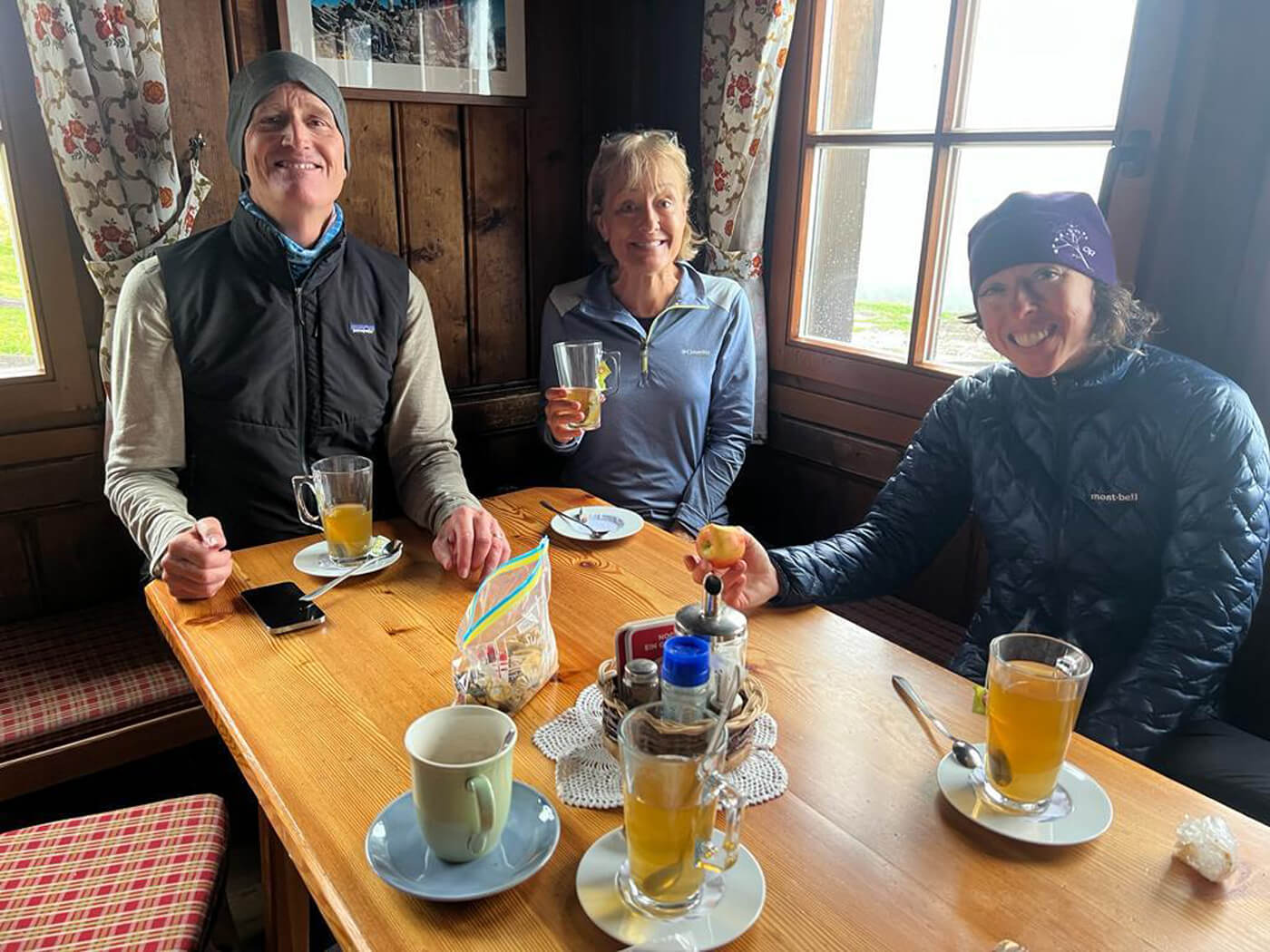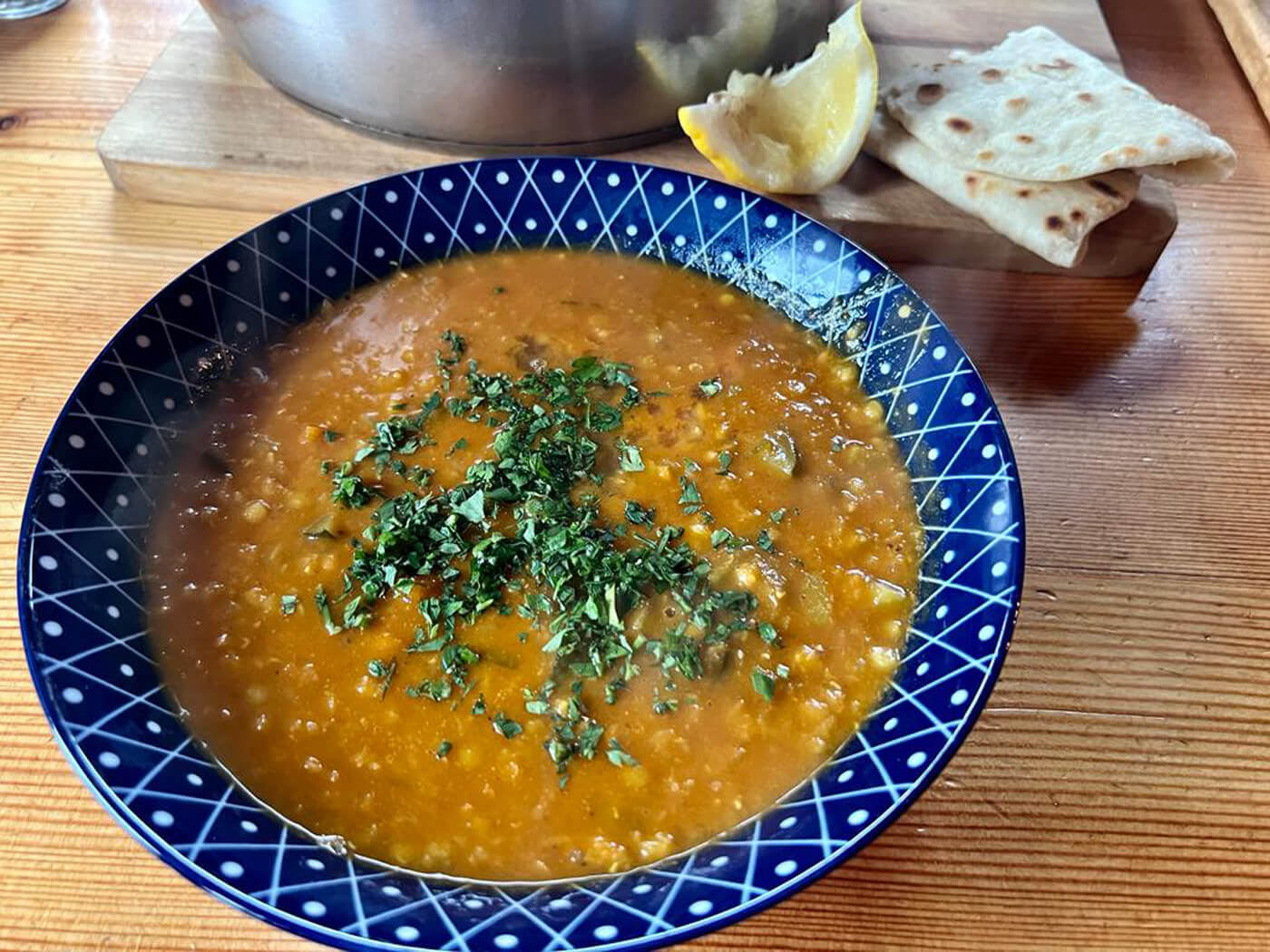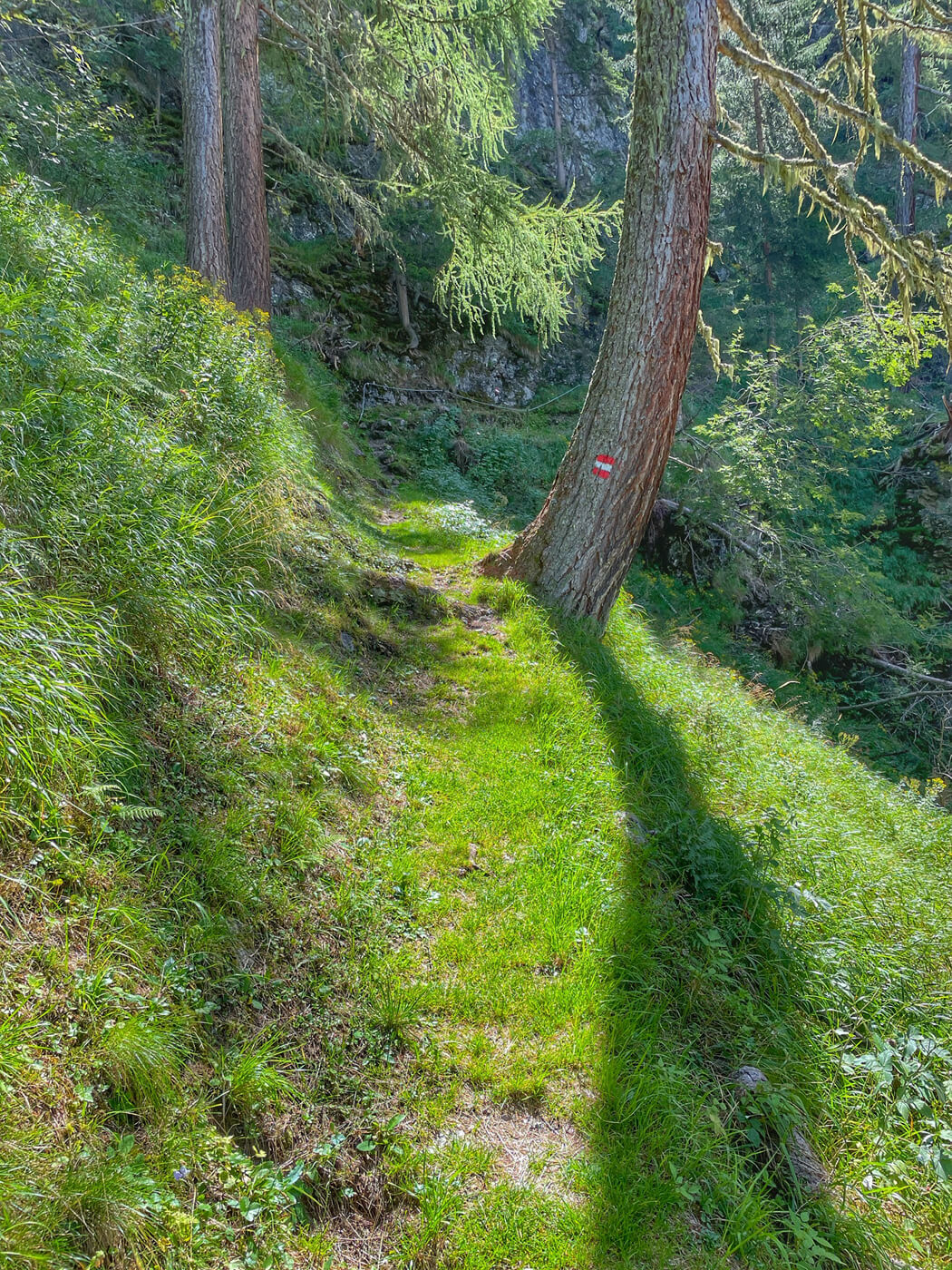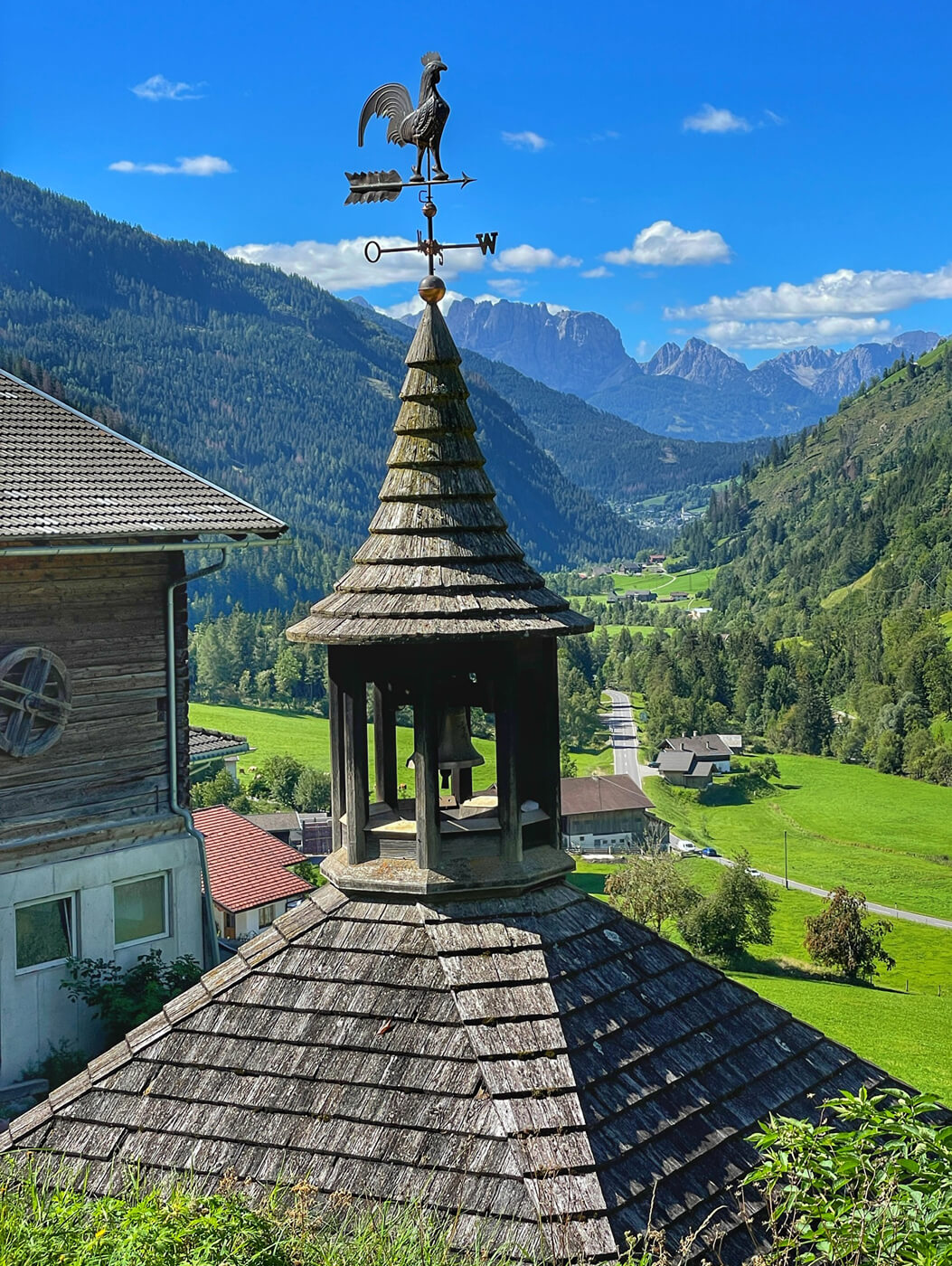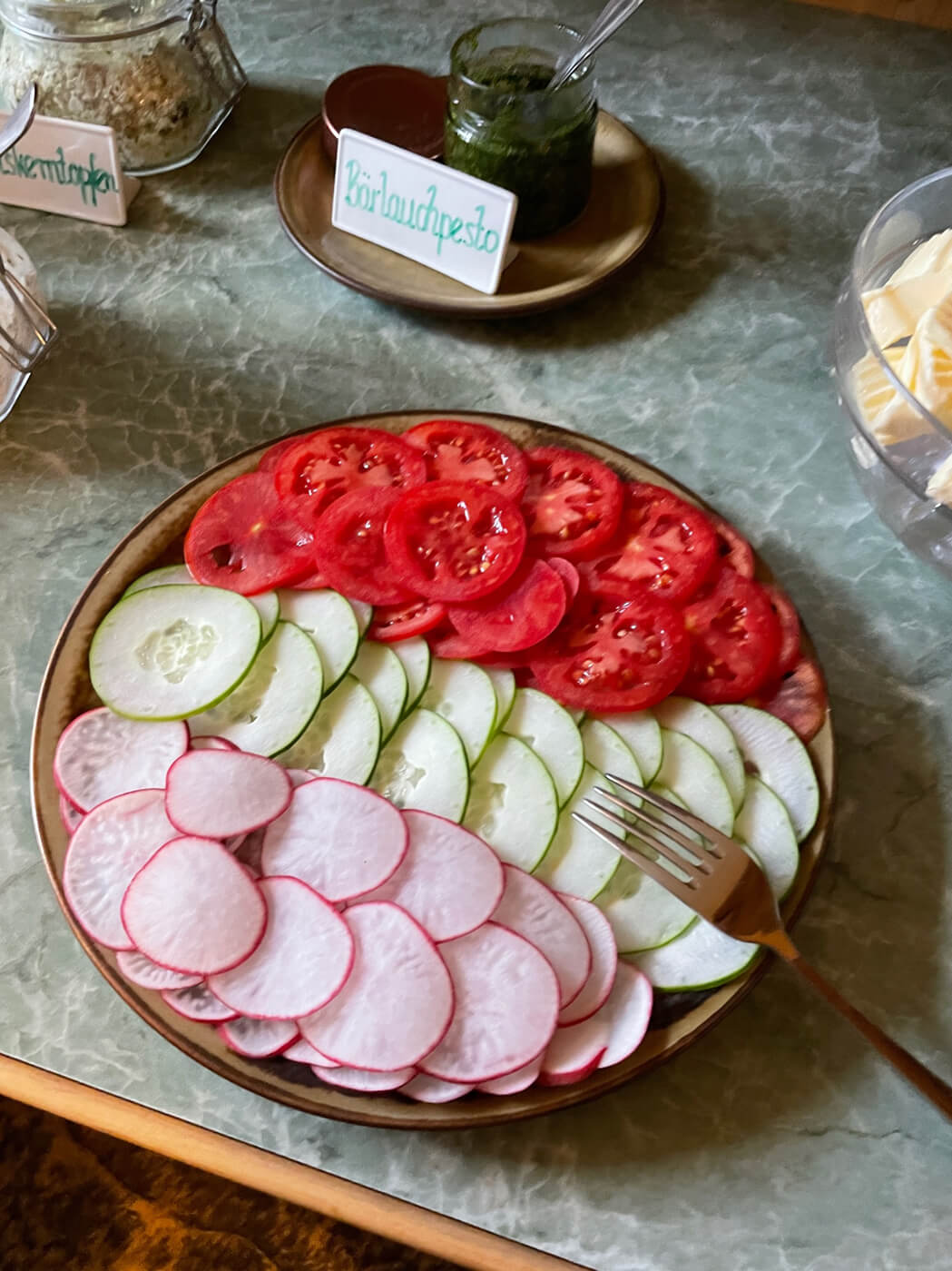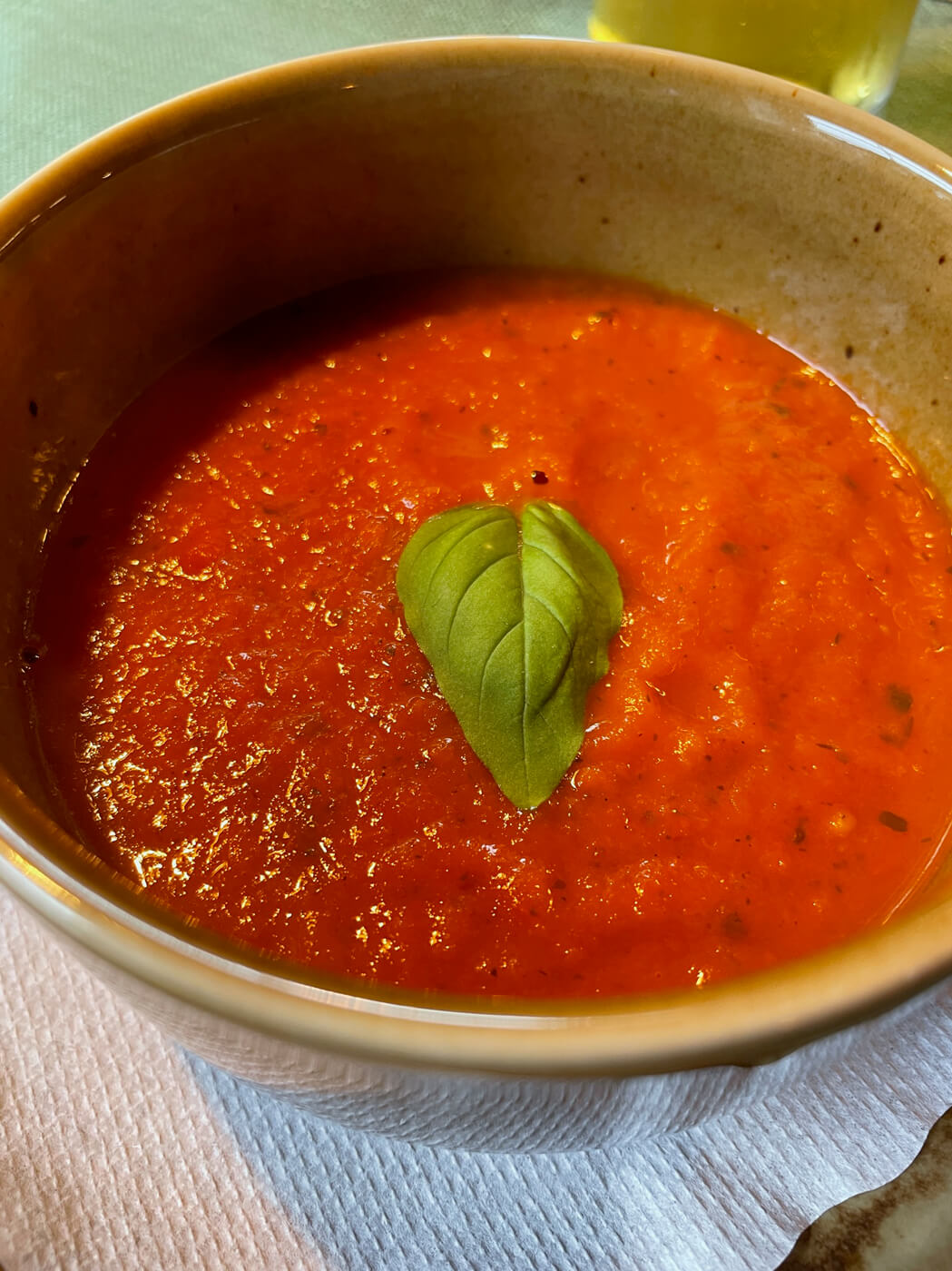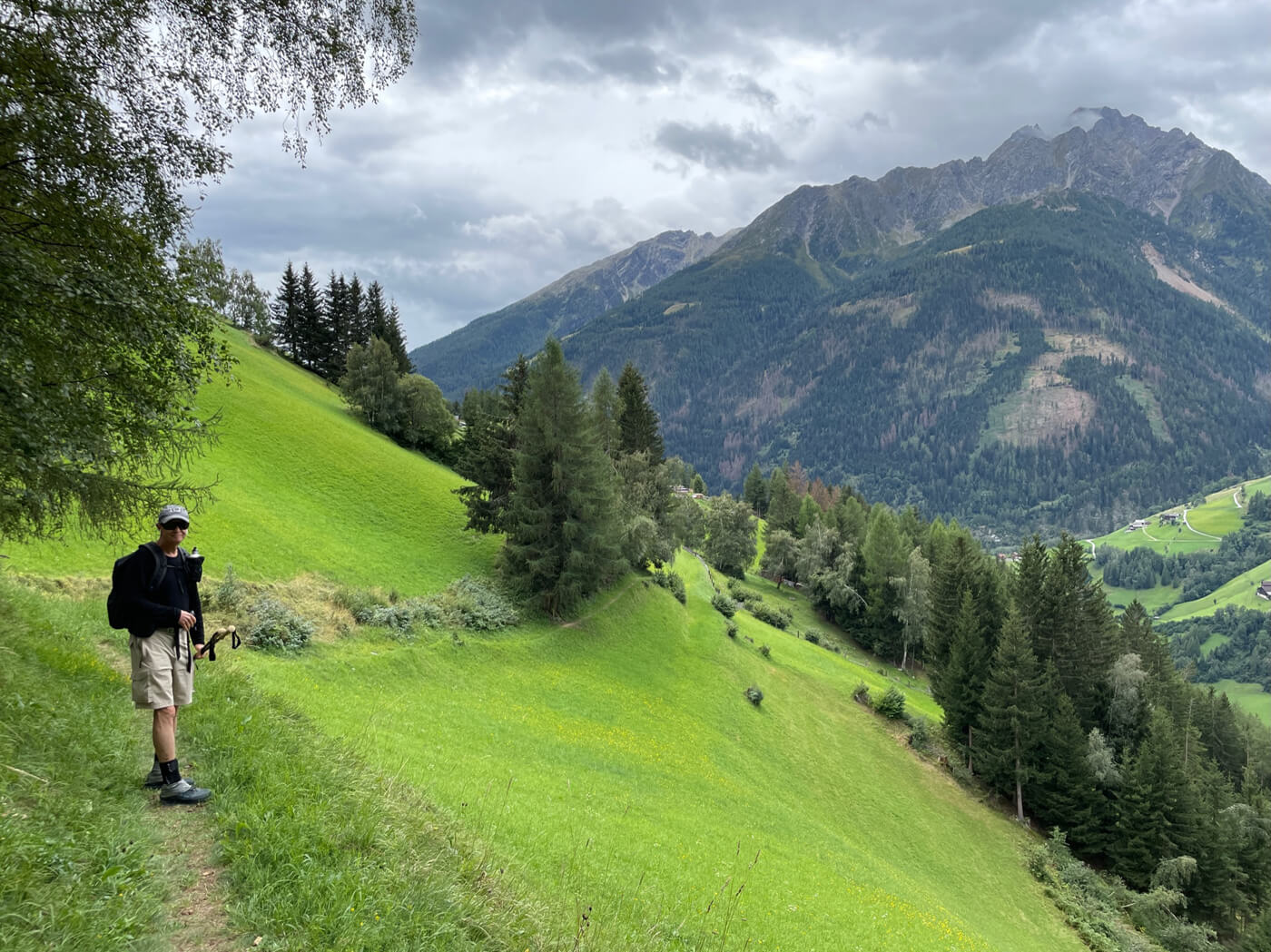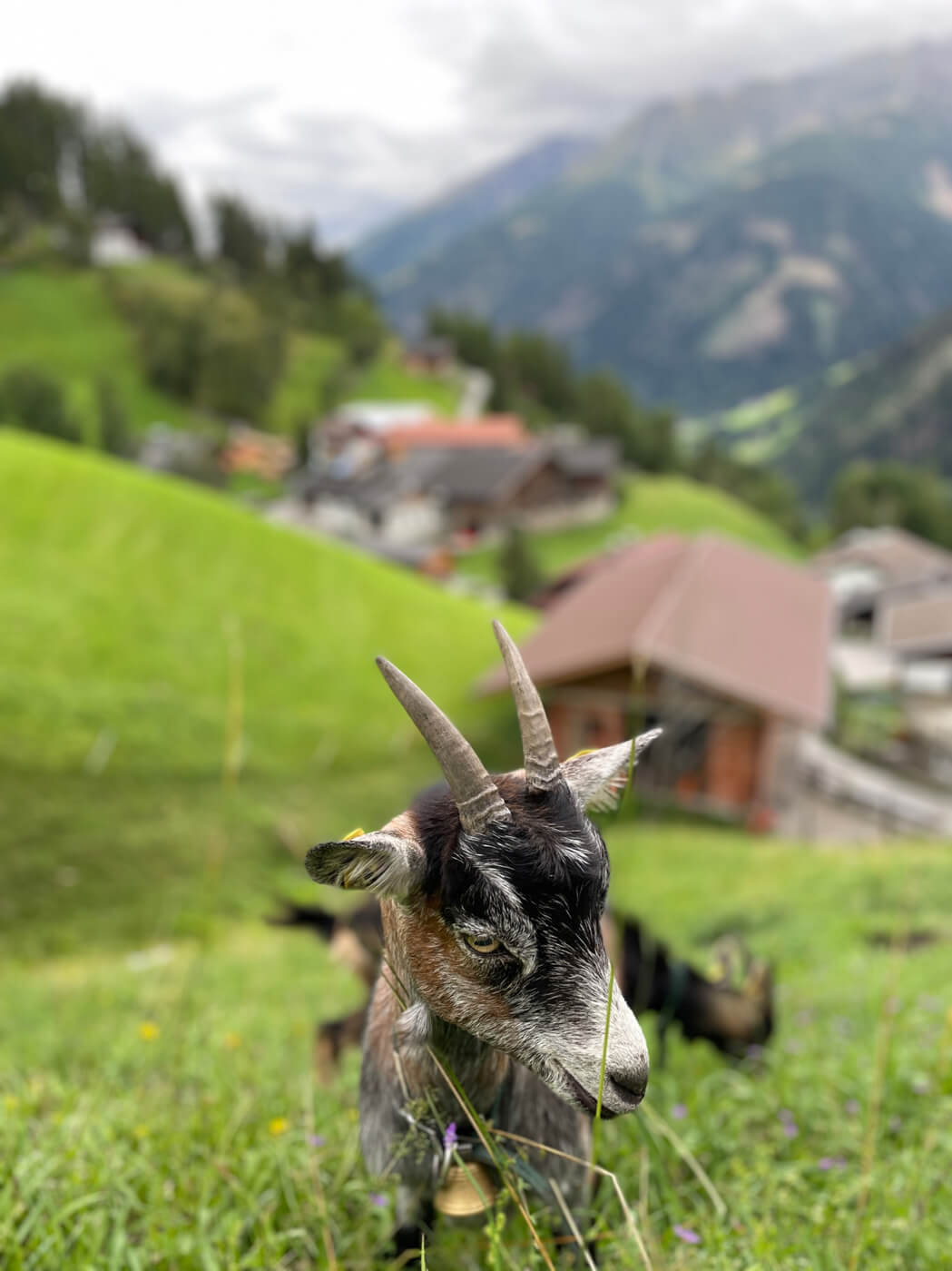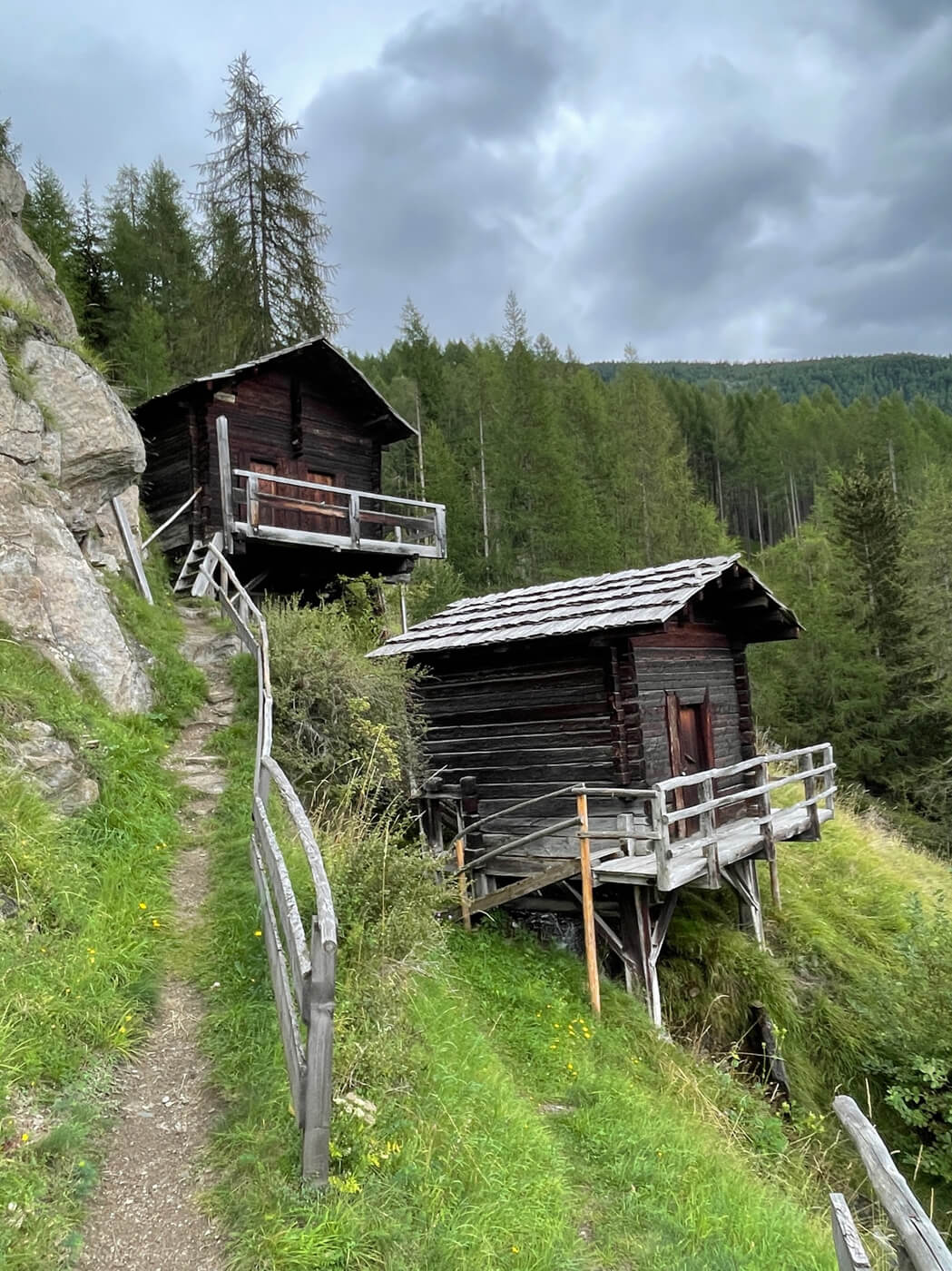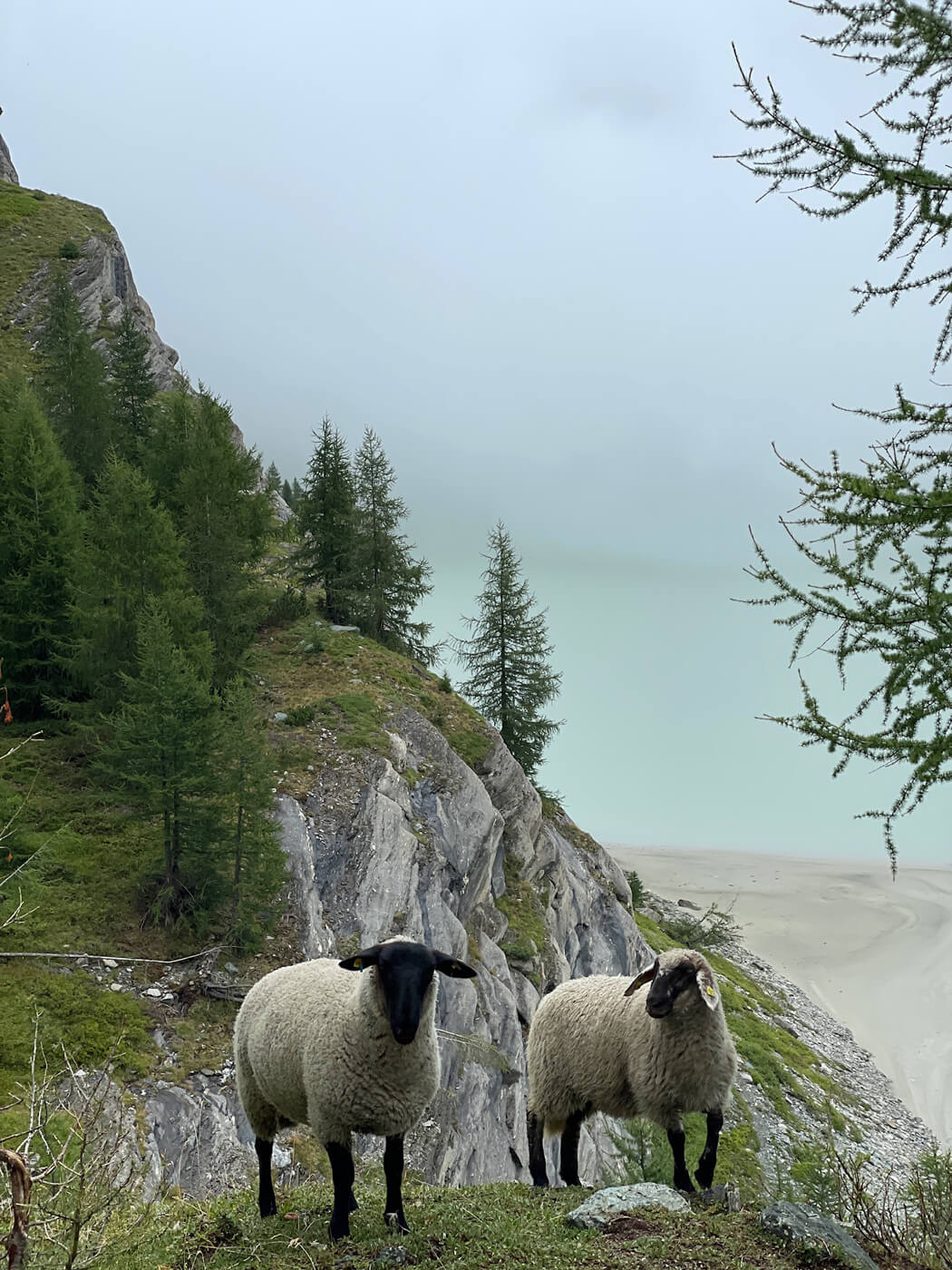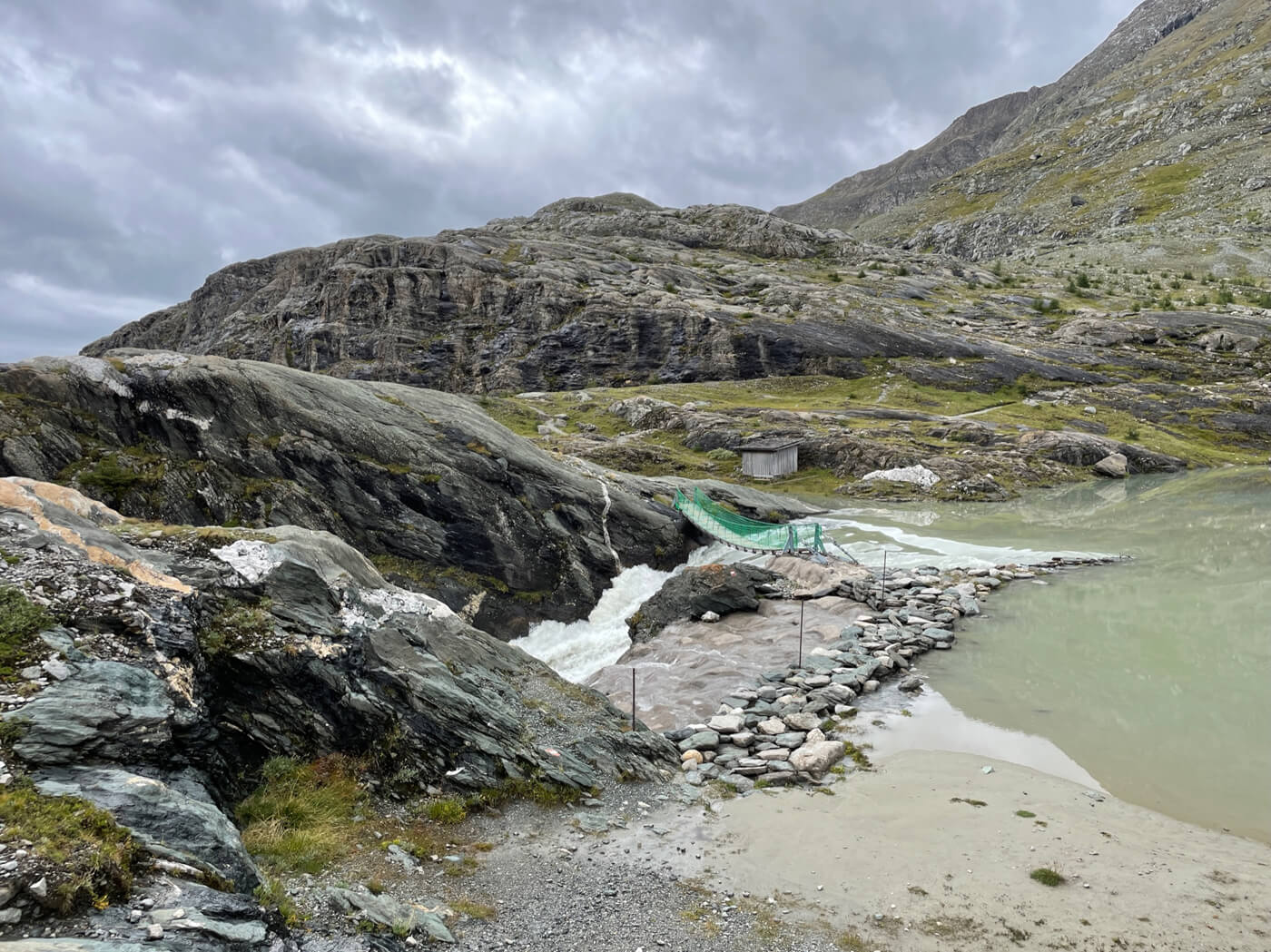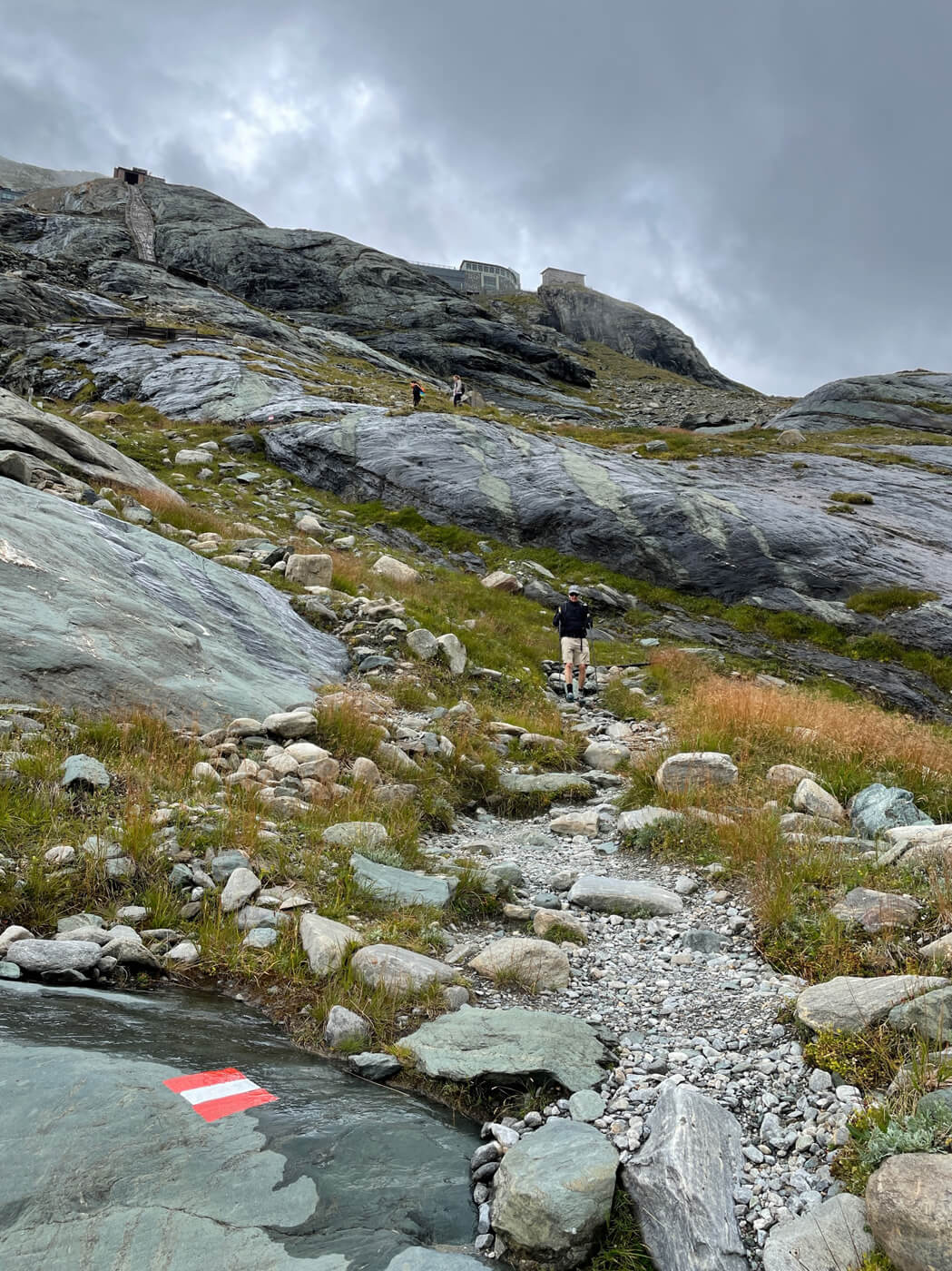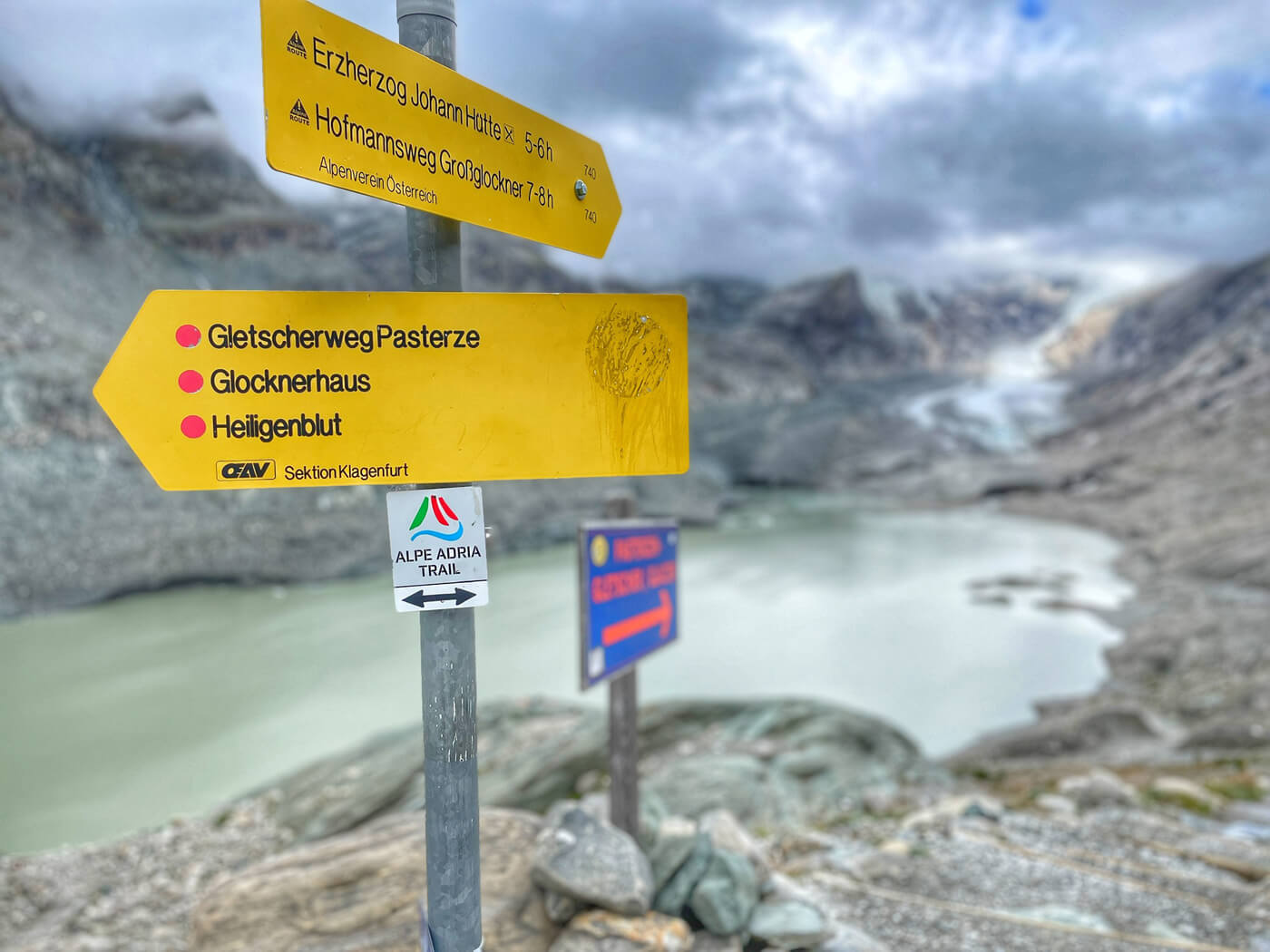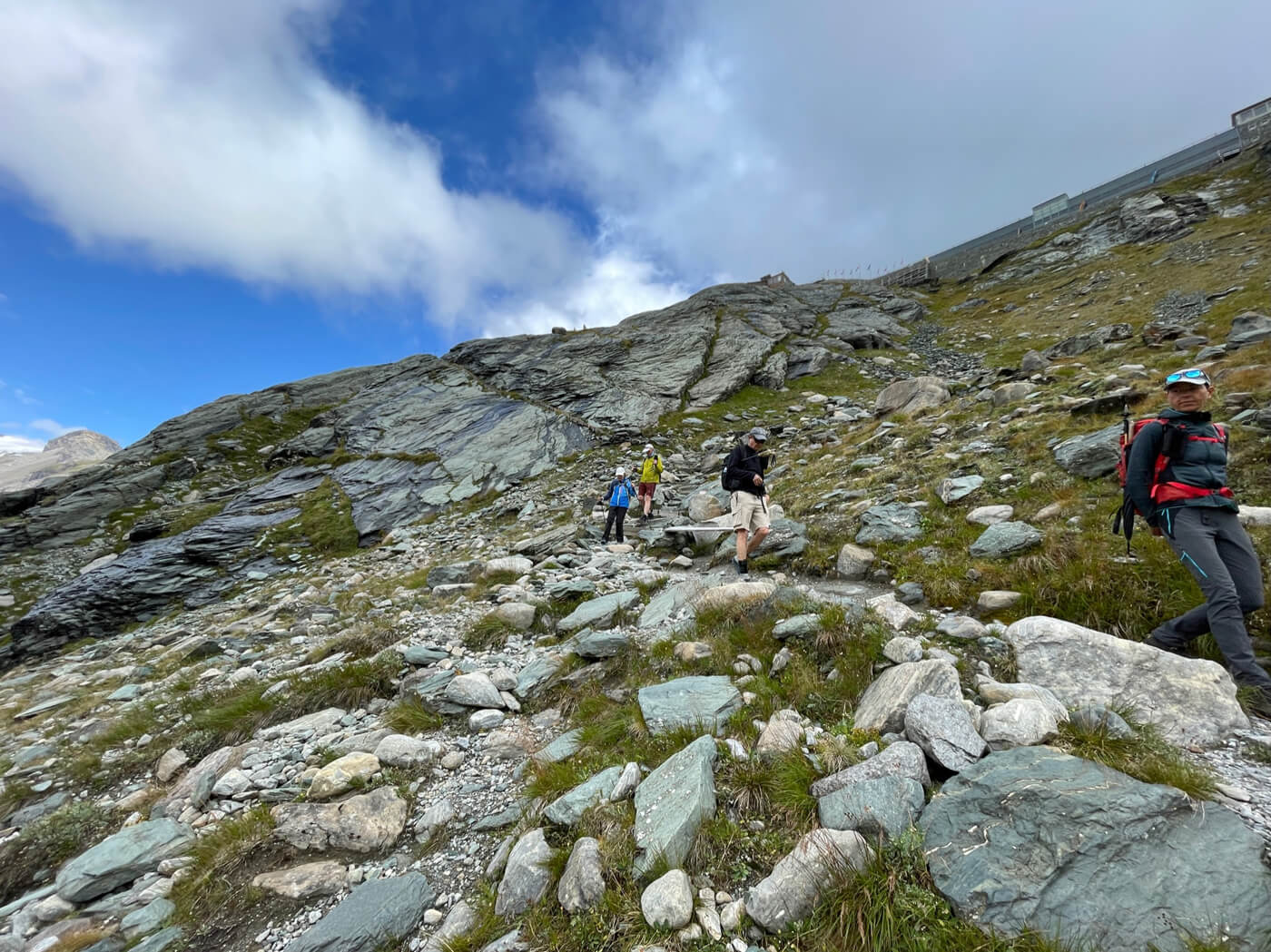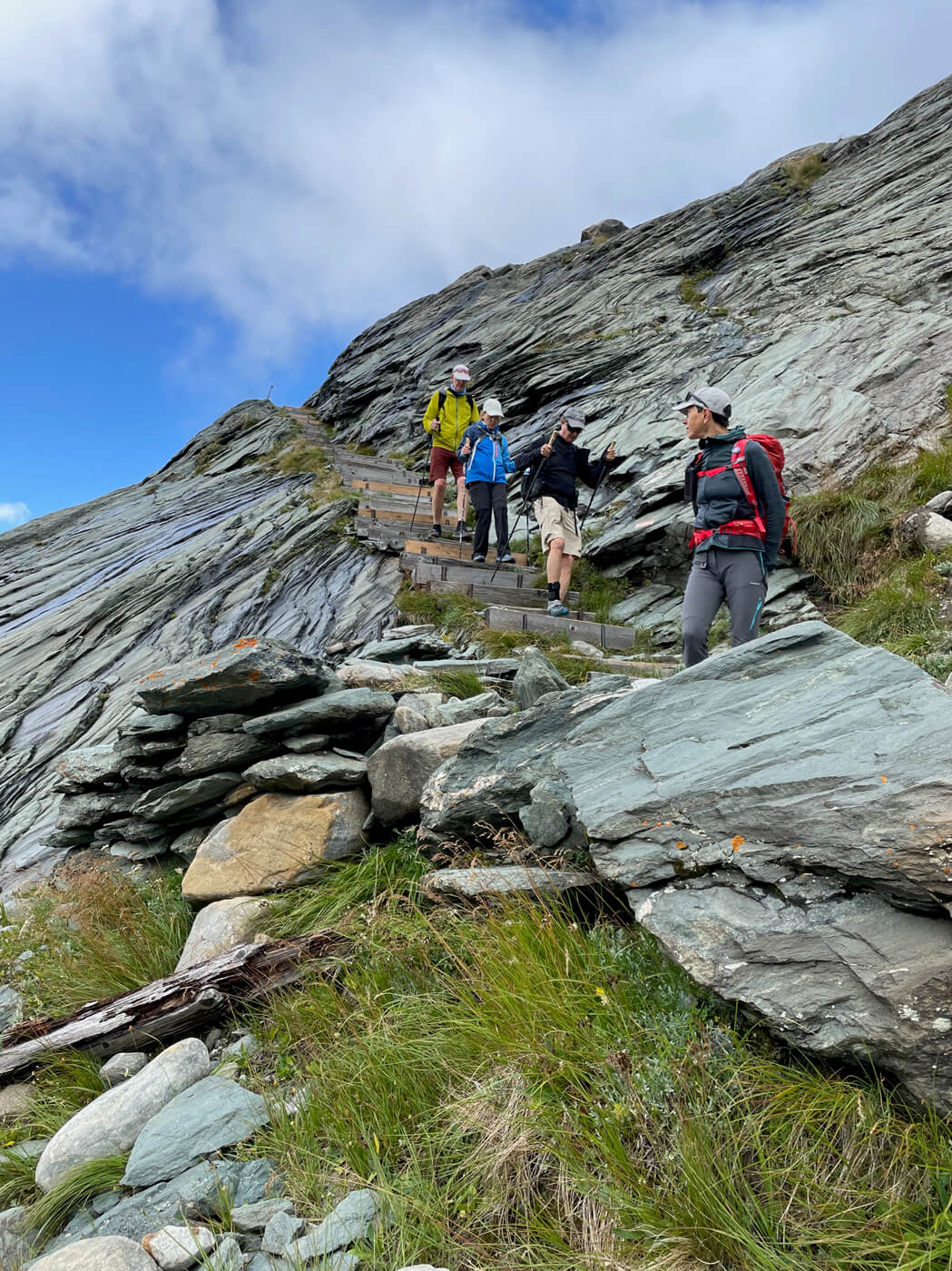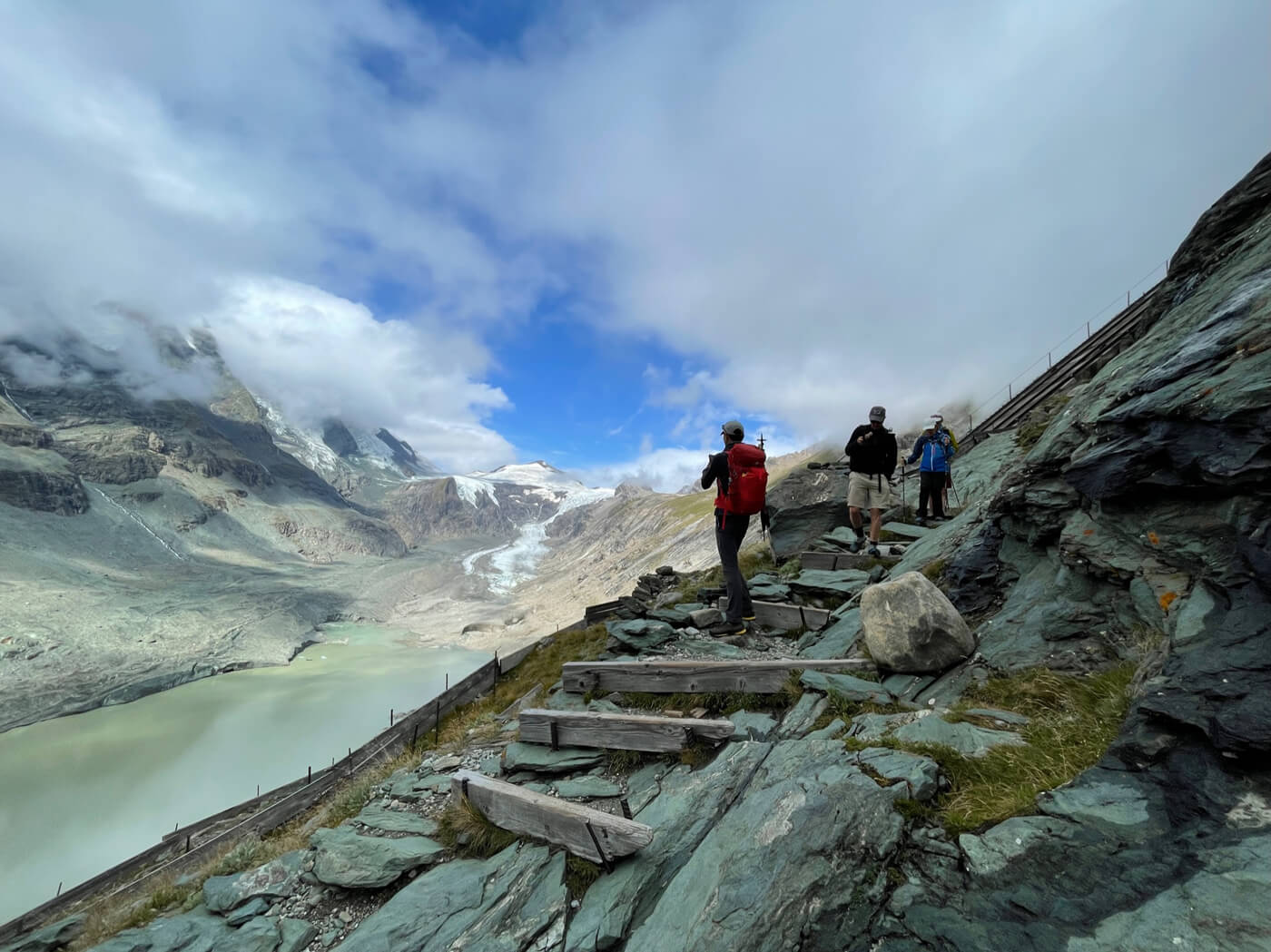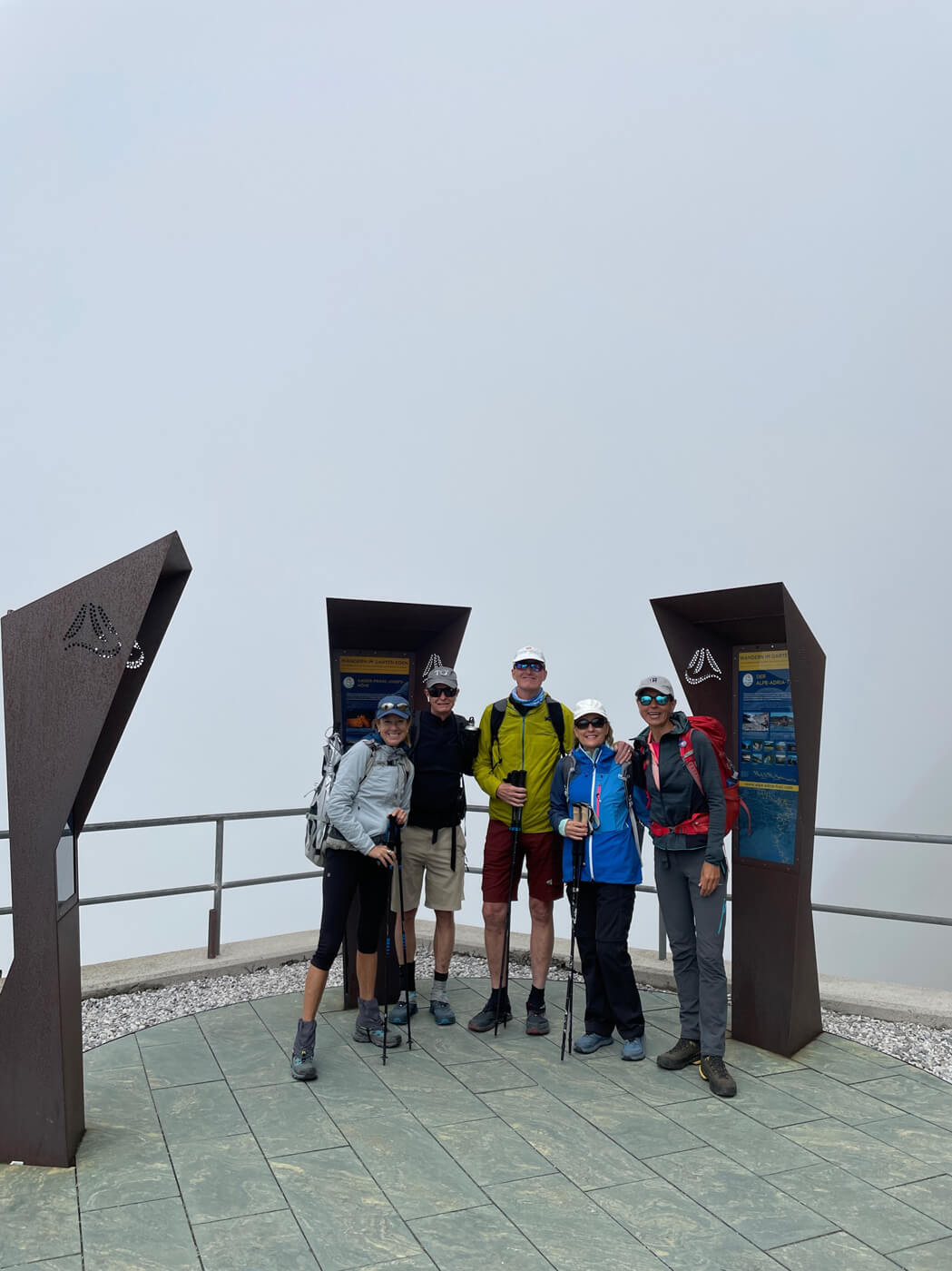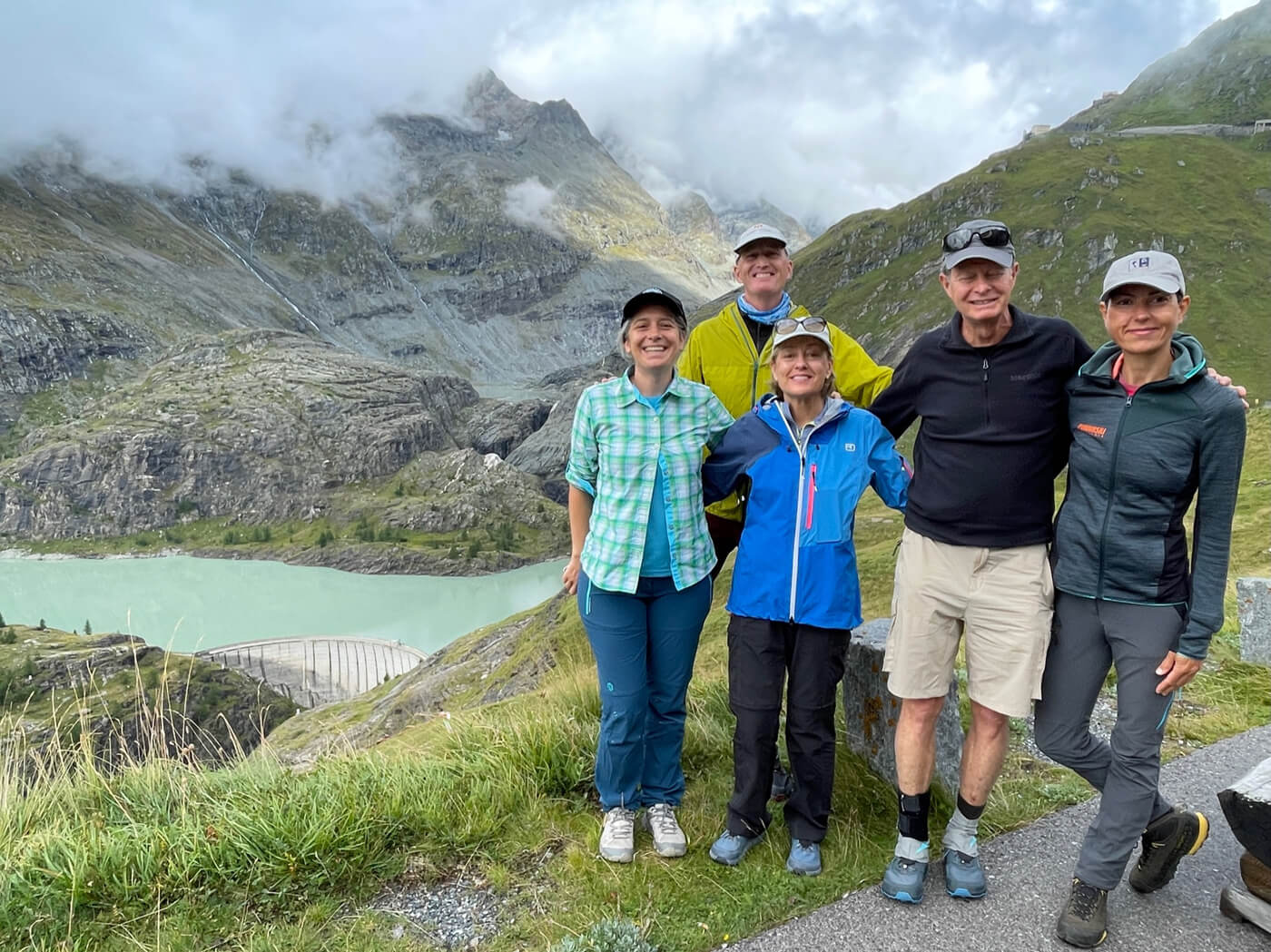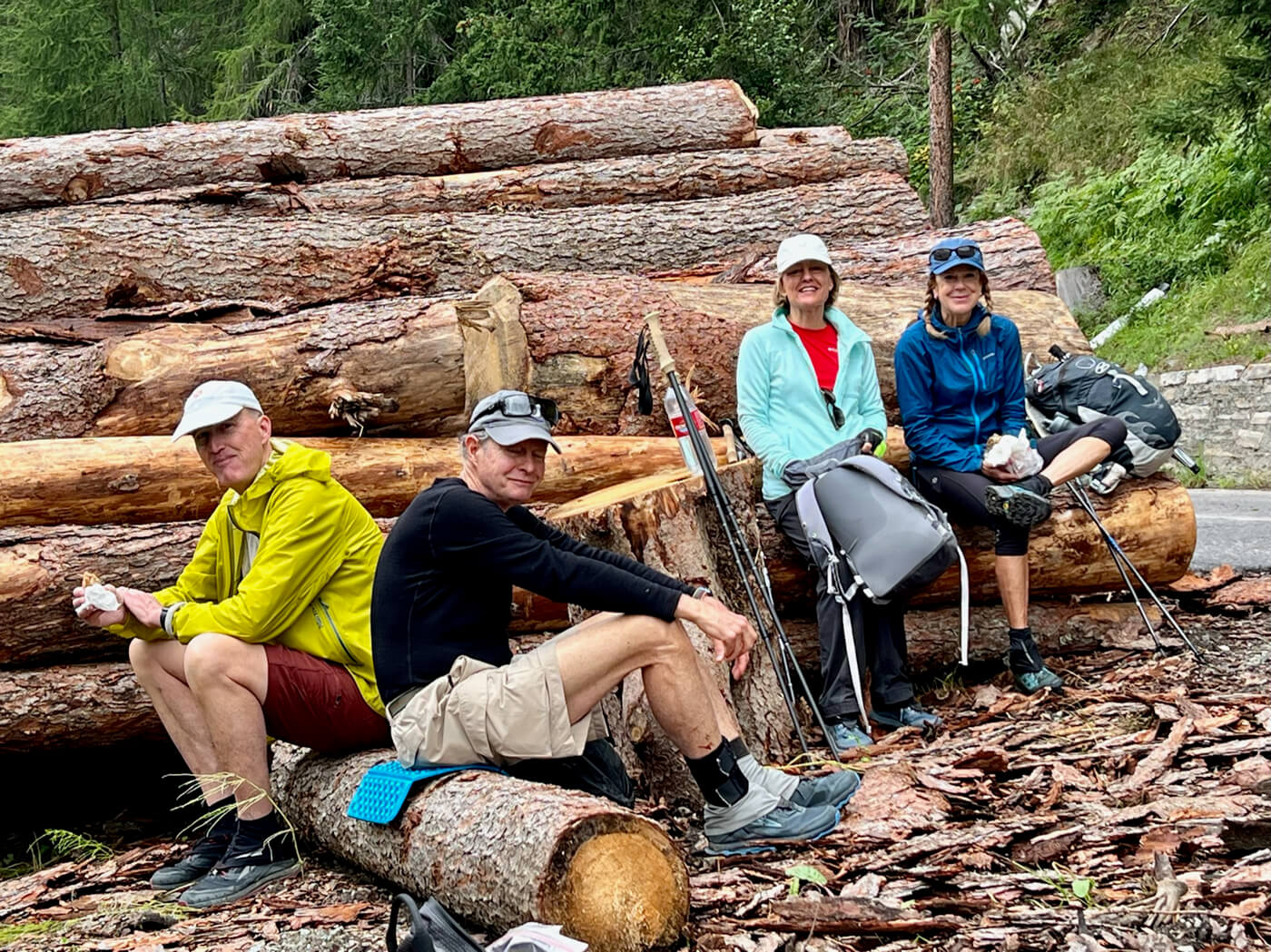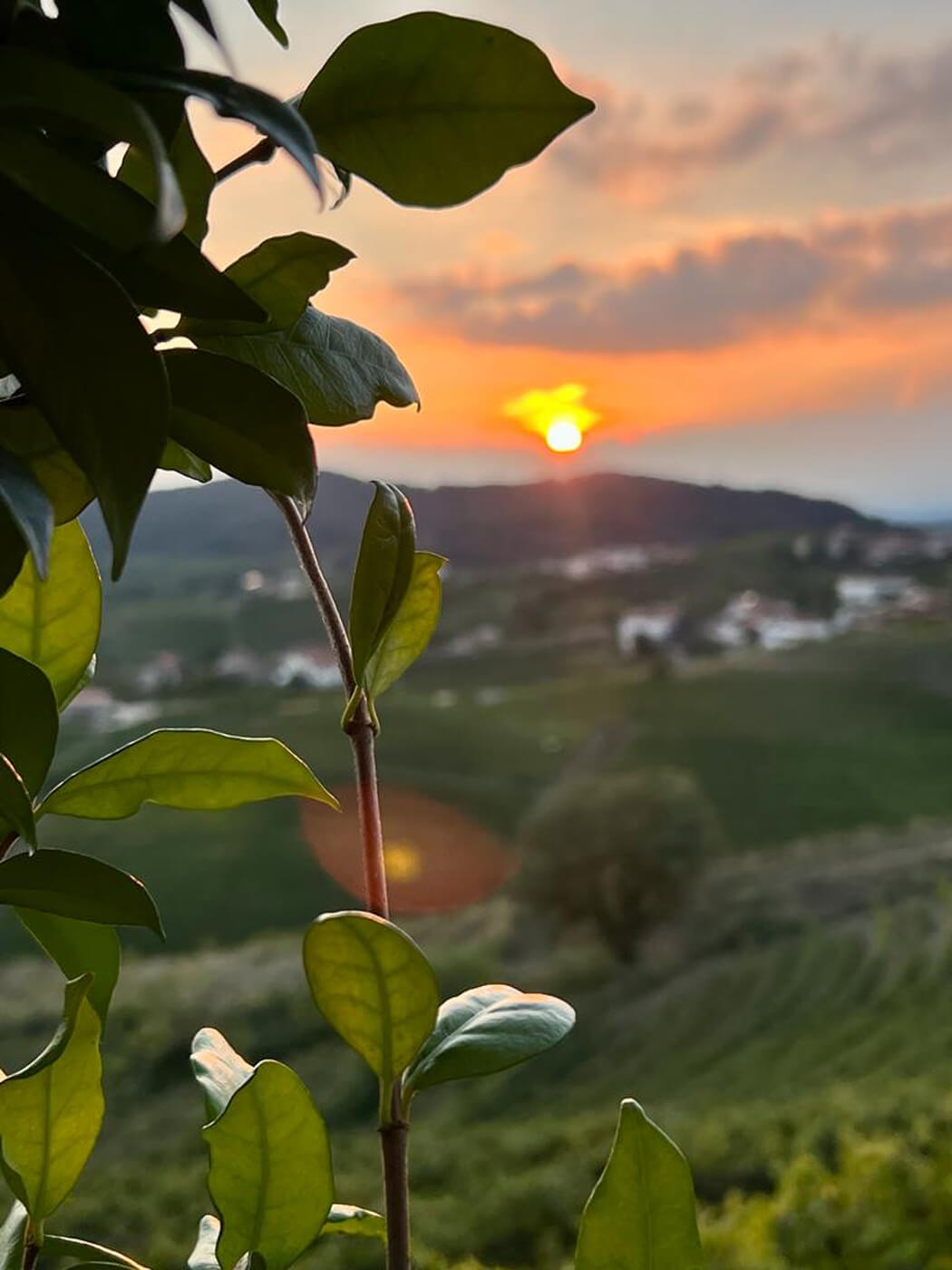 Images by Kathy Dragon
After a few weeks of hiking and biking in Austria we reached Slovenia. We saw the Planica ski jumping hills and the Vltranc resort, where the Ski World Cup is held annually. There wasn't any snow of course, but it's easy to imagine how magical it would be to visit in the winter if you are into skiing or snowshoeing. Our time in Slovenia finished with the Zelenci Nature Reserve, which includes fountains, an emerald-green lake, and several wooden suspension bridges for exploration. One of the memorable meals we had was on the day when we crossed over from Slovenia into Italy. The bikers and the hikers all met up at a hut that was run by a lovely family who made us delicious fresh pasta with tomatoes, porcini mushrooms, and fresh herbs from their garden. A salad, a warm bowl of pasta, and an ice-cold, non-alcoholic beer tasted pretty great after logging some serious miles on the bike! As a side note, I gave up drinking alcohol about six months ago and it's amazing how much better I am sleeping and feeling every day. Before giving it up I only had a couple of drinks per week max, but even that small amount really messed with my sleep. I was happy to discover how fantastic Austrian, Slovenian, and Italian non-alcoholic beers are!
In Italy, our journey took us to visit some of the most important mountain towns in Friuli-Venezia Giulia. First, we visited Tarvisio, a town surrounded by the Julian Alps and has extensive valleys and forests. The local culture in Tarvisio was extremely unique in part because it's a mixture of Adriatic, Slavic, and Latin traditions. We then visited Camporosso, Valbruna in Val Saisera, a valley surrounded by a ring of fascinating mountains, and Mt. Lussari. I also enjoyed seeing Venice, which was the city I flew out of at the end of the hike.
The entire trip was amazing, but the best parts were definitely the landscape, the physical exercise, and the people. The incredible beauty of all three countries I hiked and biked, Austria, Slovenia, and Italy, was breathtaking. You almost go into sensory overload taking in all the amazing views! I also loved the fantastic physical exercise I had every day, both hiking and biking. I would hike for six to eight hours on the days I hiked and would bike for two to three hours on the days I rode. It was great to have this extensive amount of physical exercise every day. I felt great! More importantly, I really enjoyed the large amount of quality time I got to spend with the various friends that I hiked and biked with. Life is busy – it was really nice to take the time to disconnect and spend significant unhurried time with good friends. This trip was the perfect way to transition into my next life chapter and I'm so grateful to have experienced it with people who I care so much about.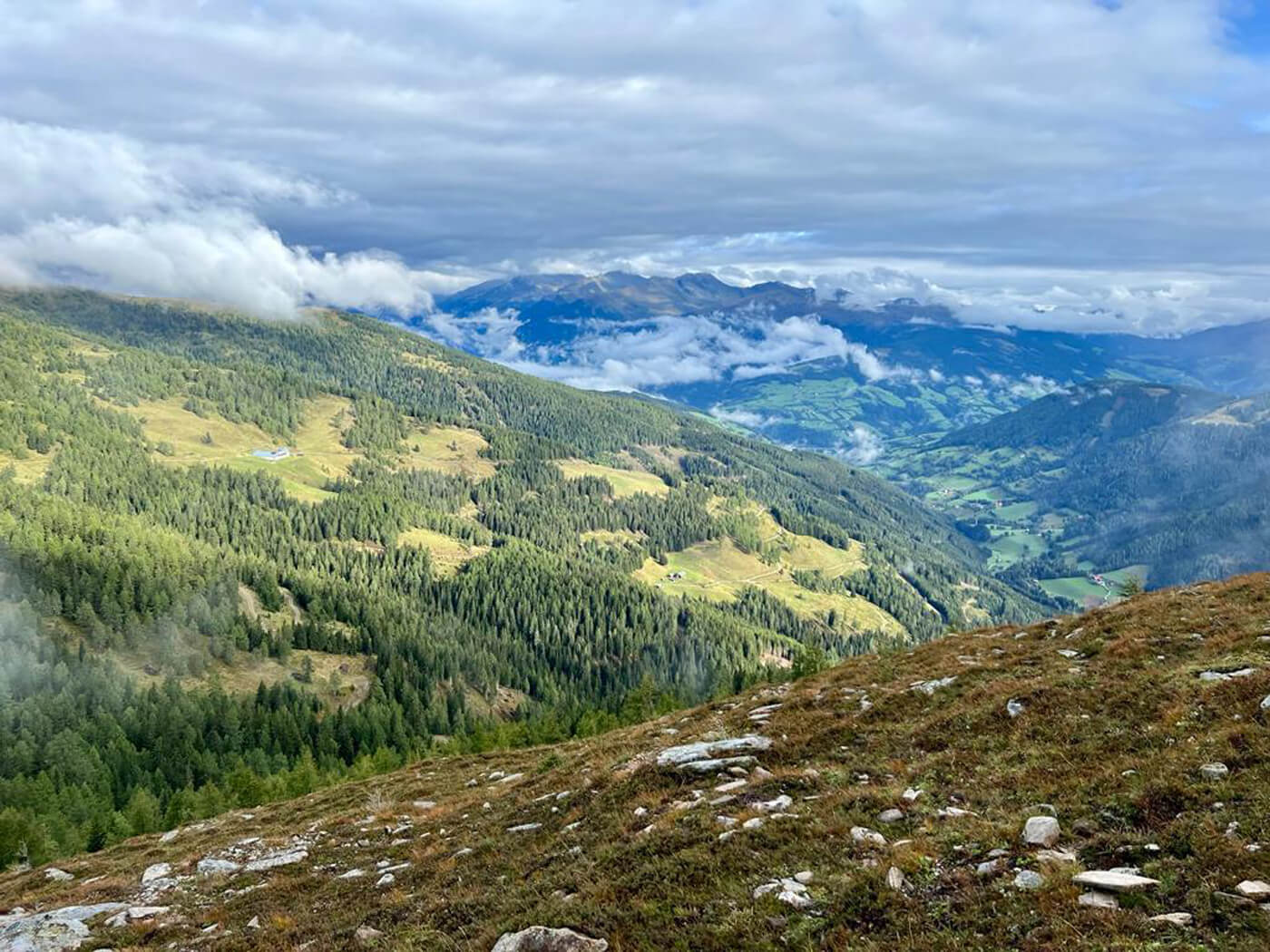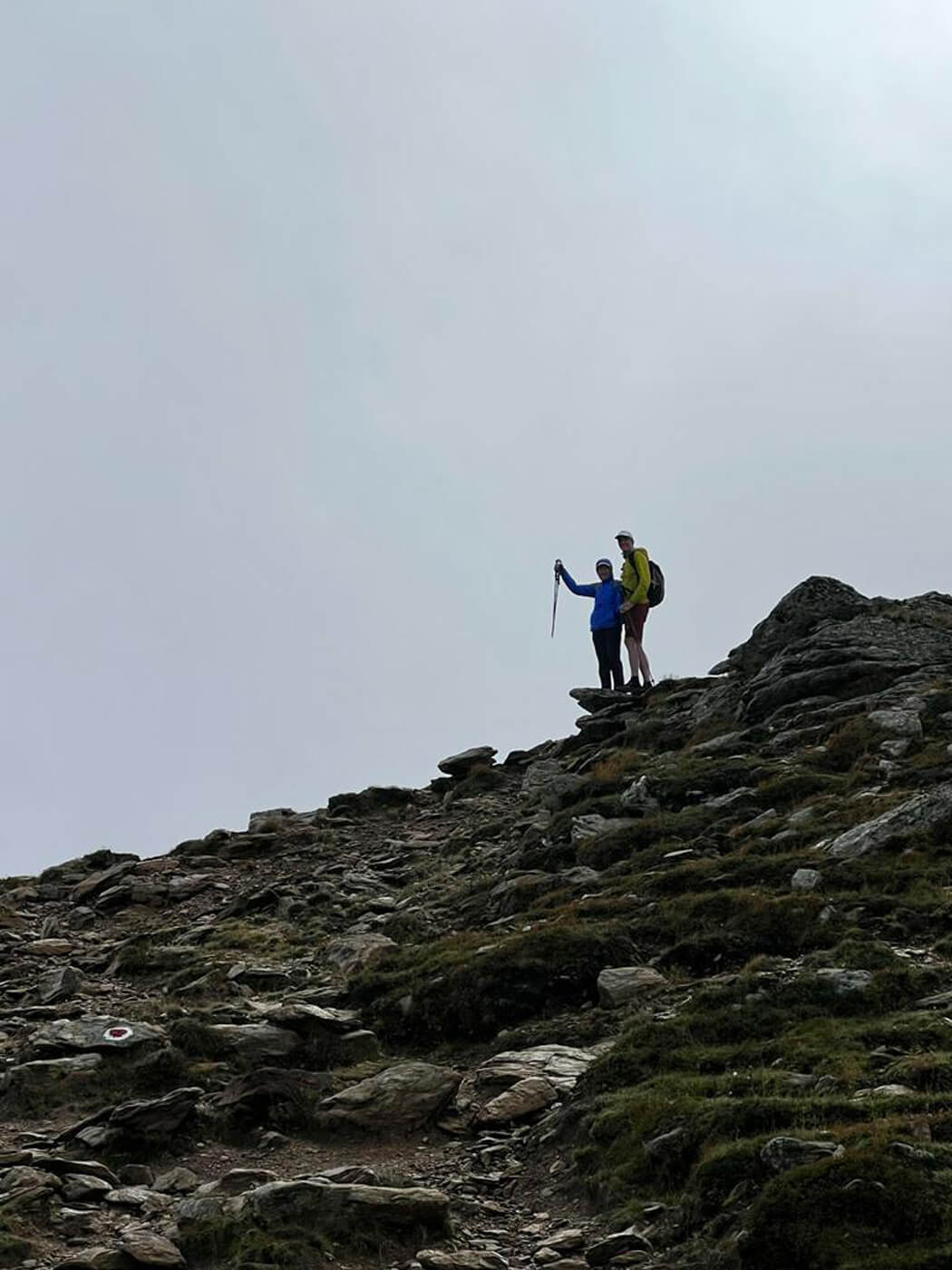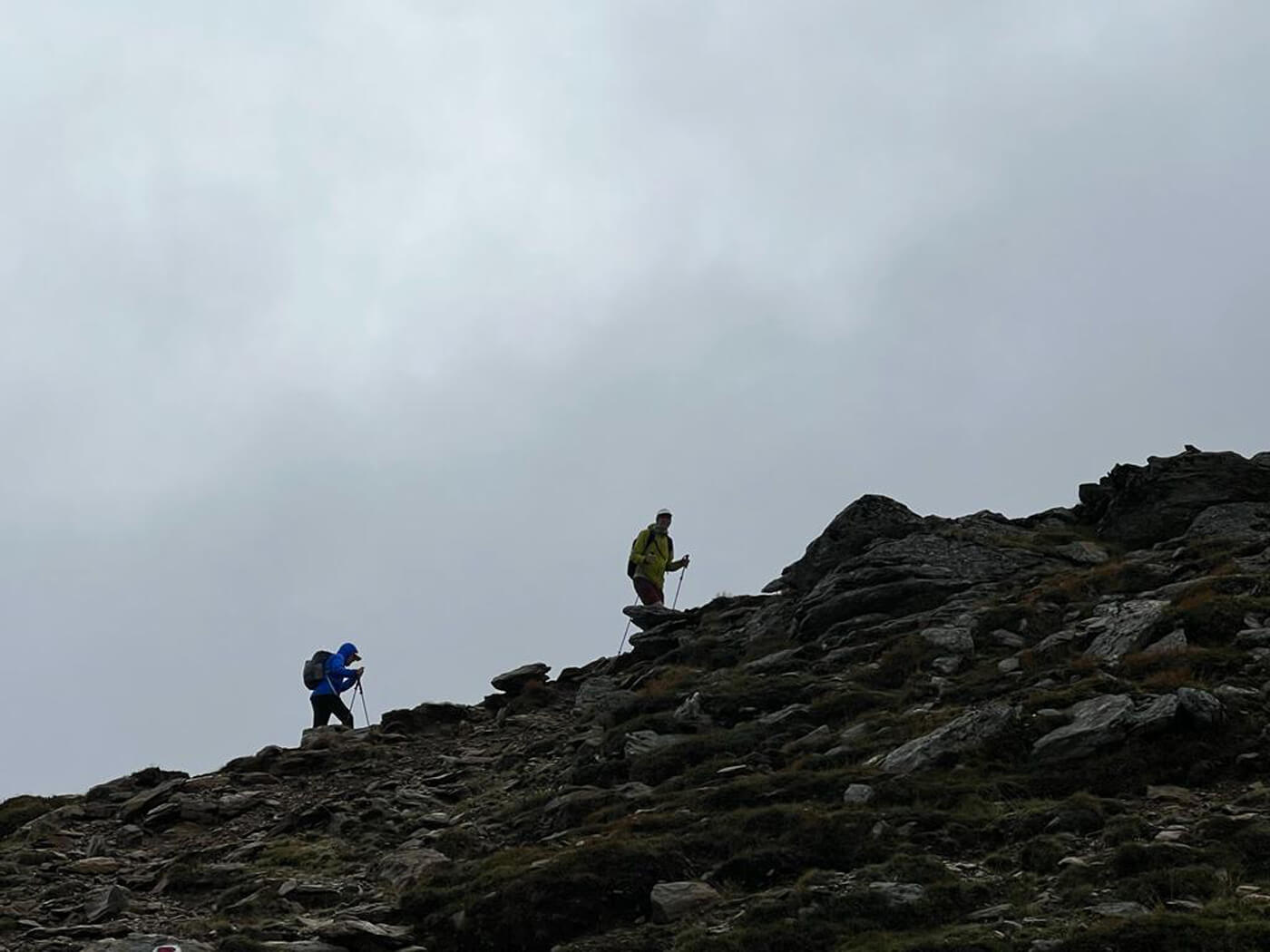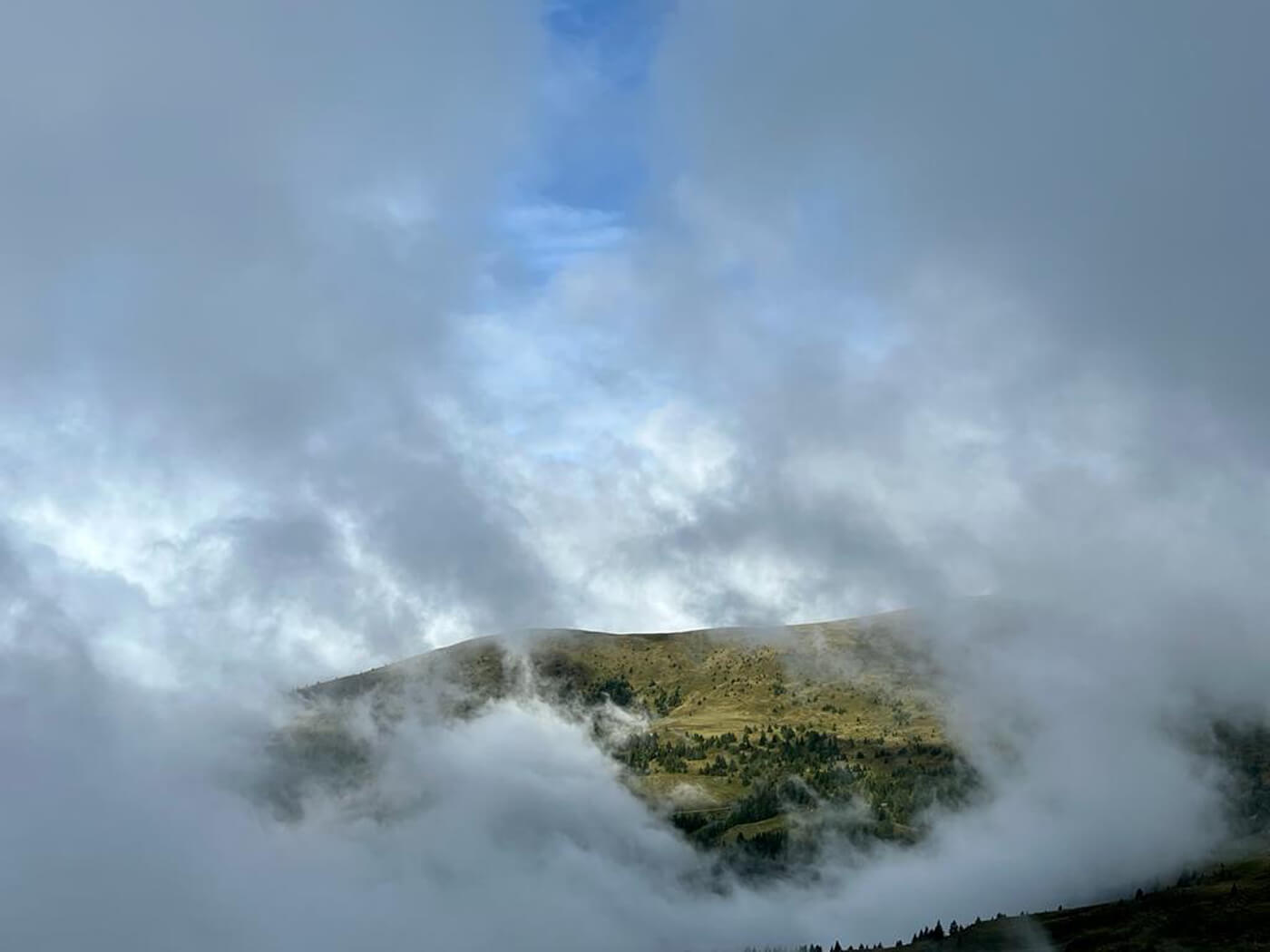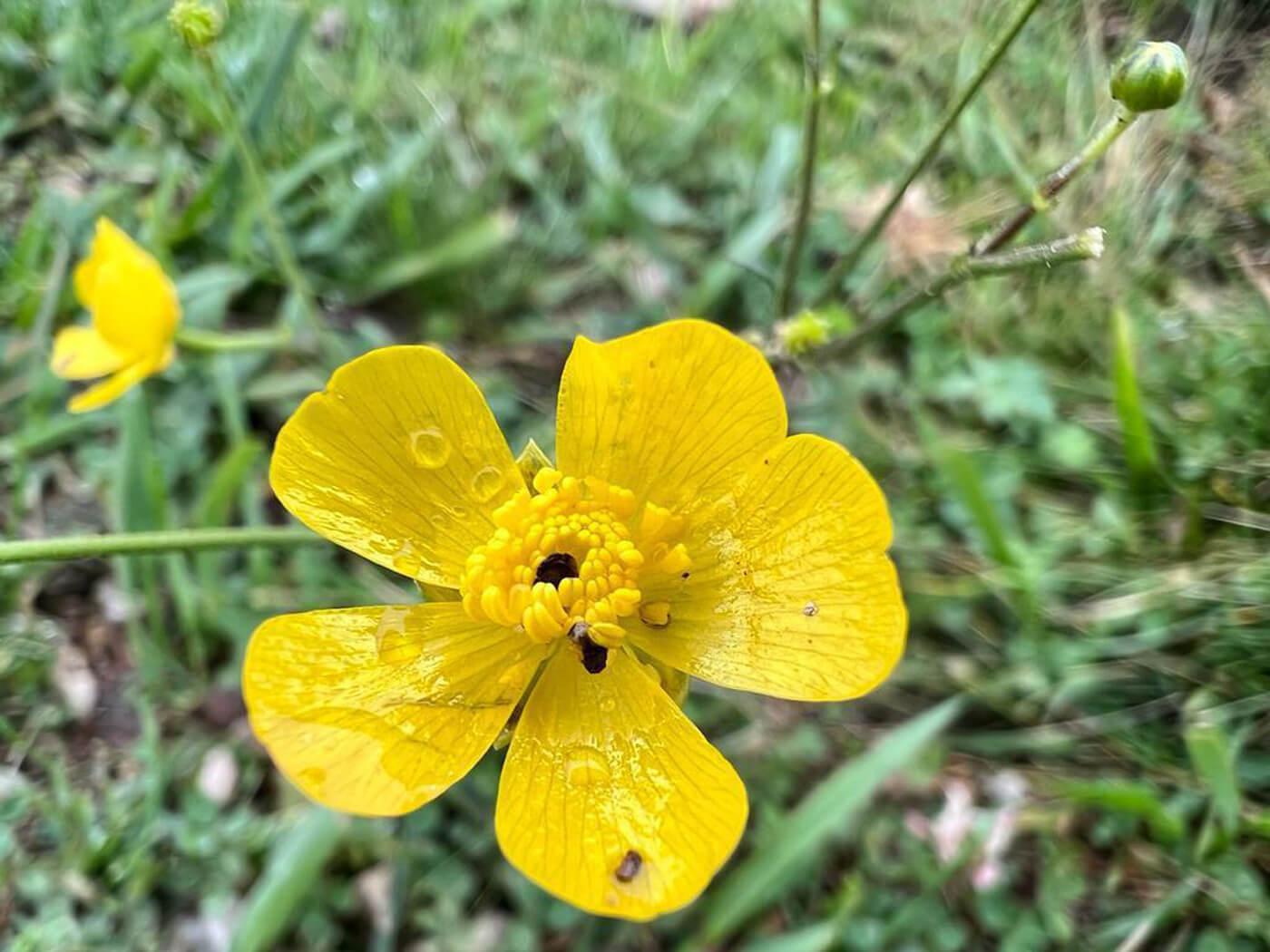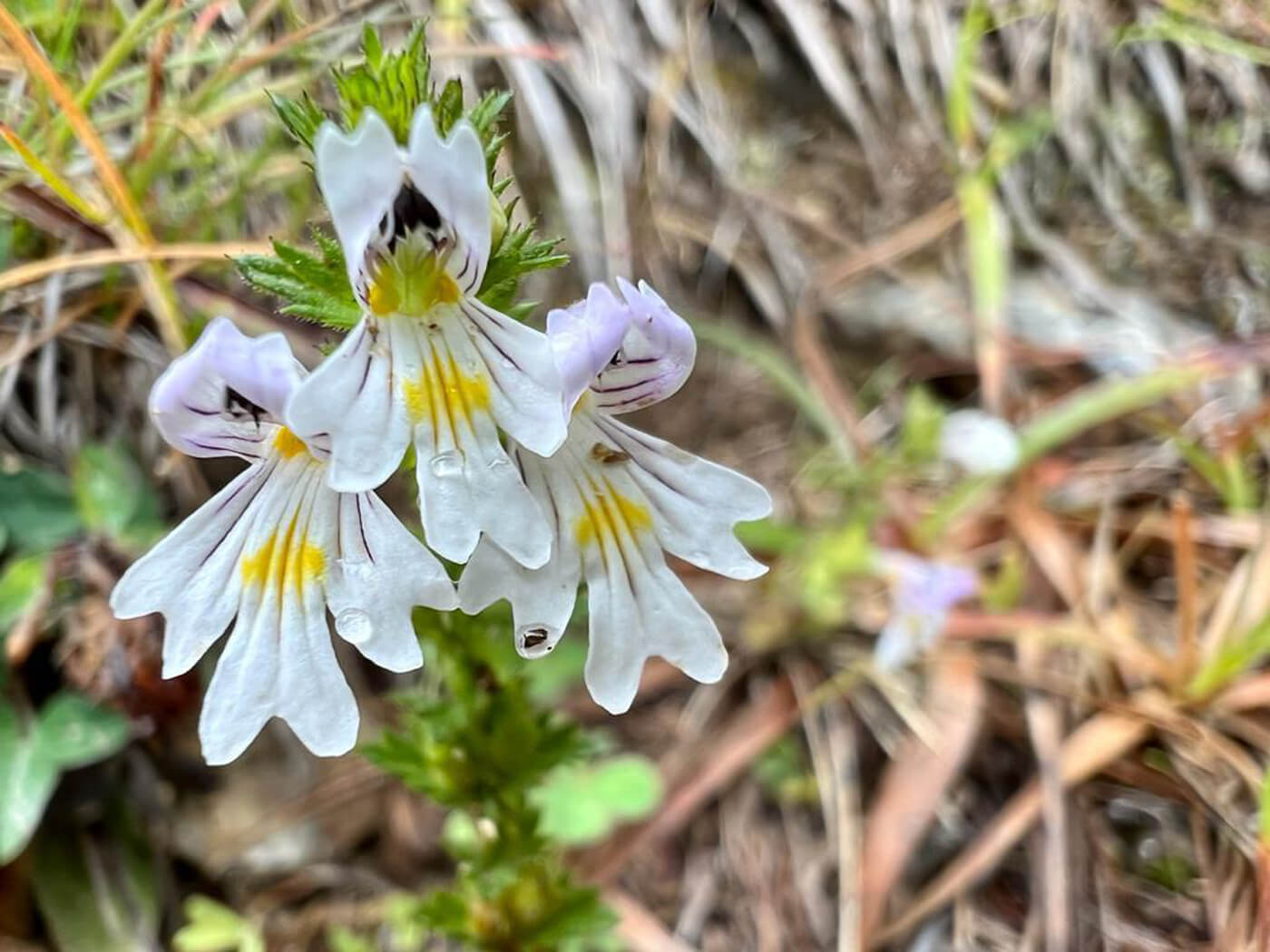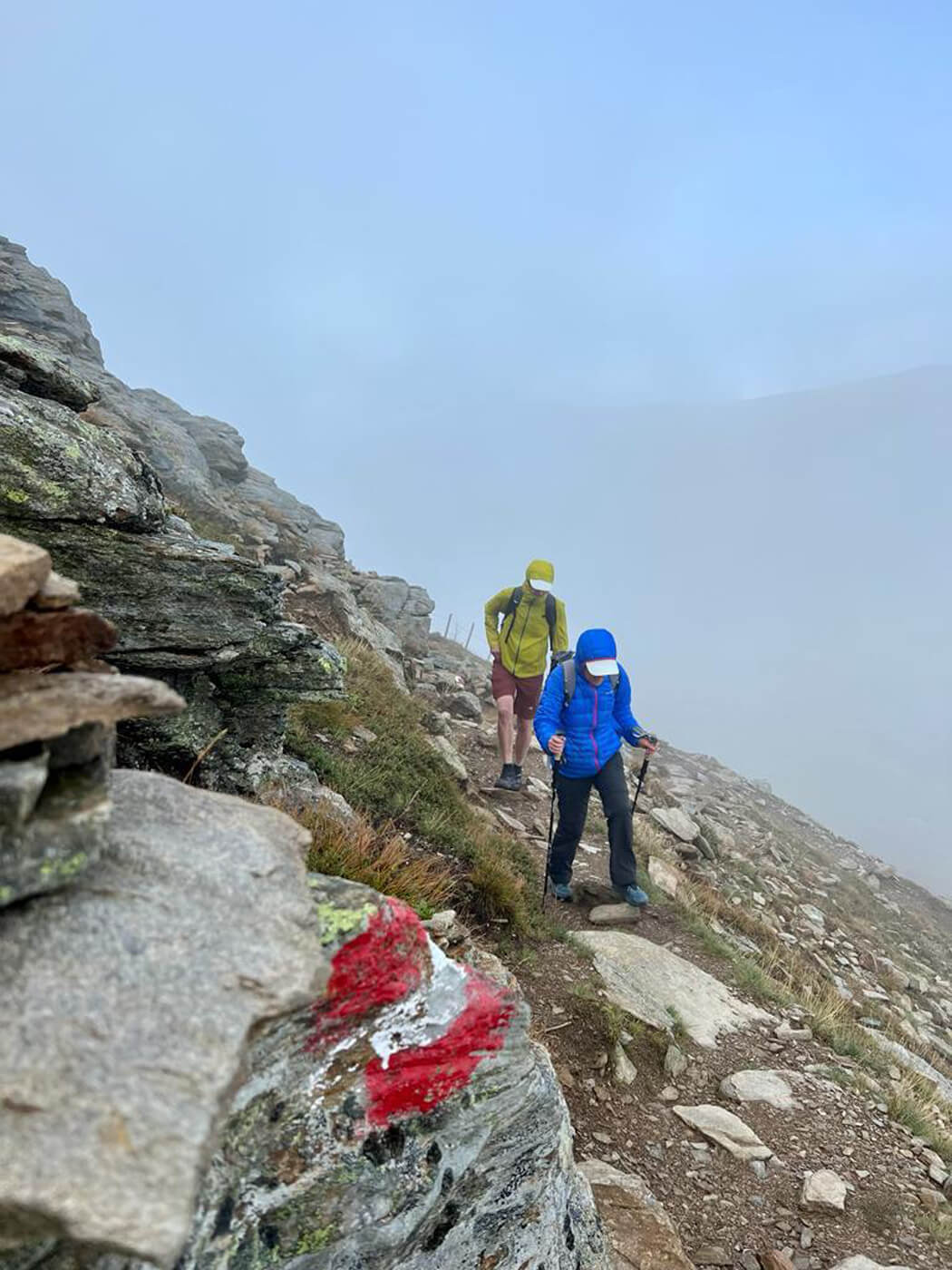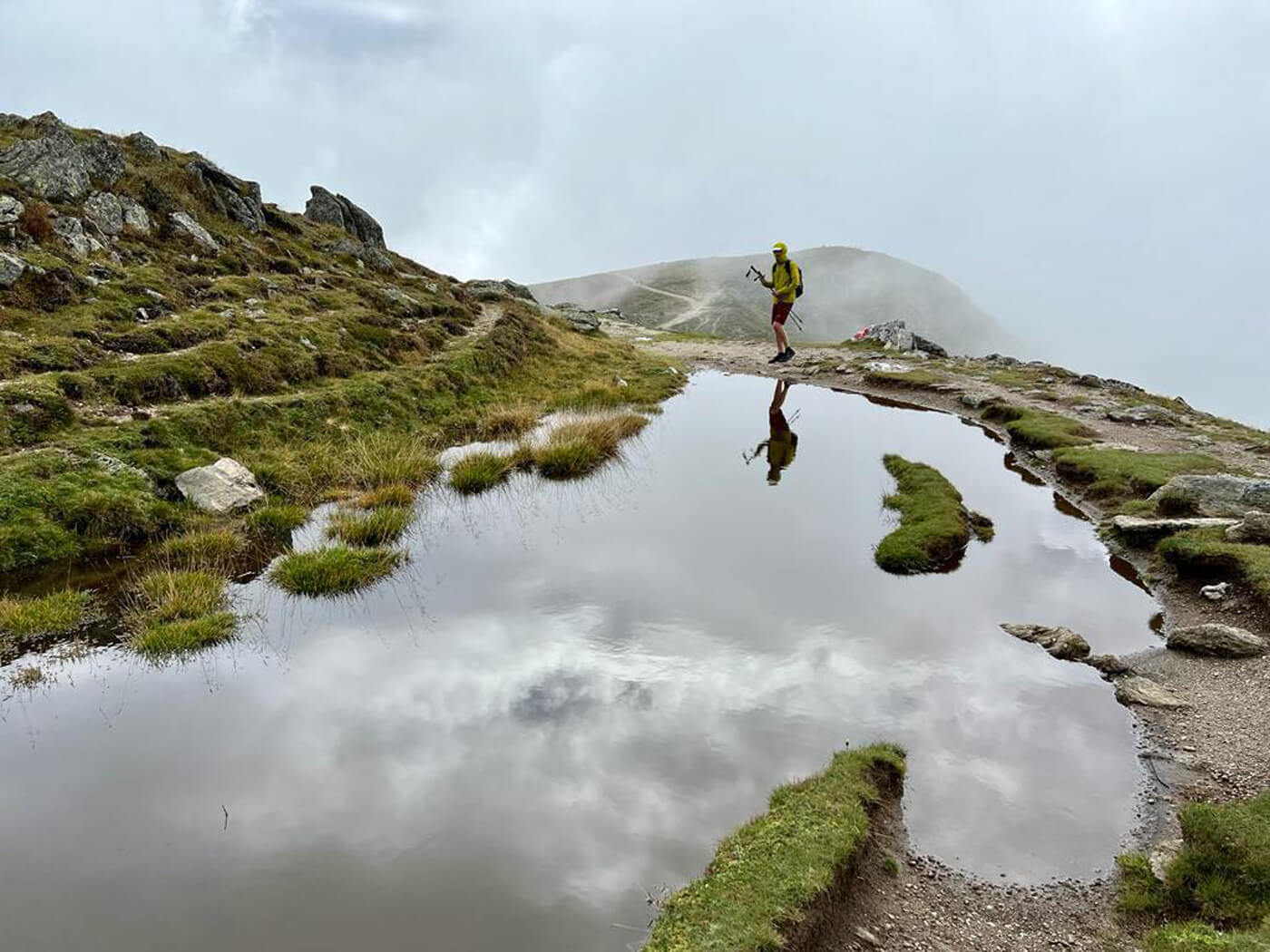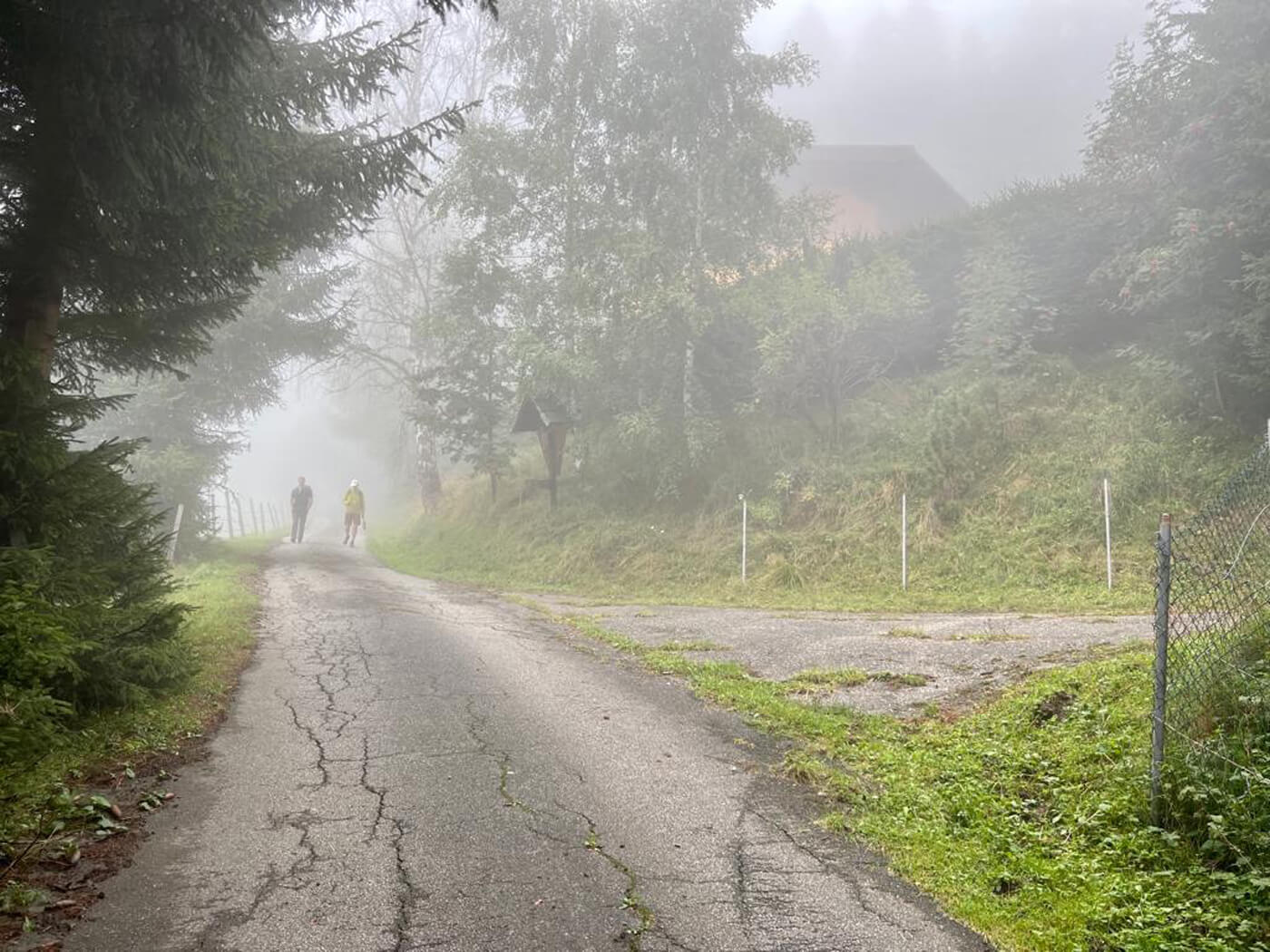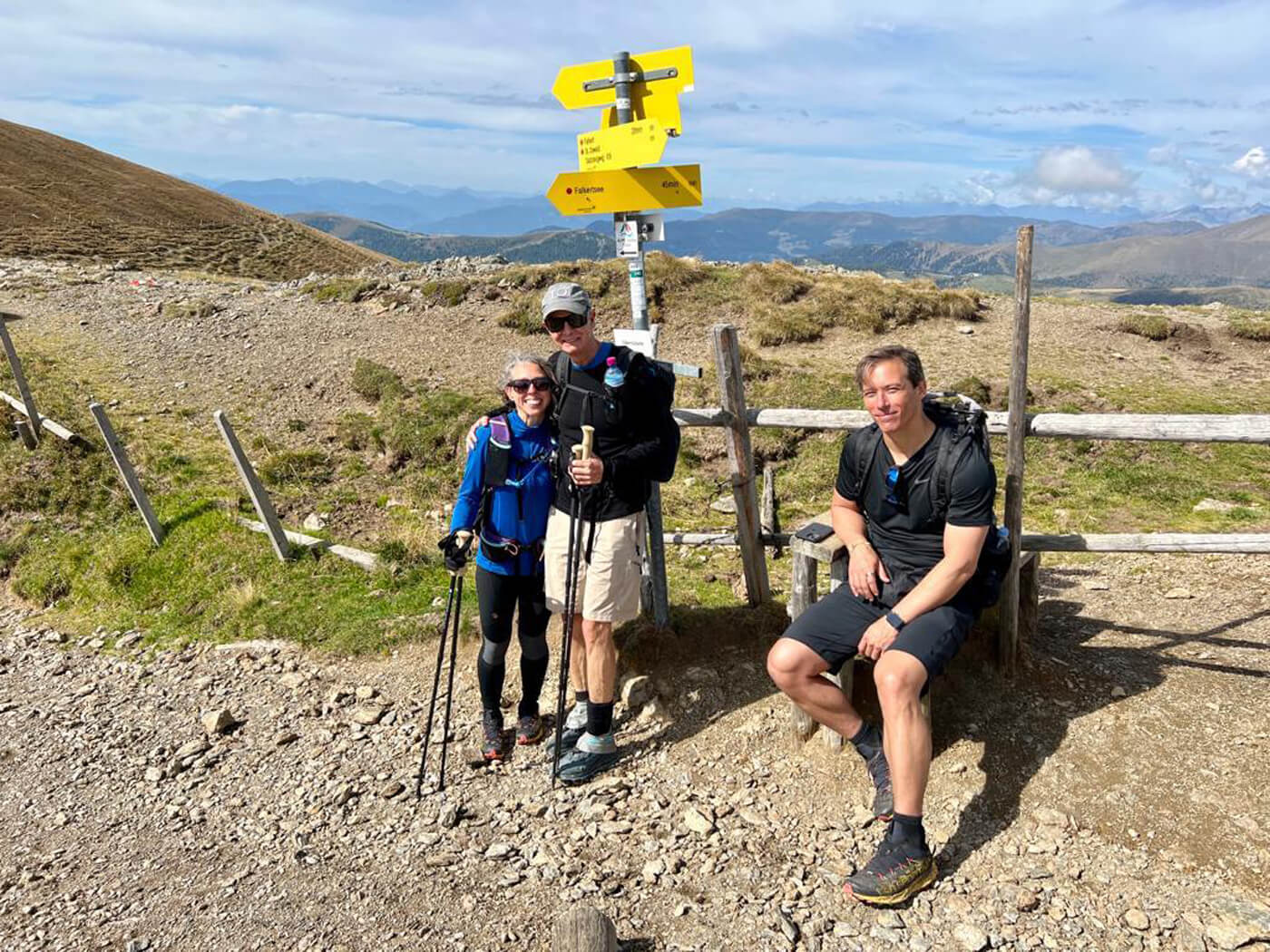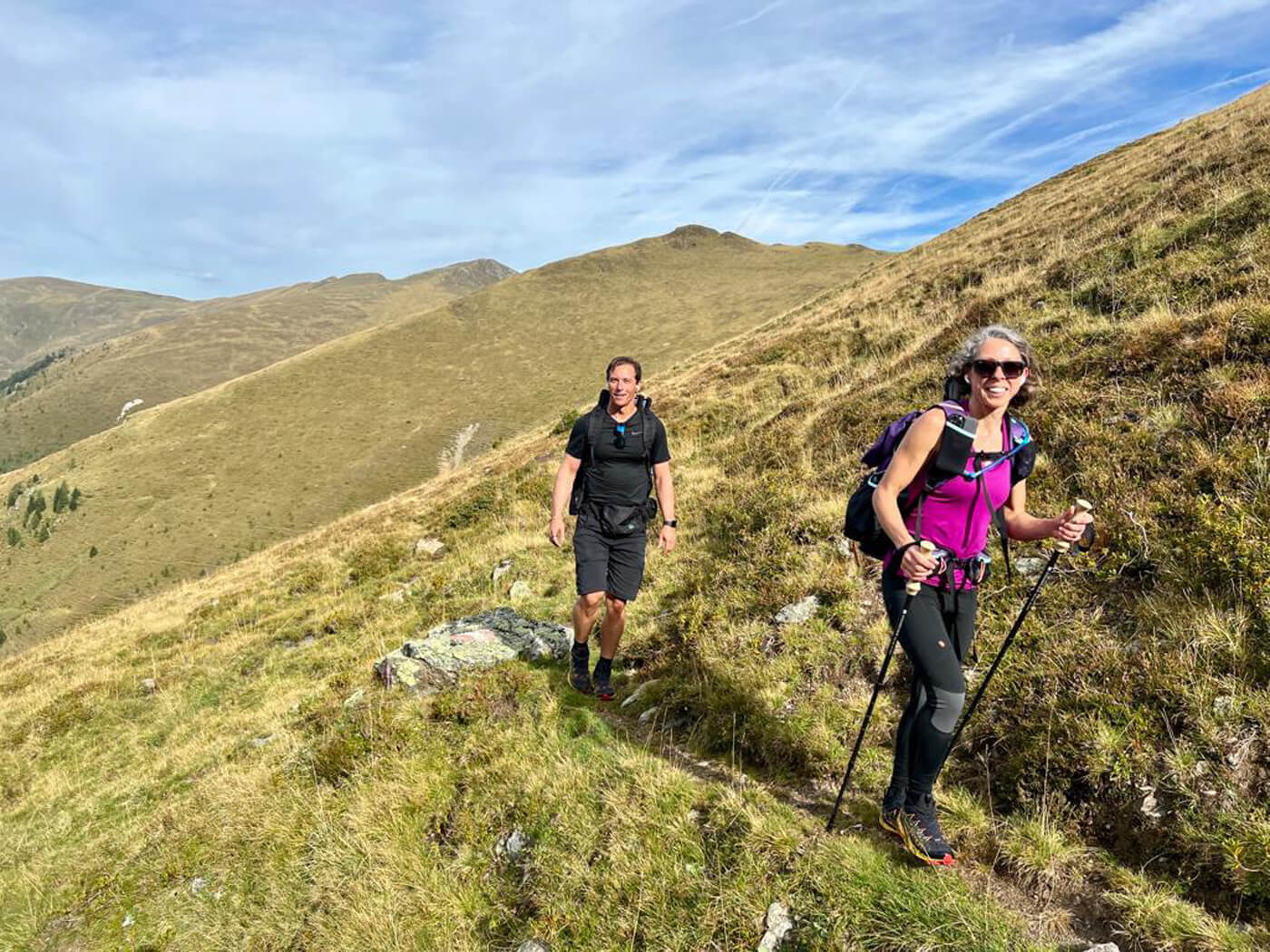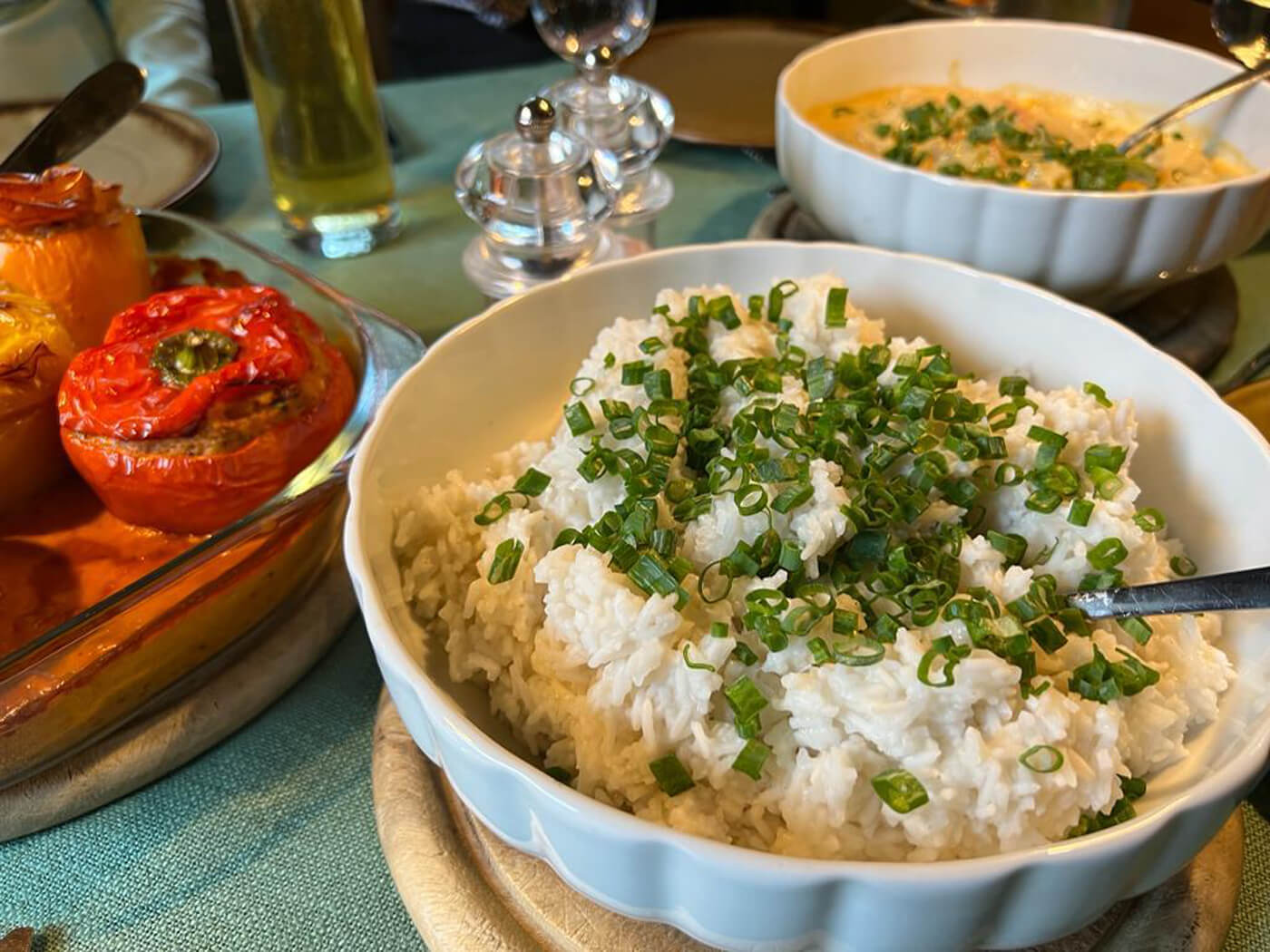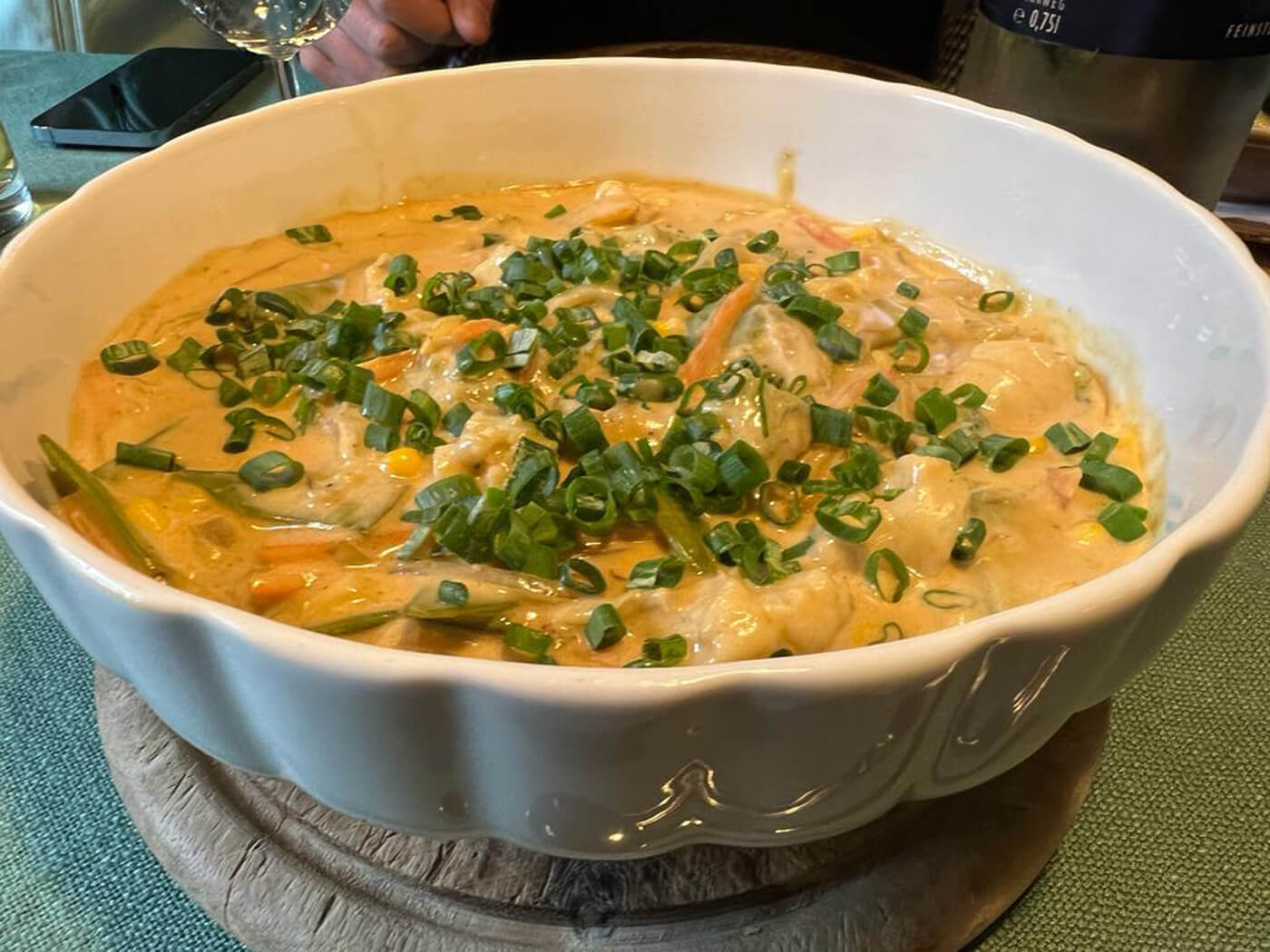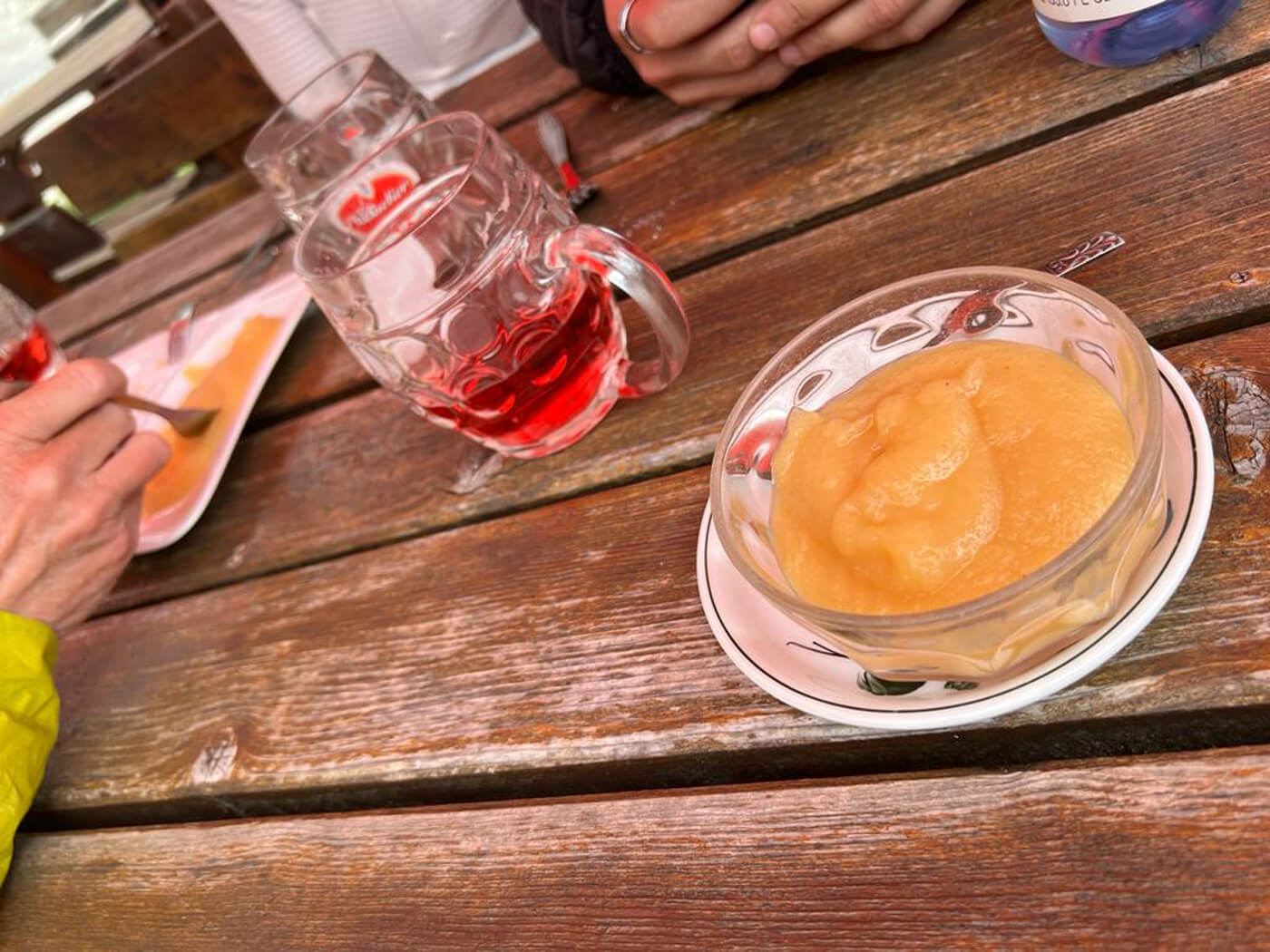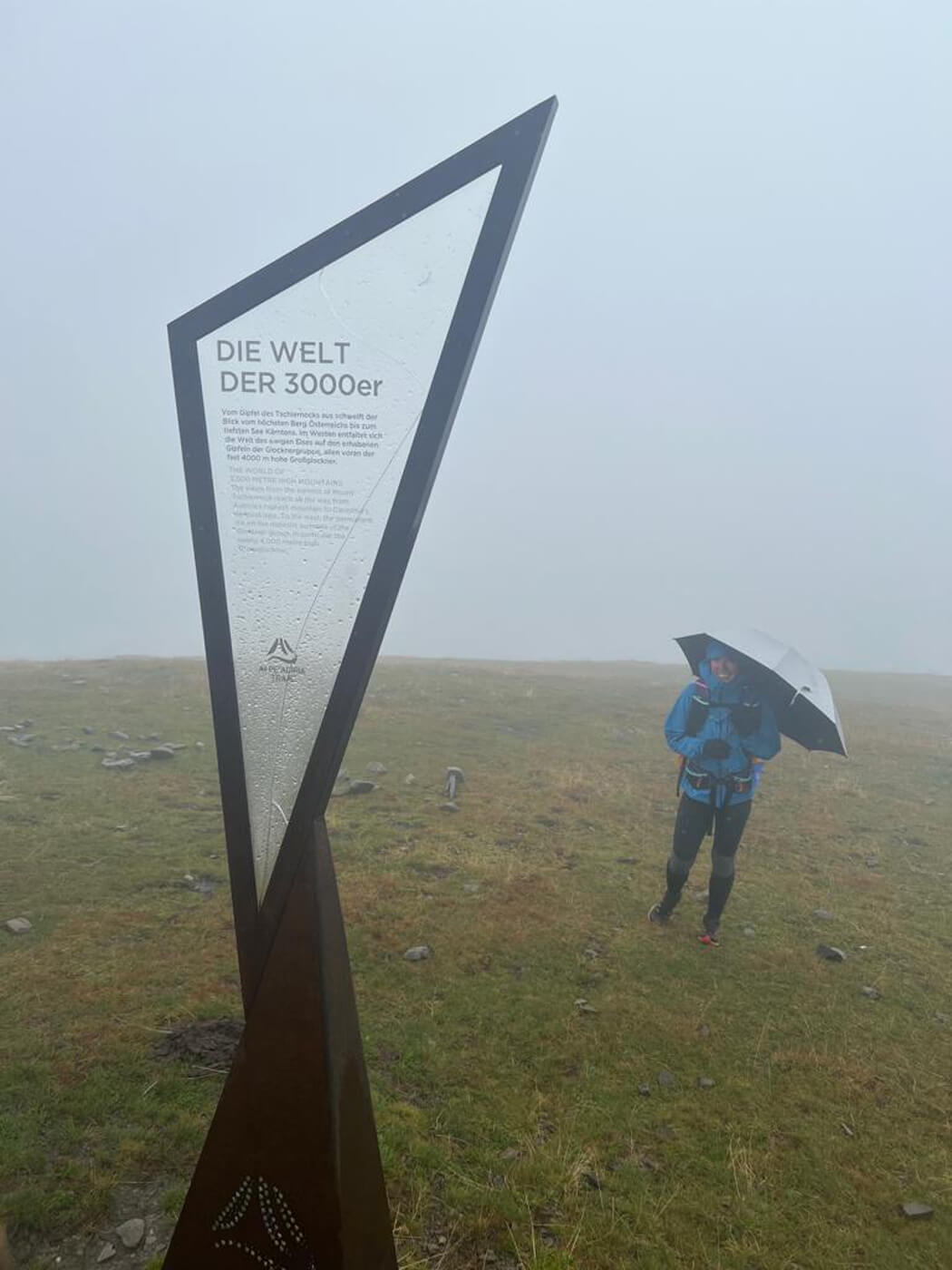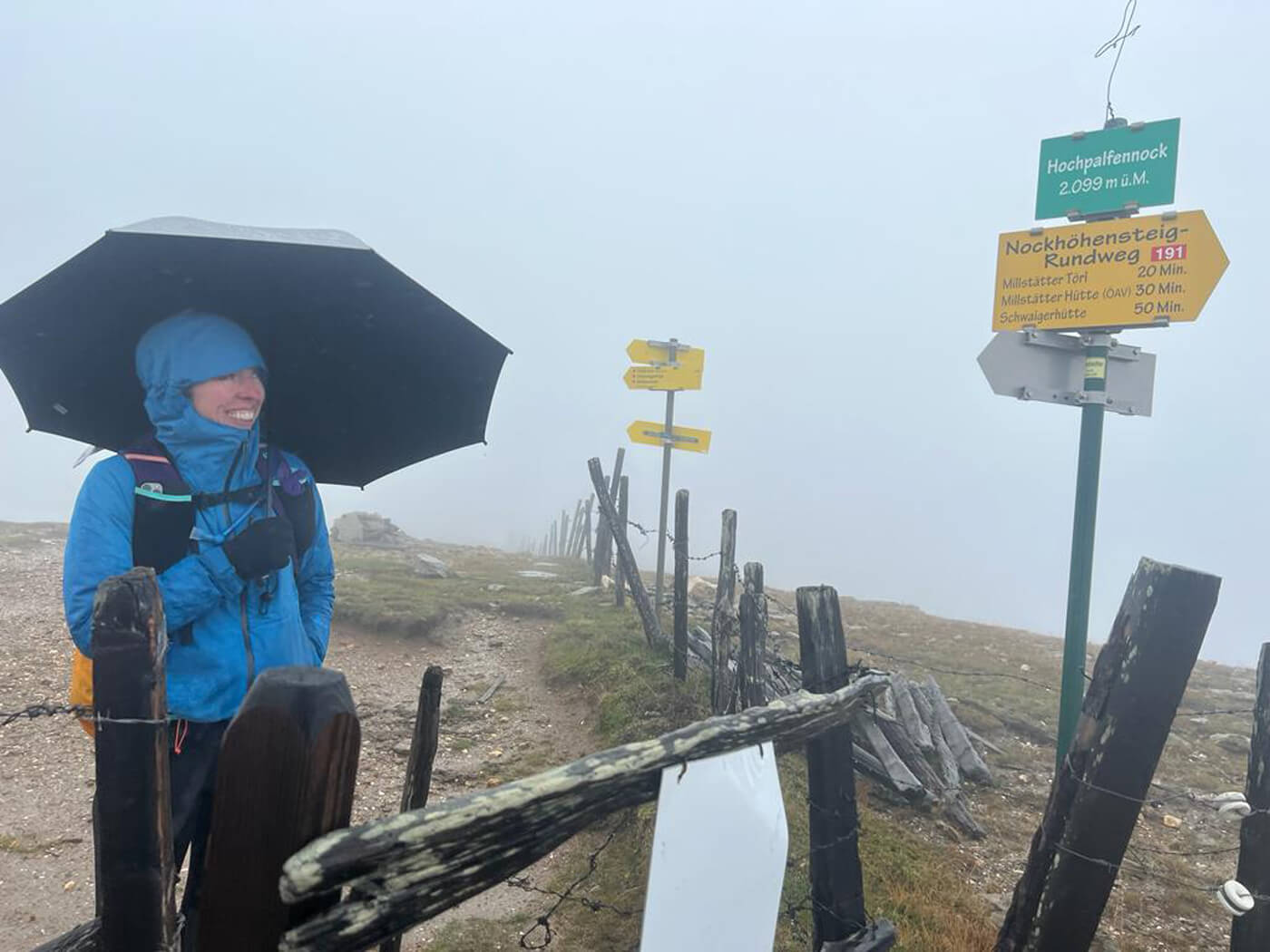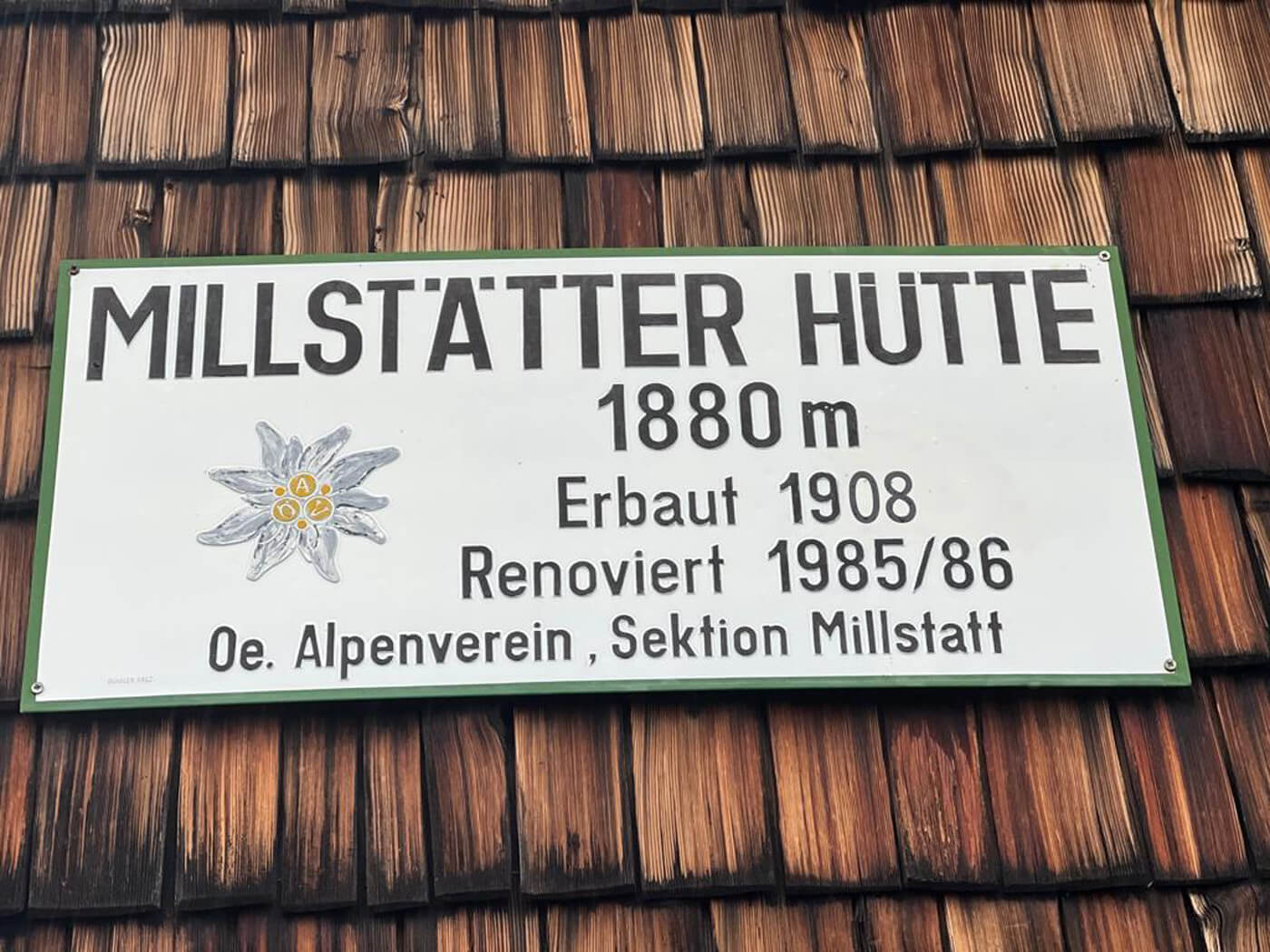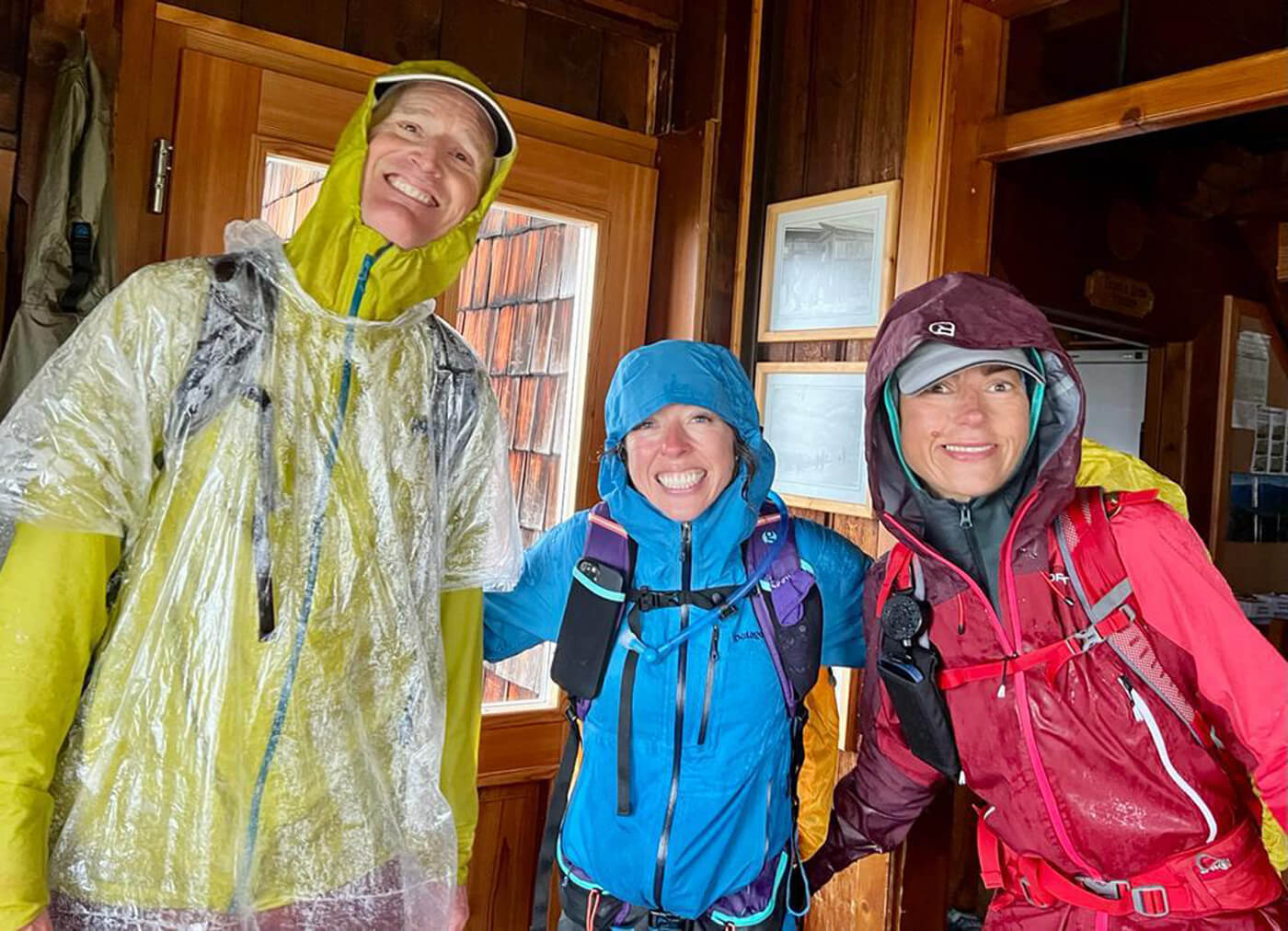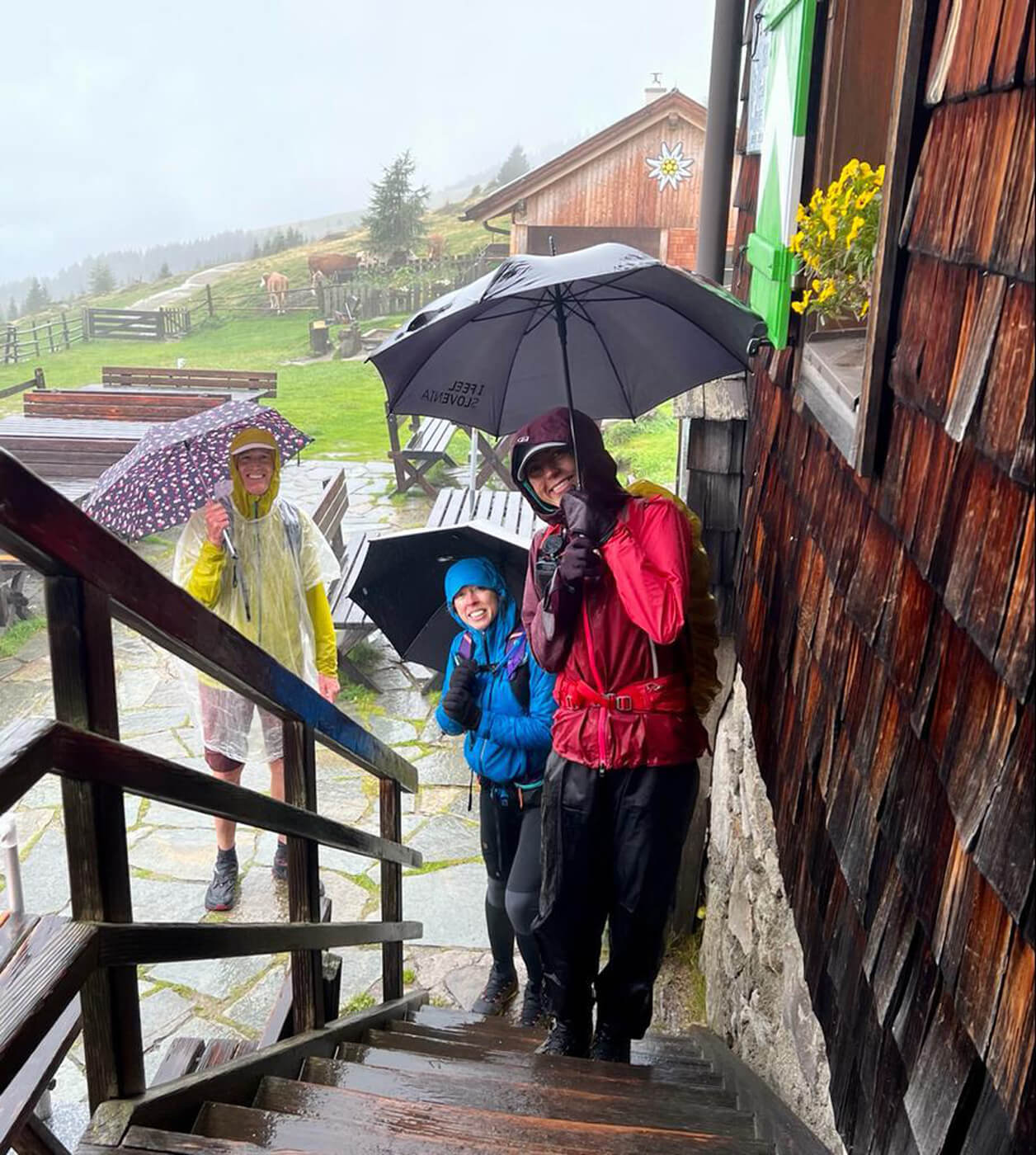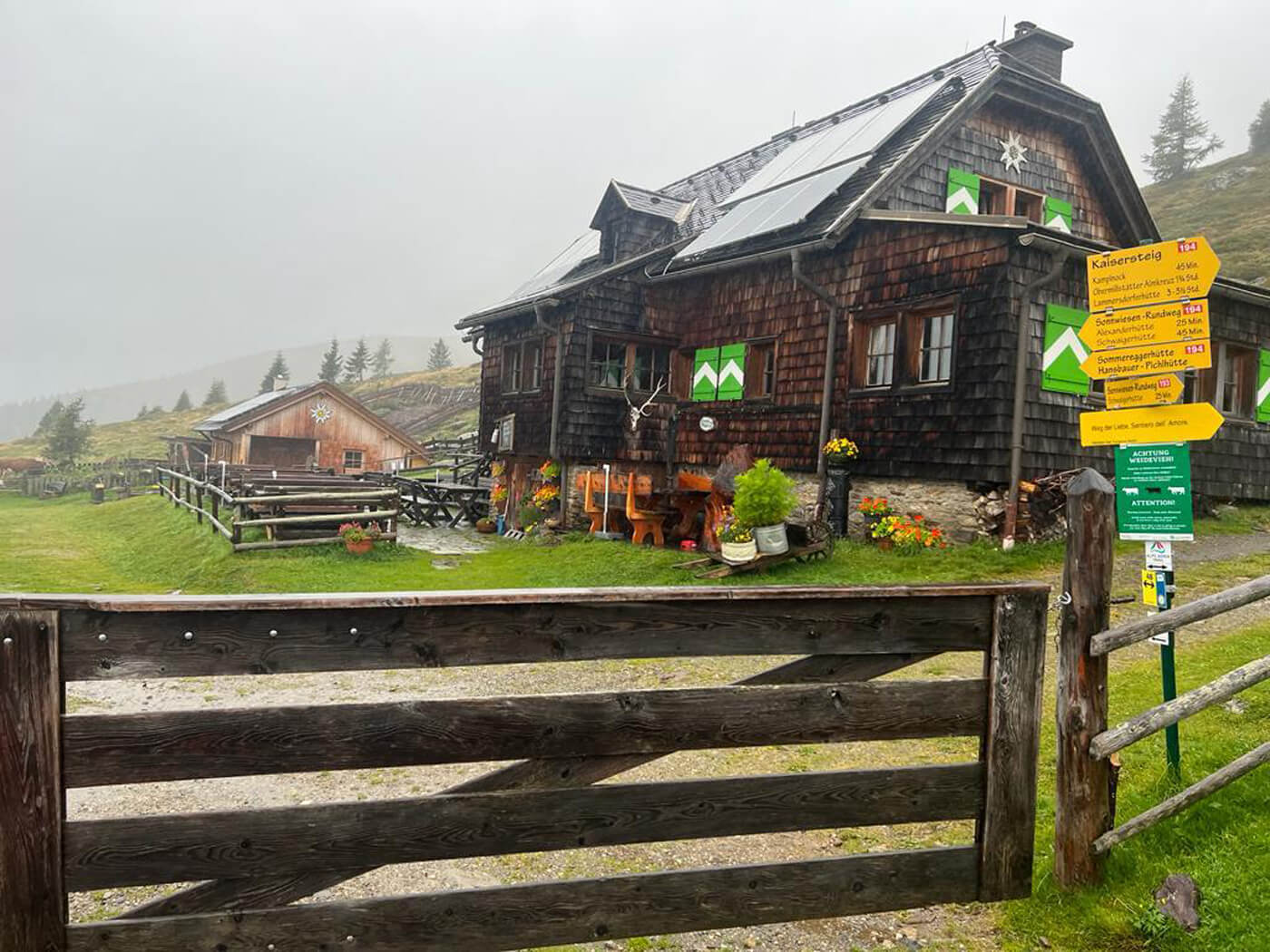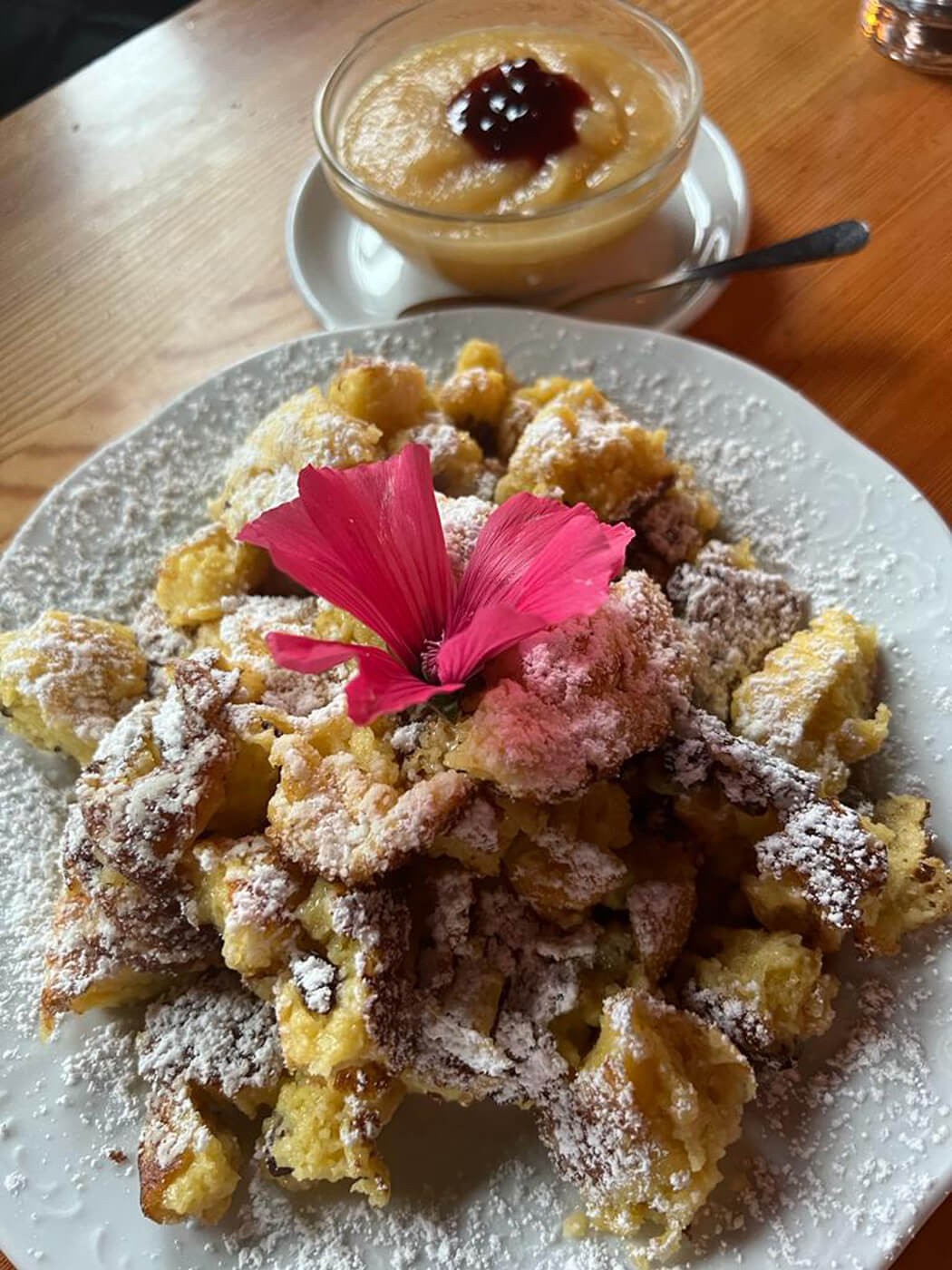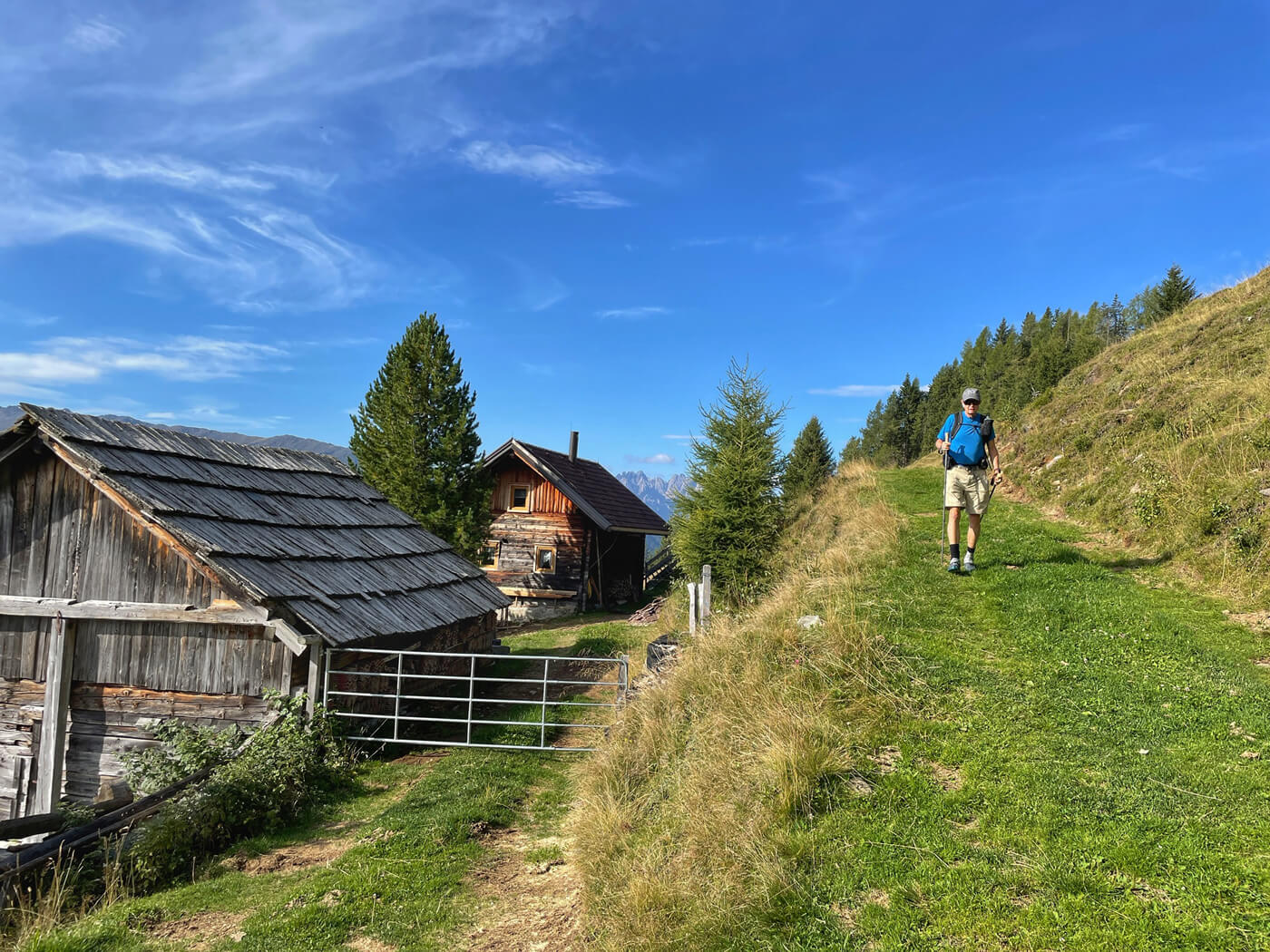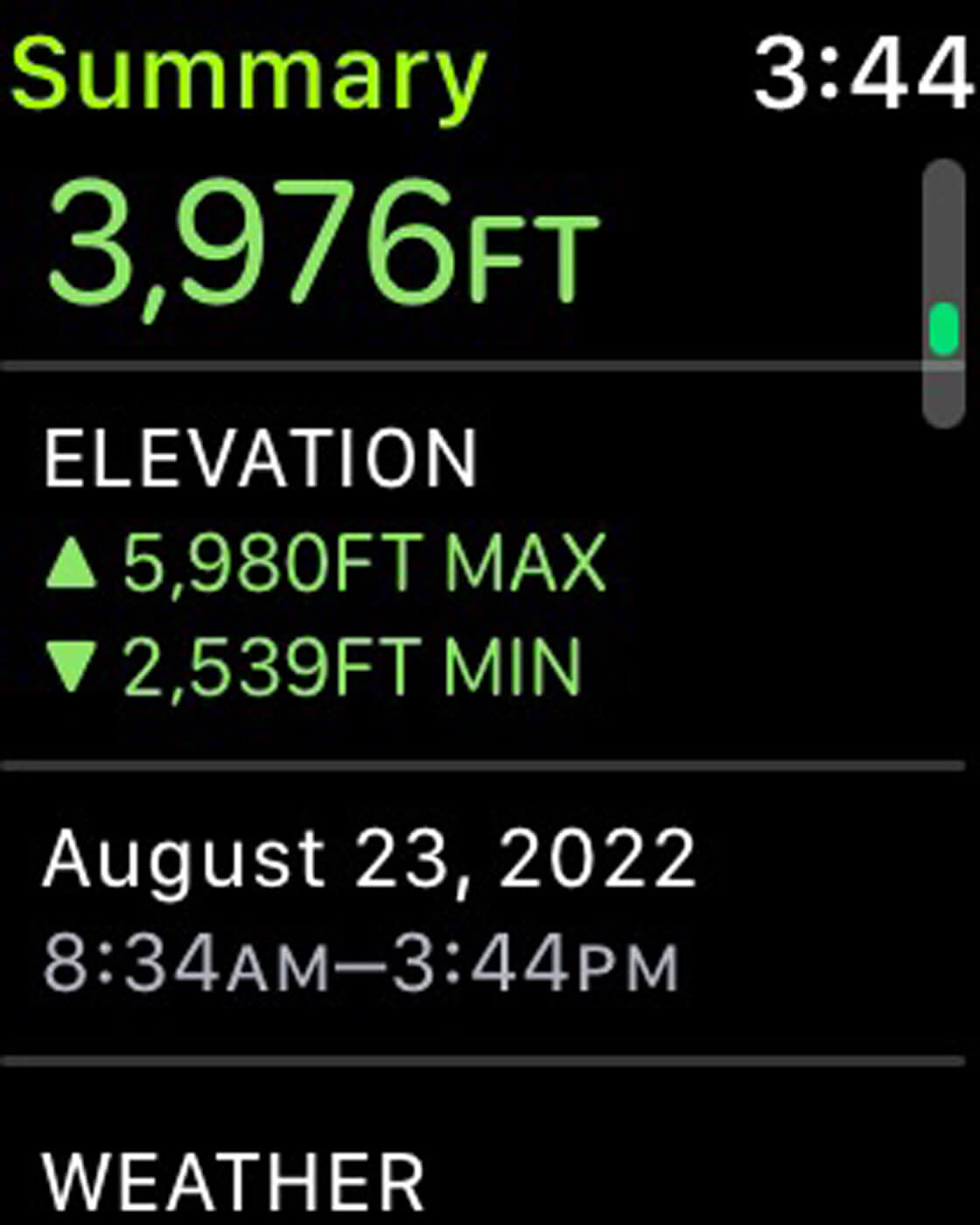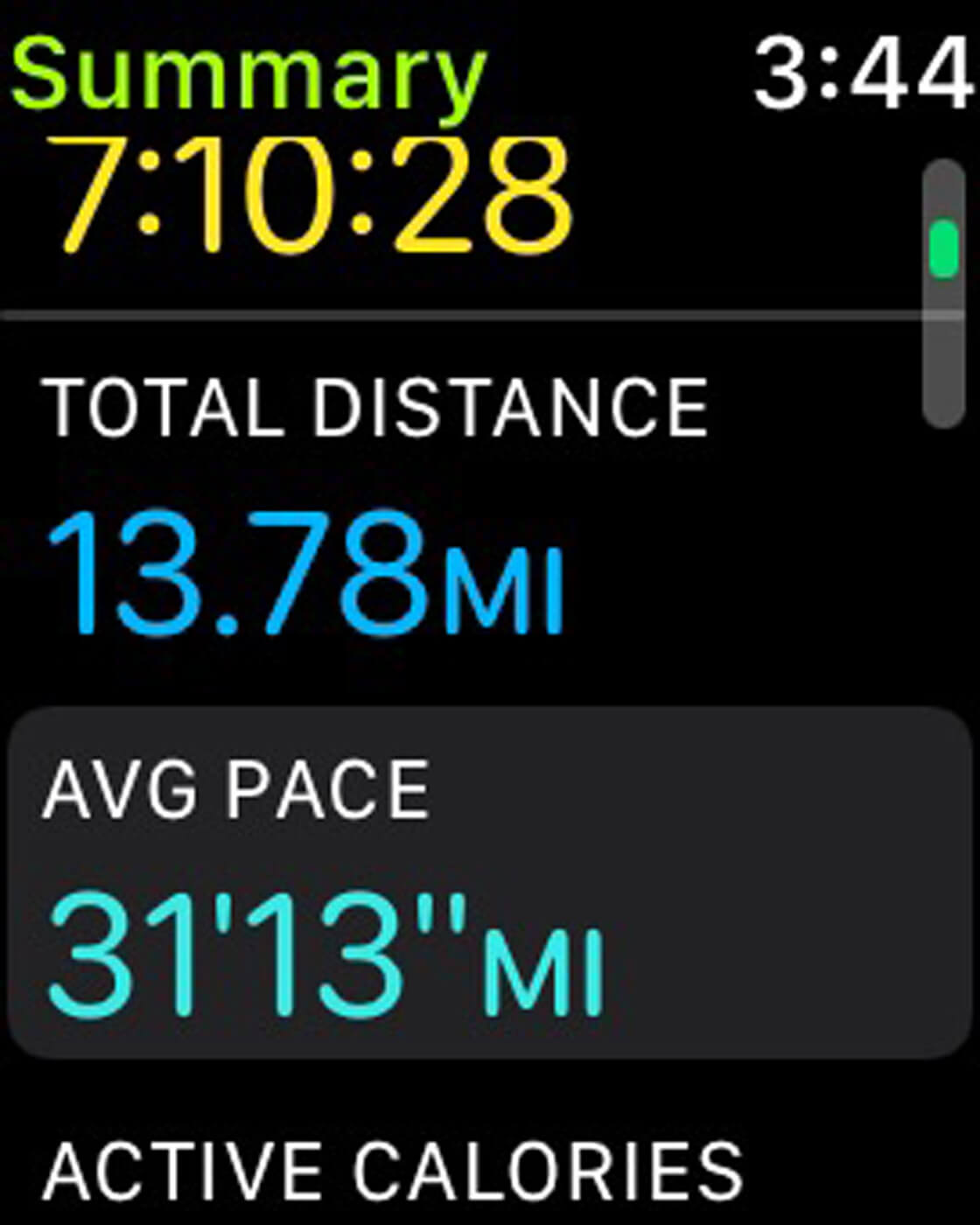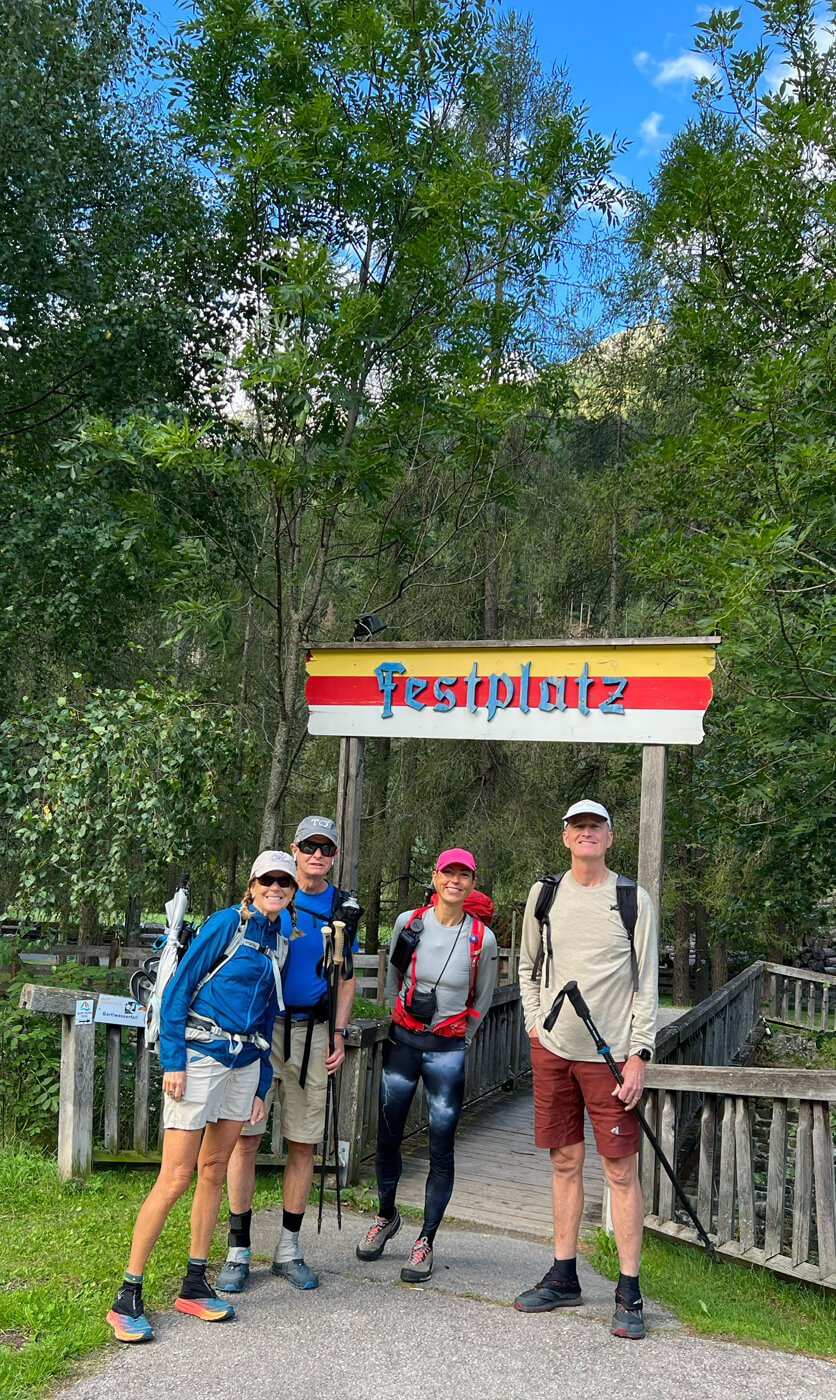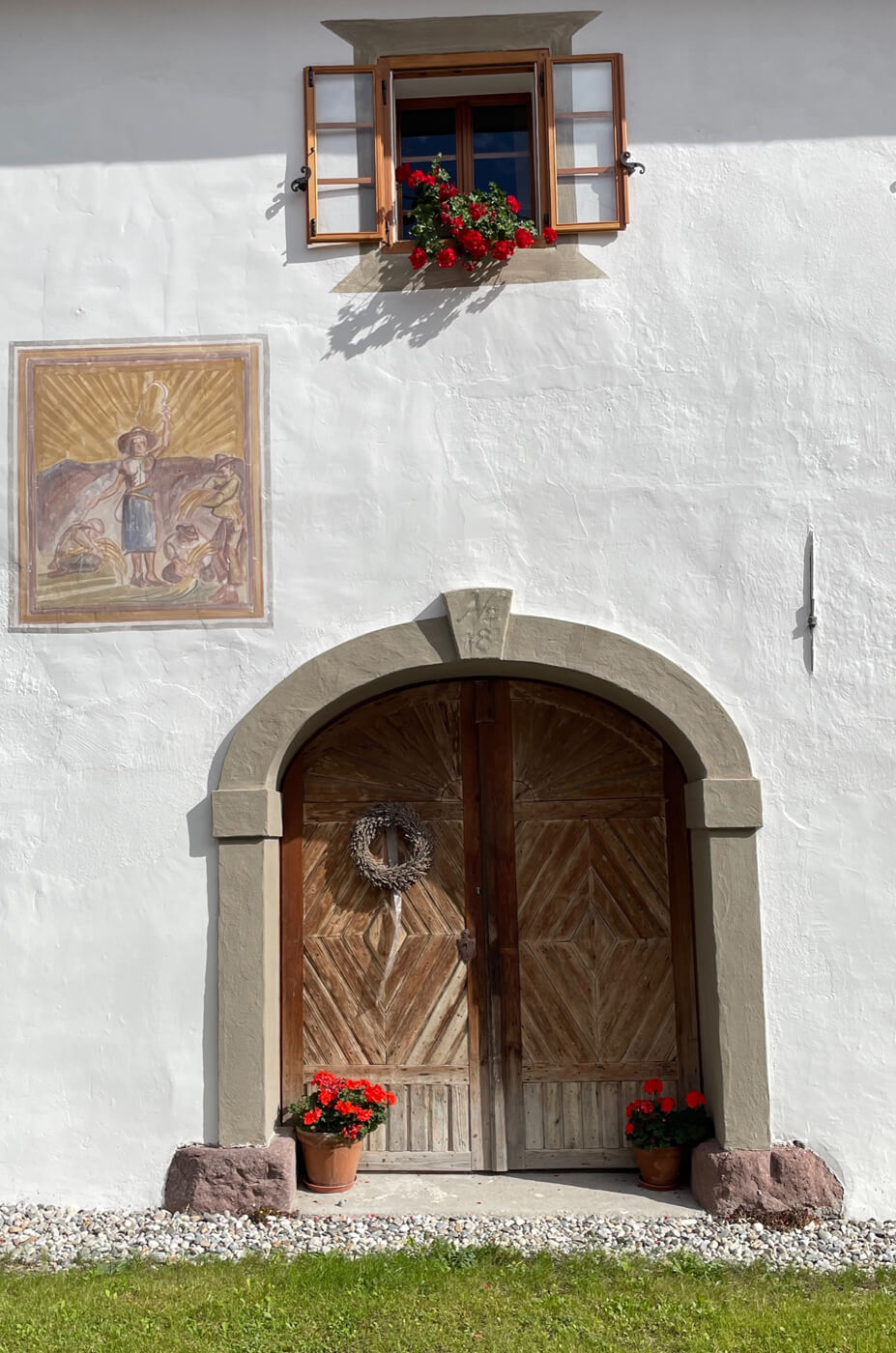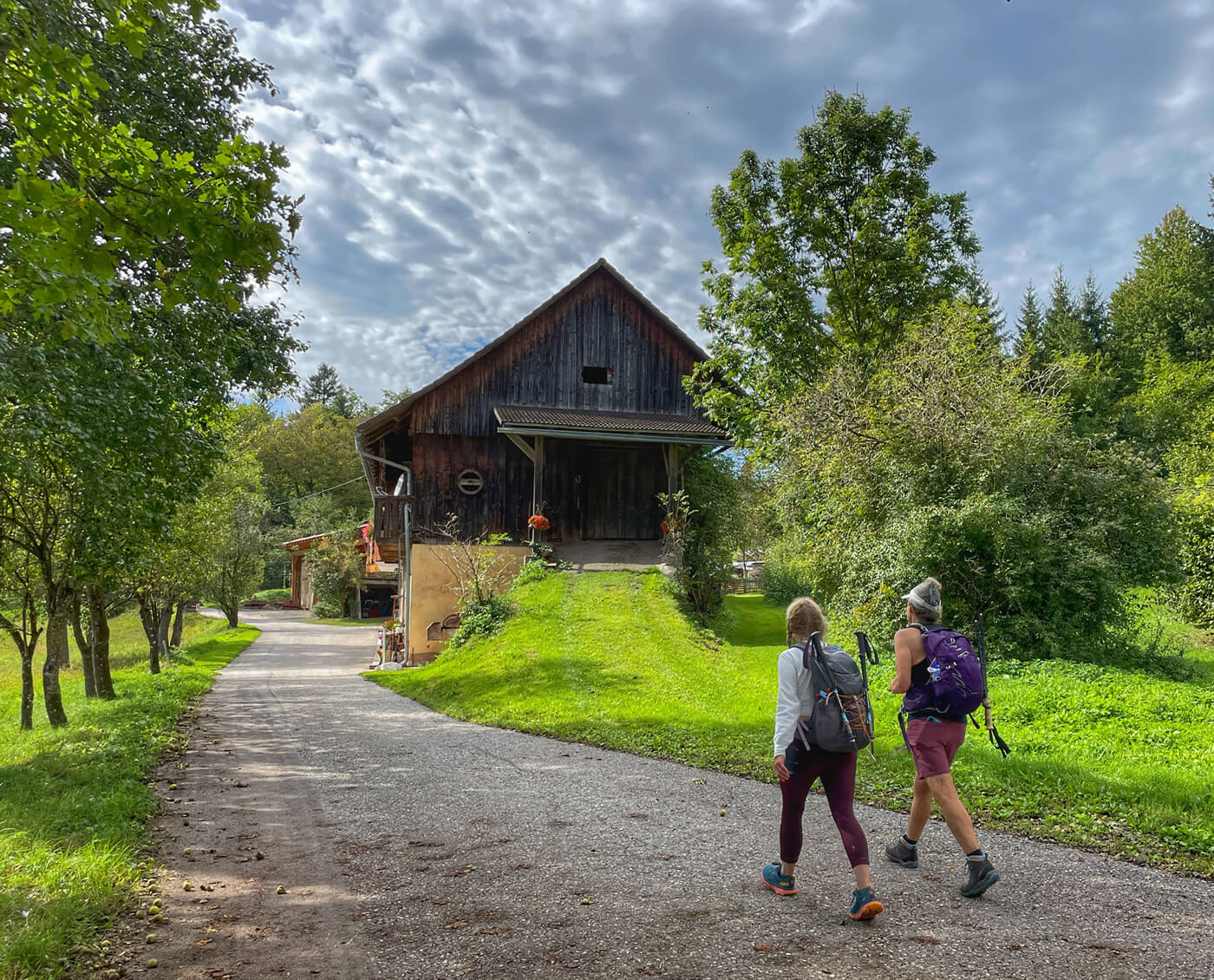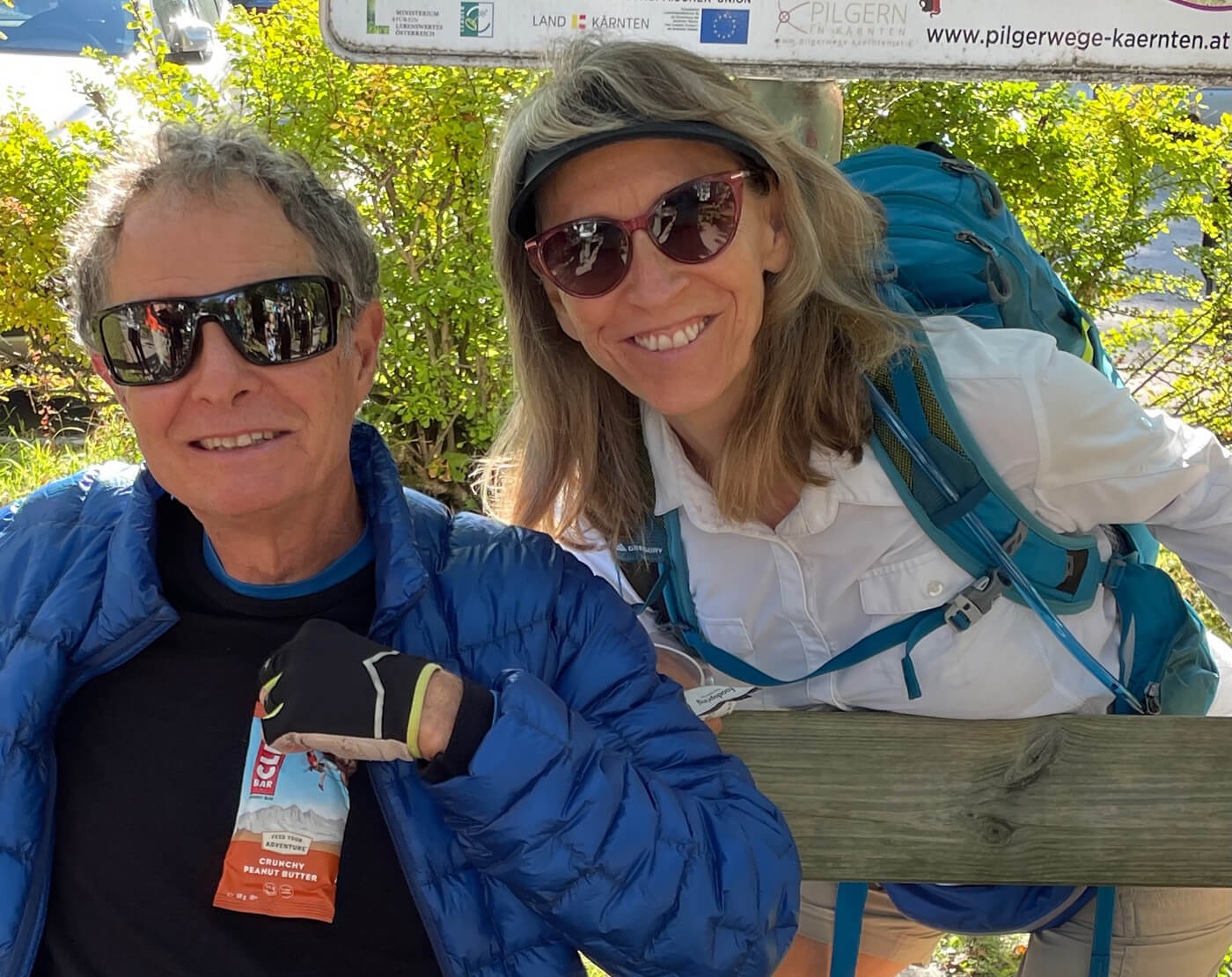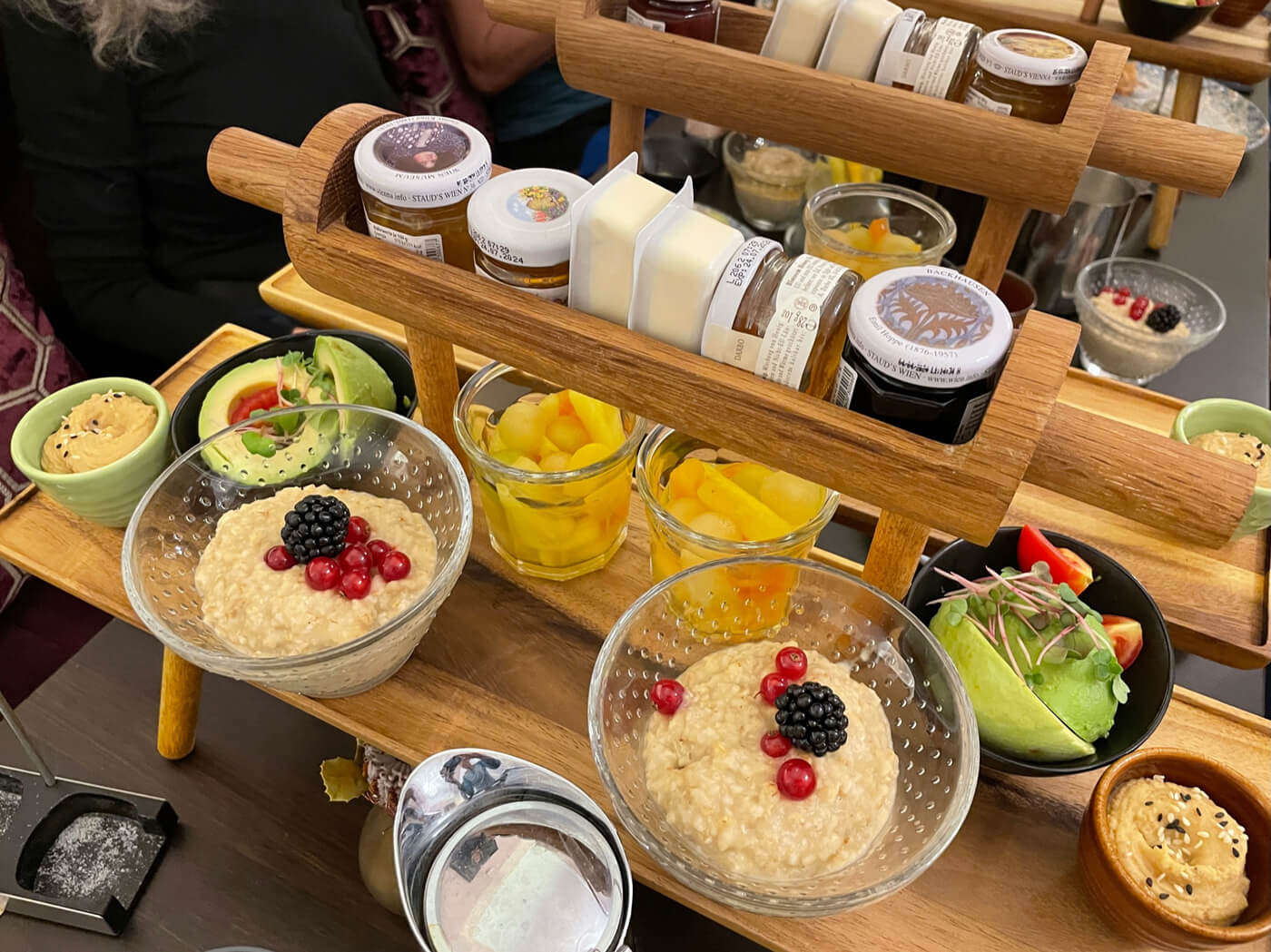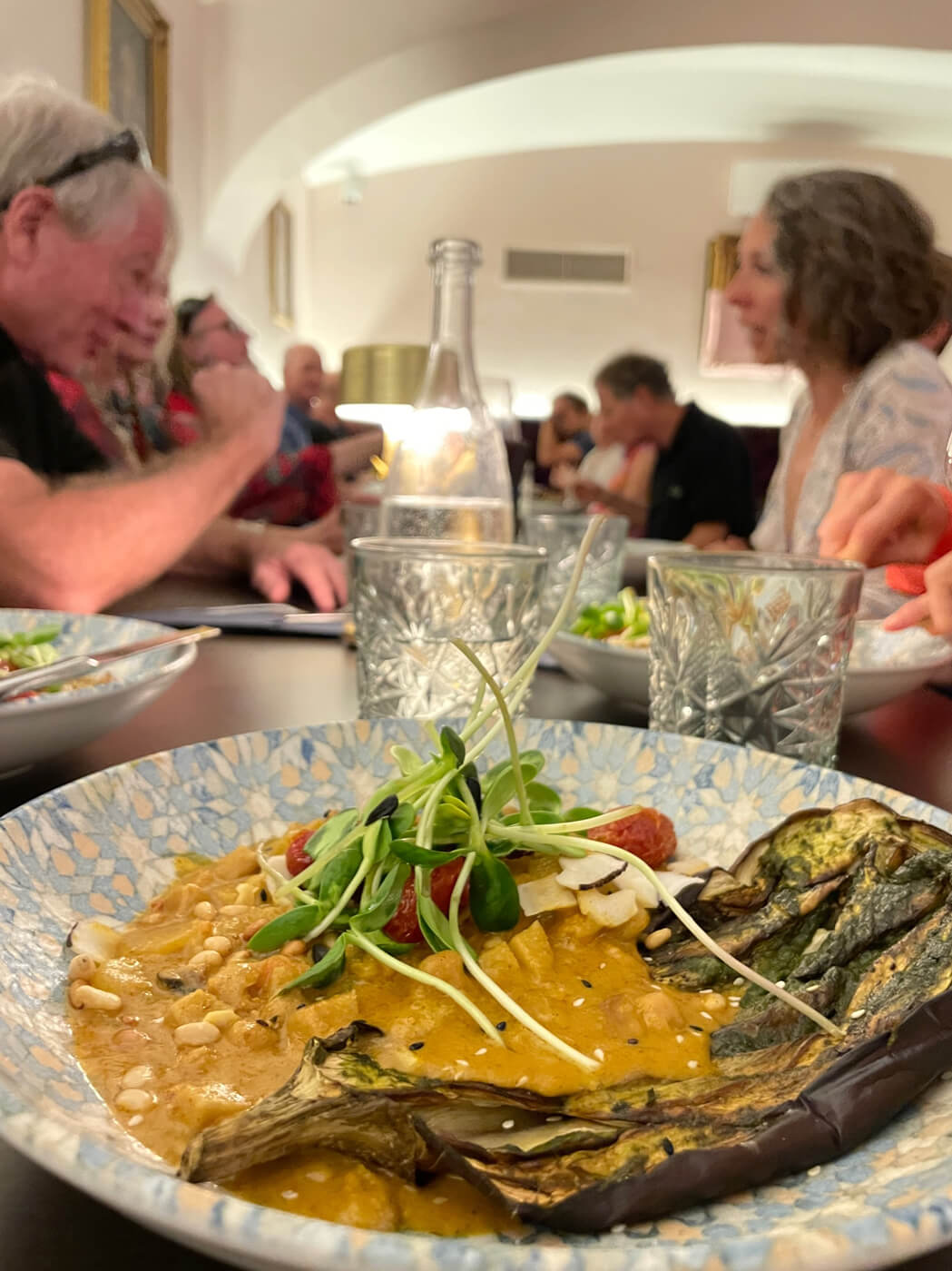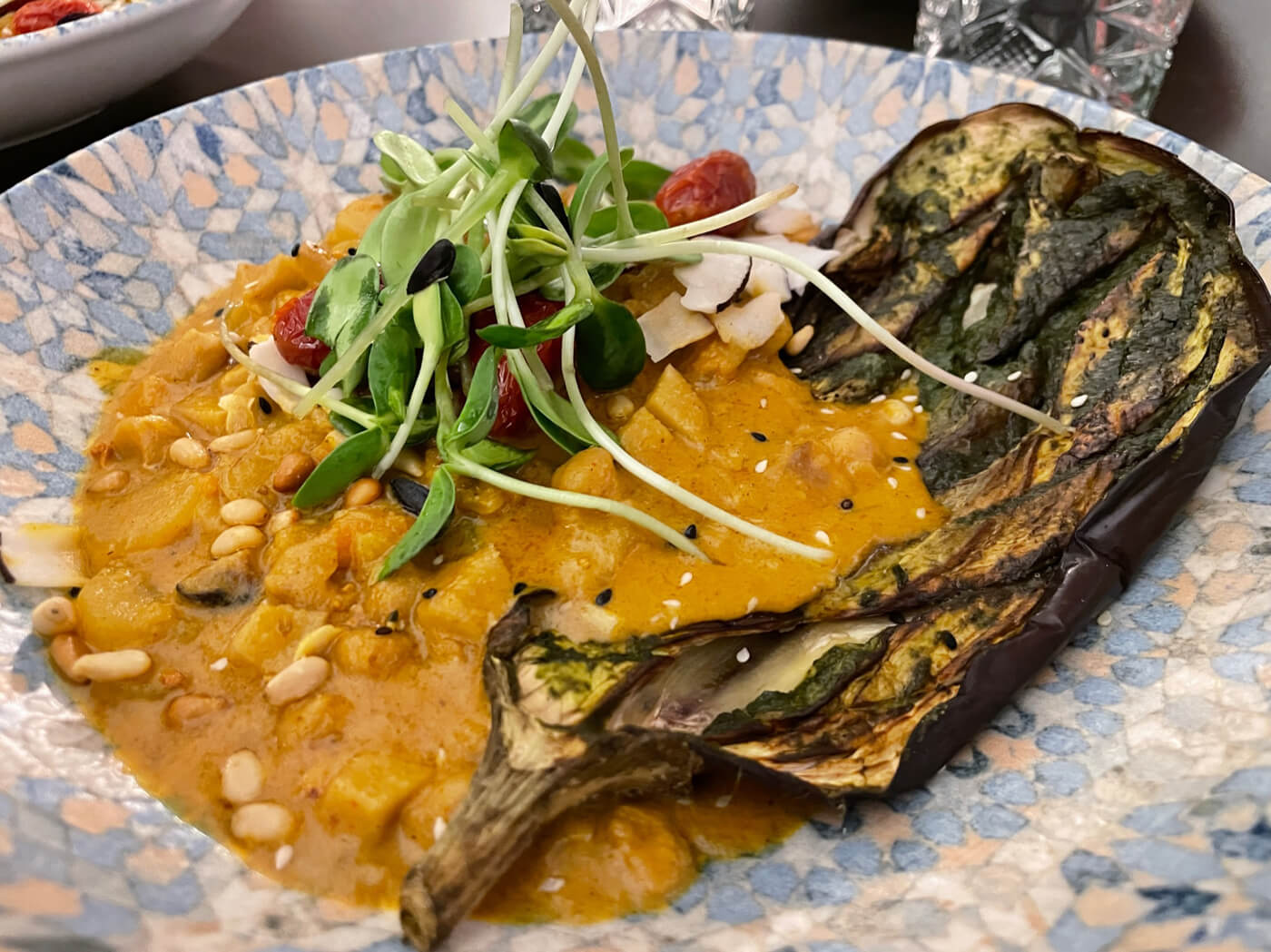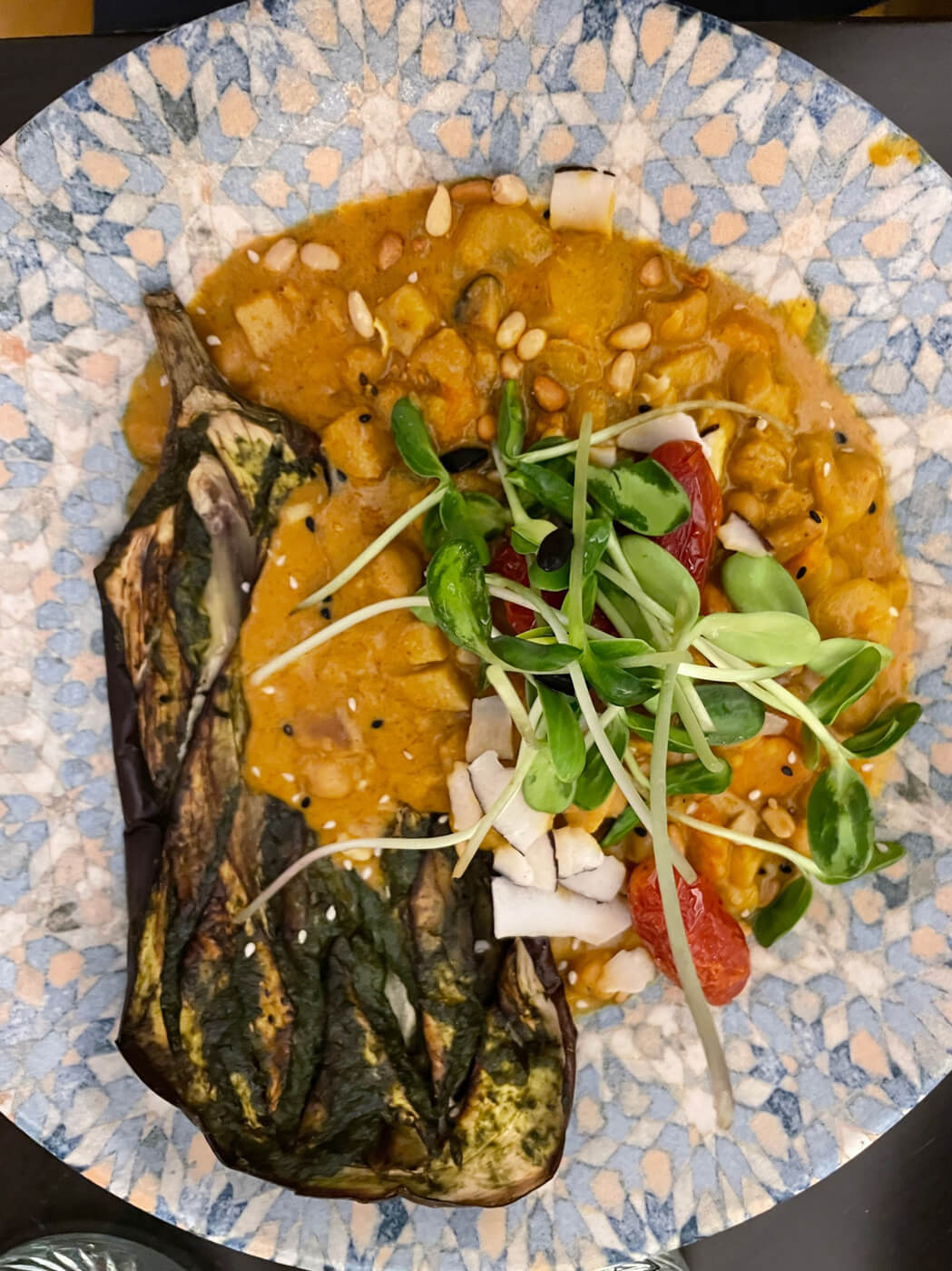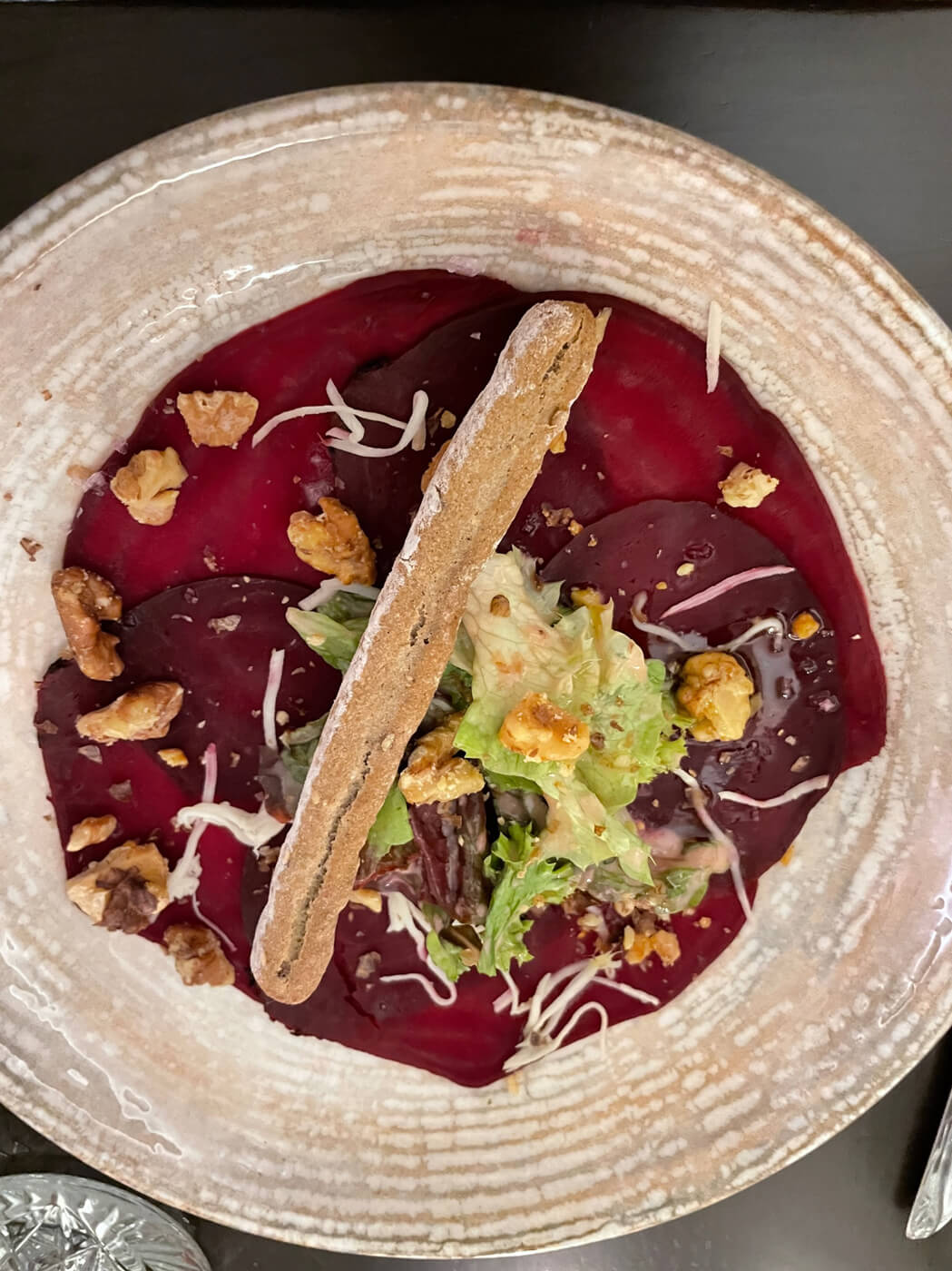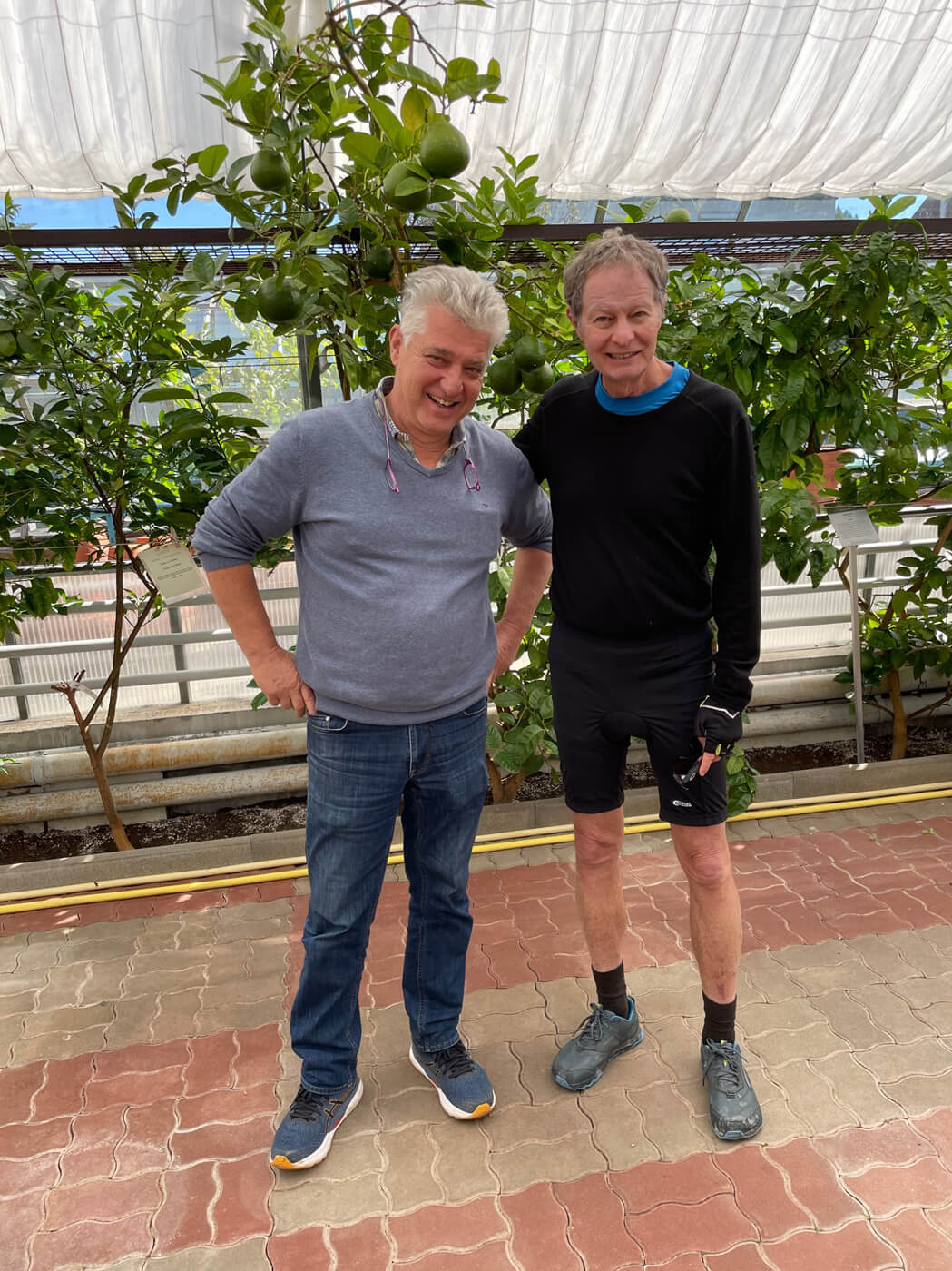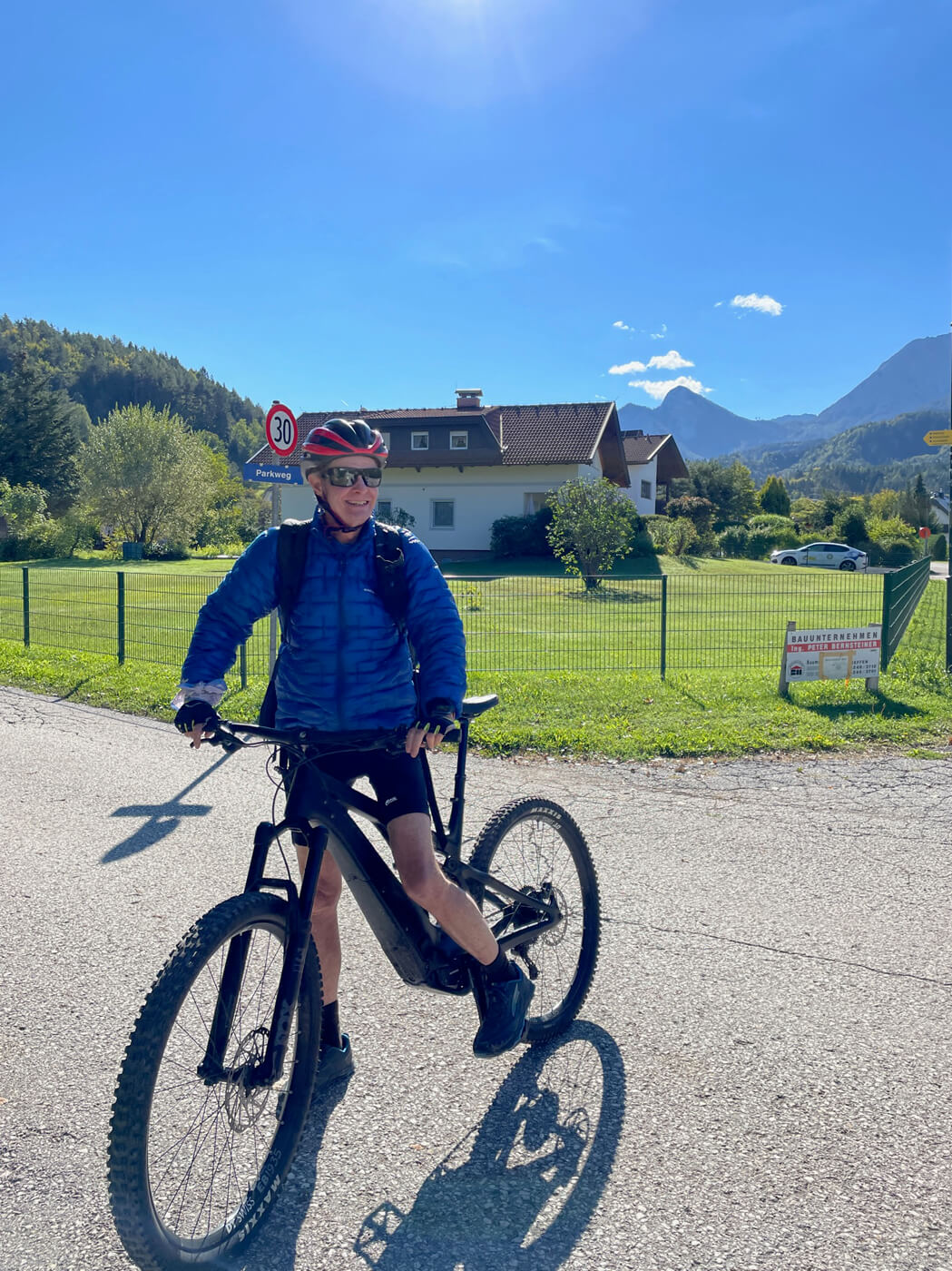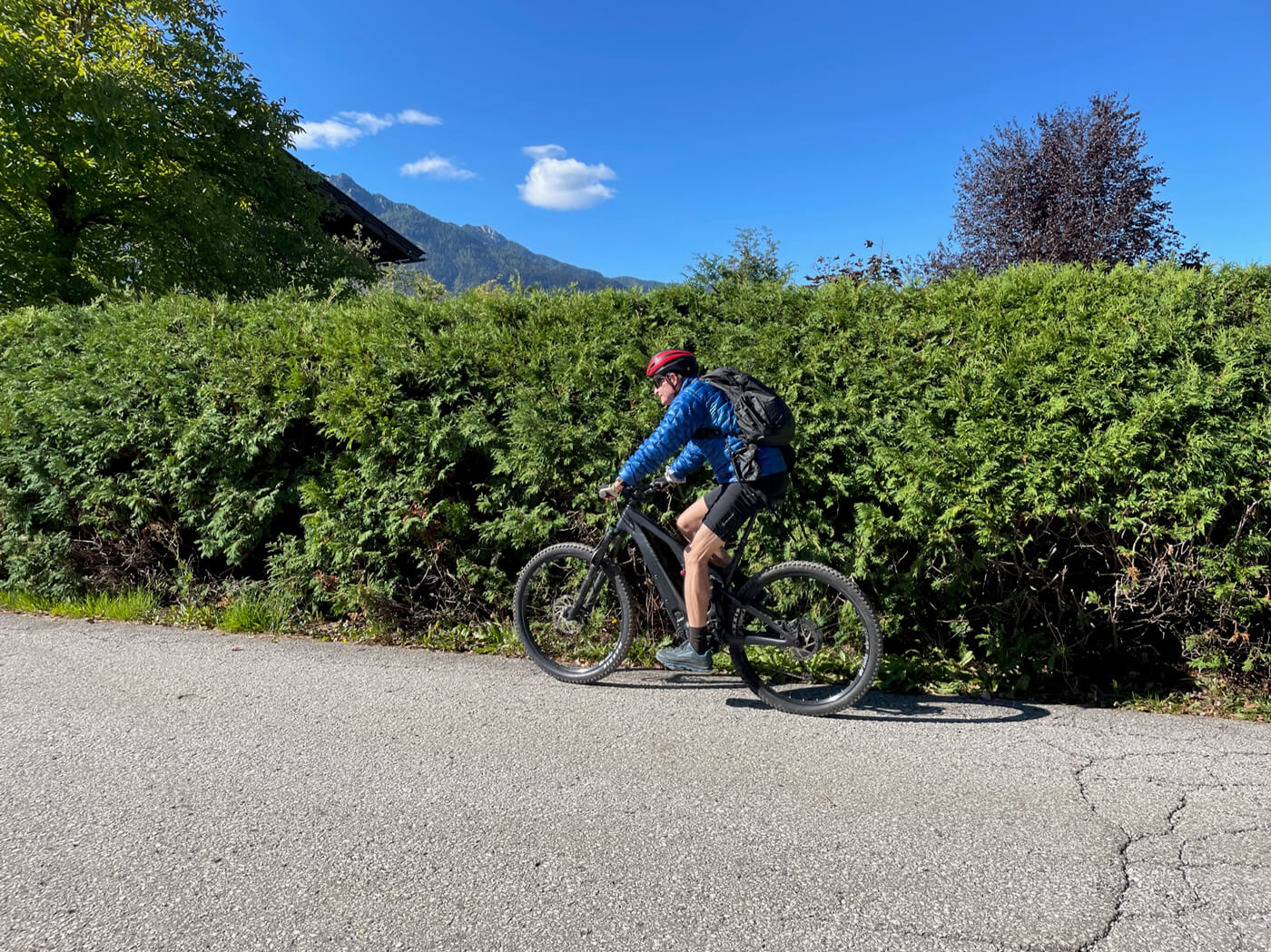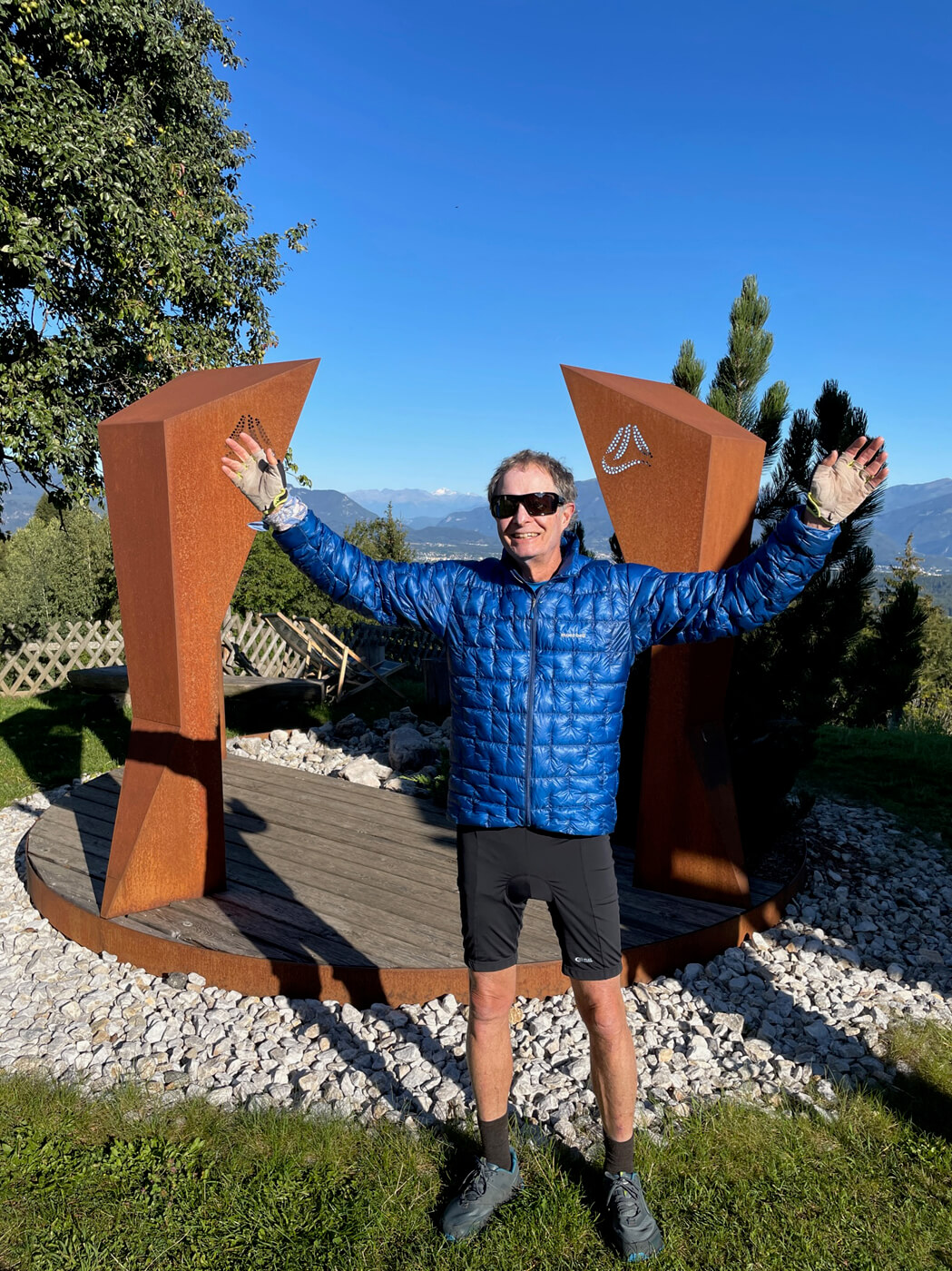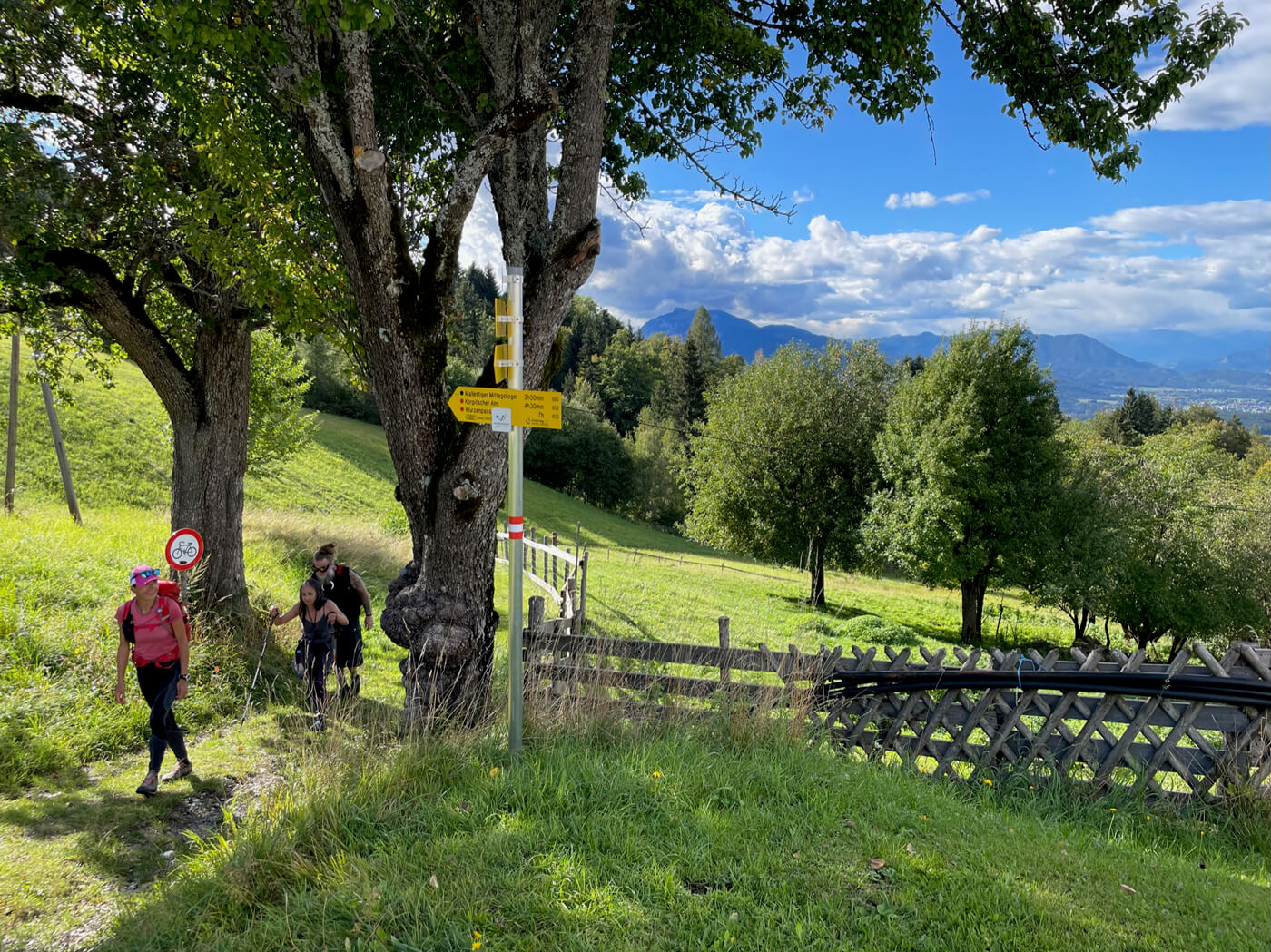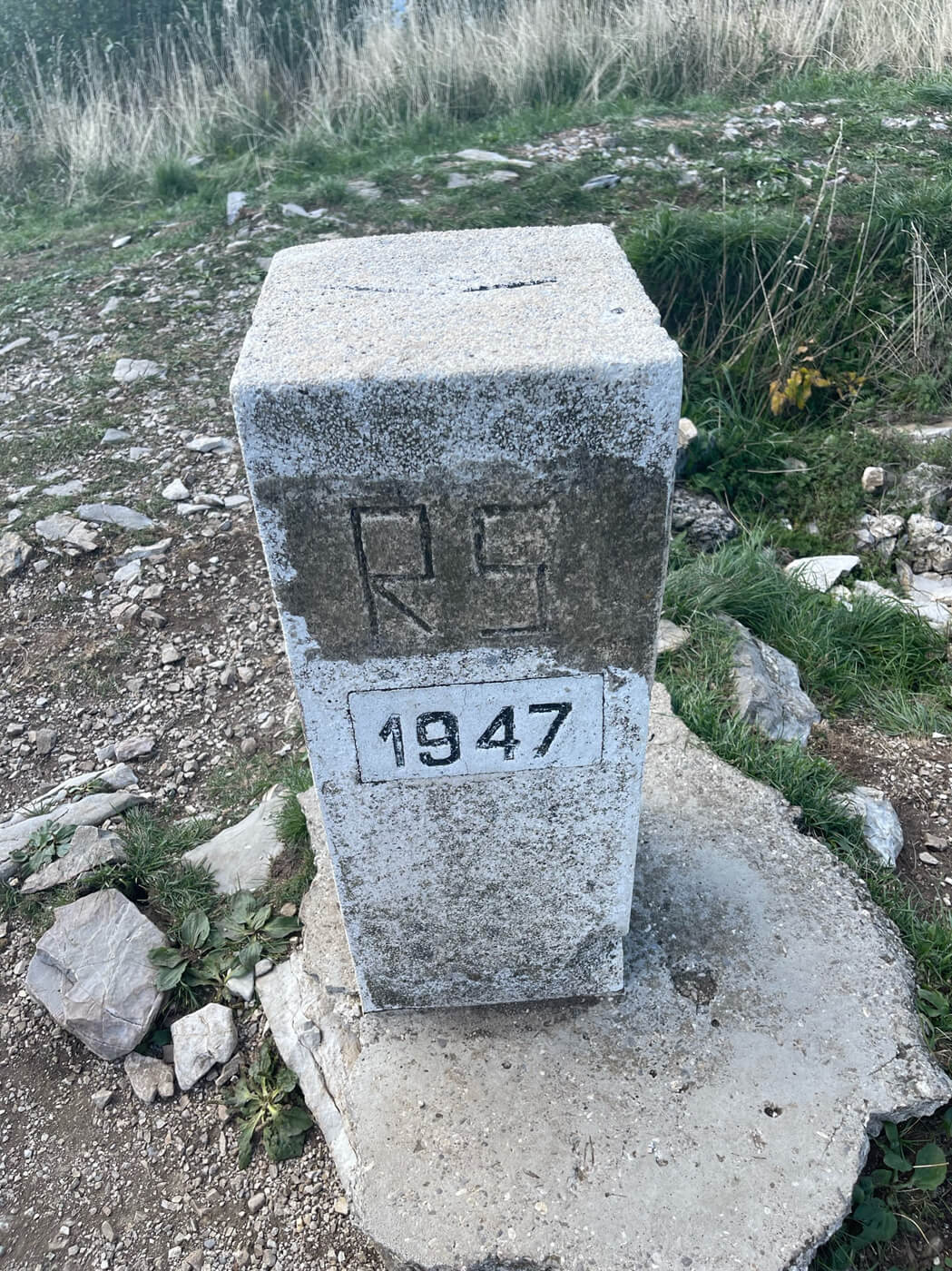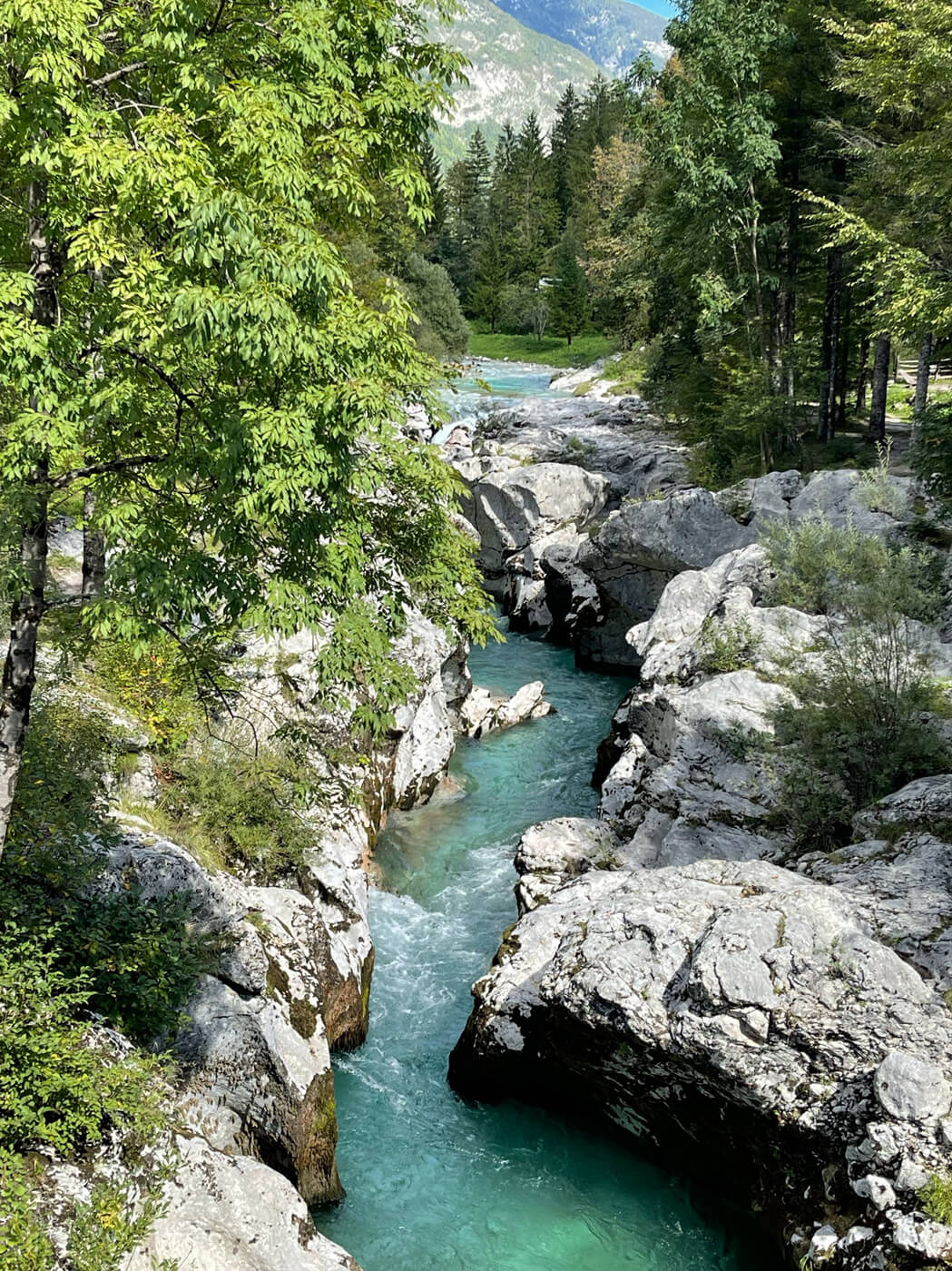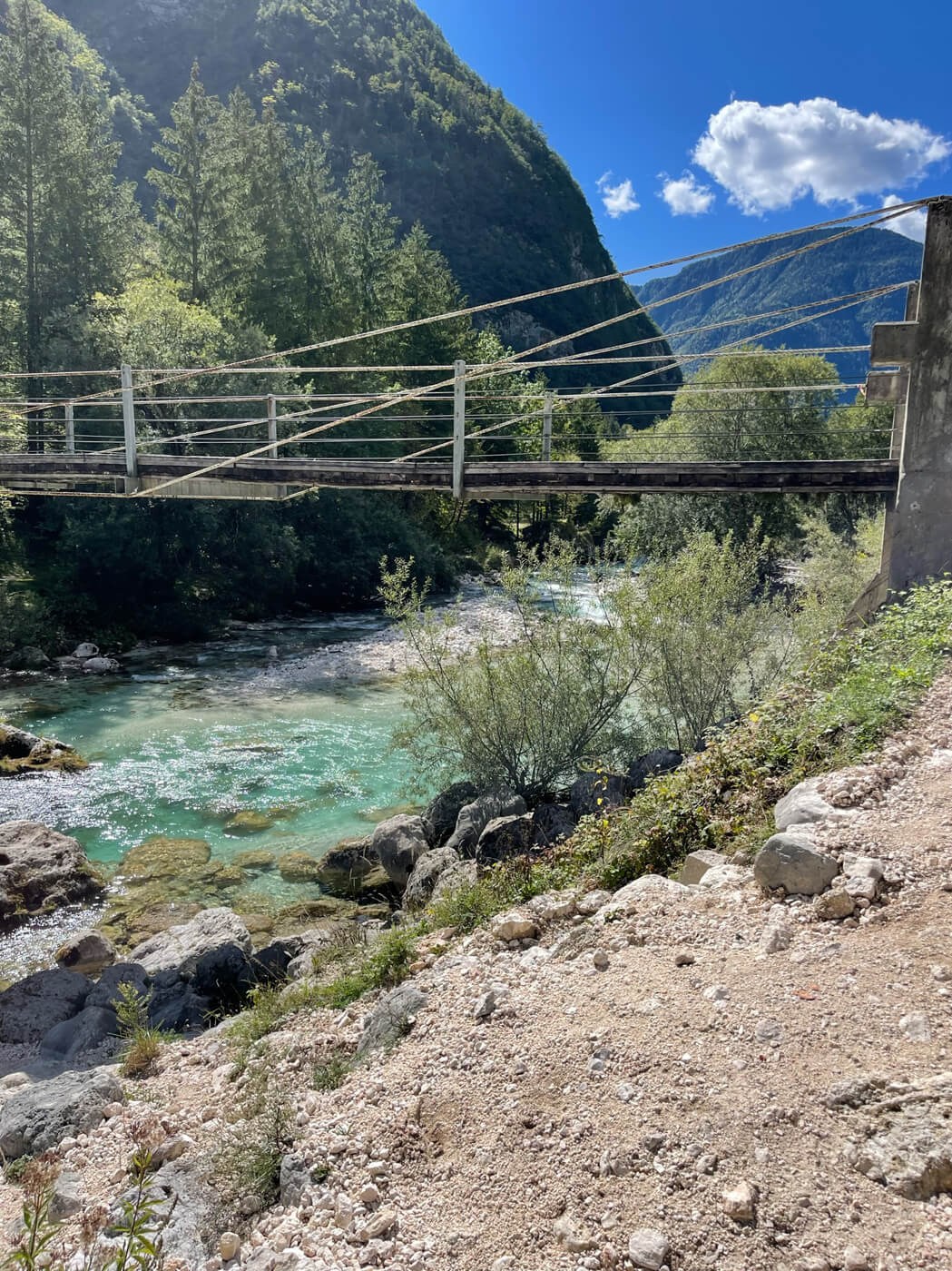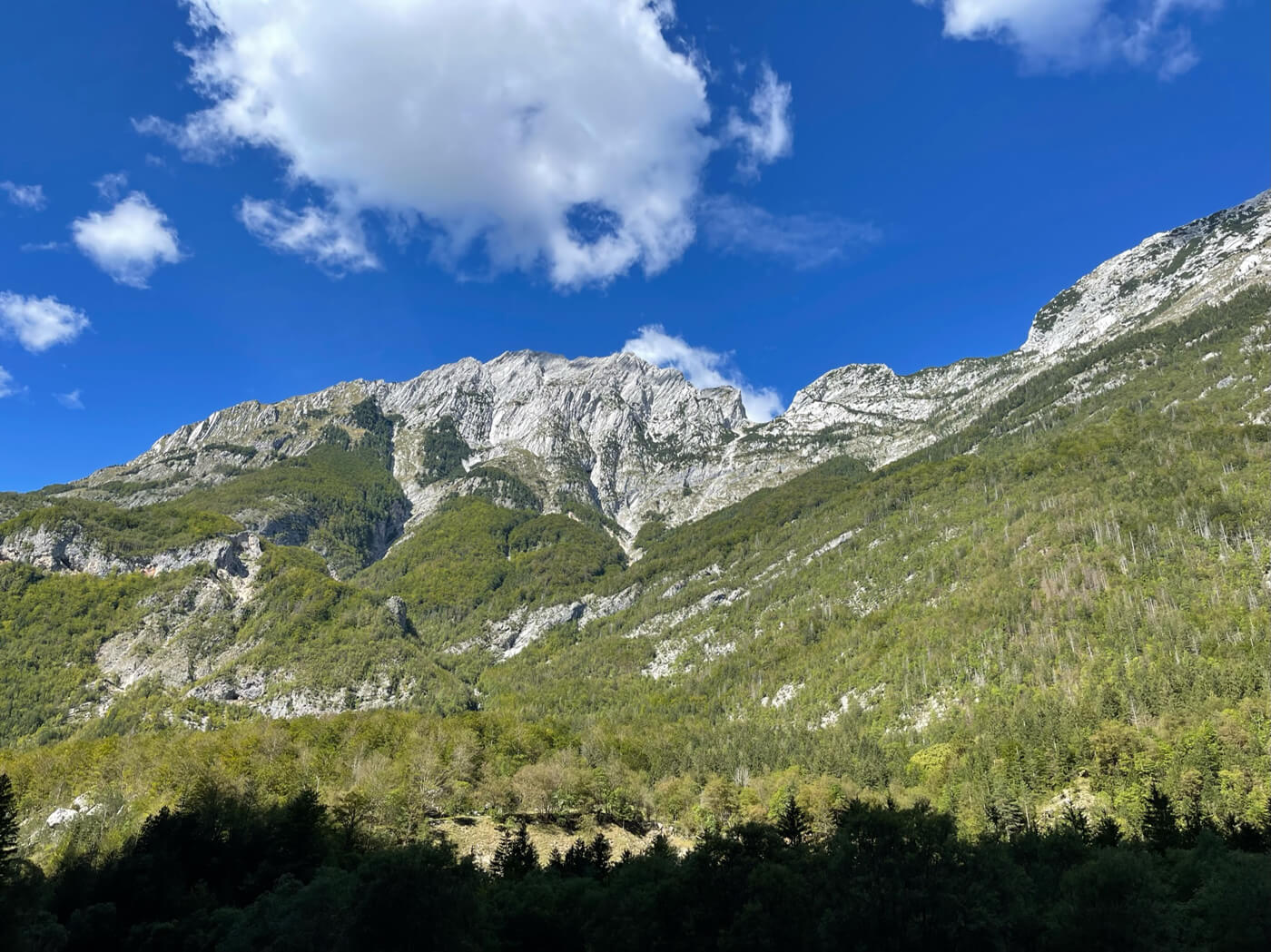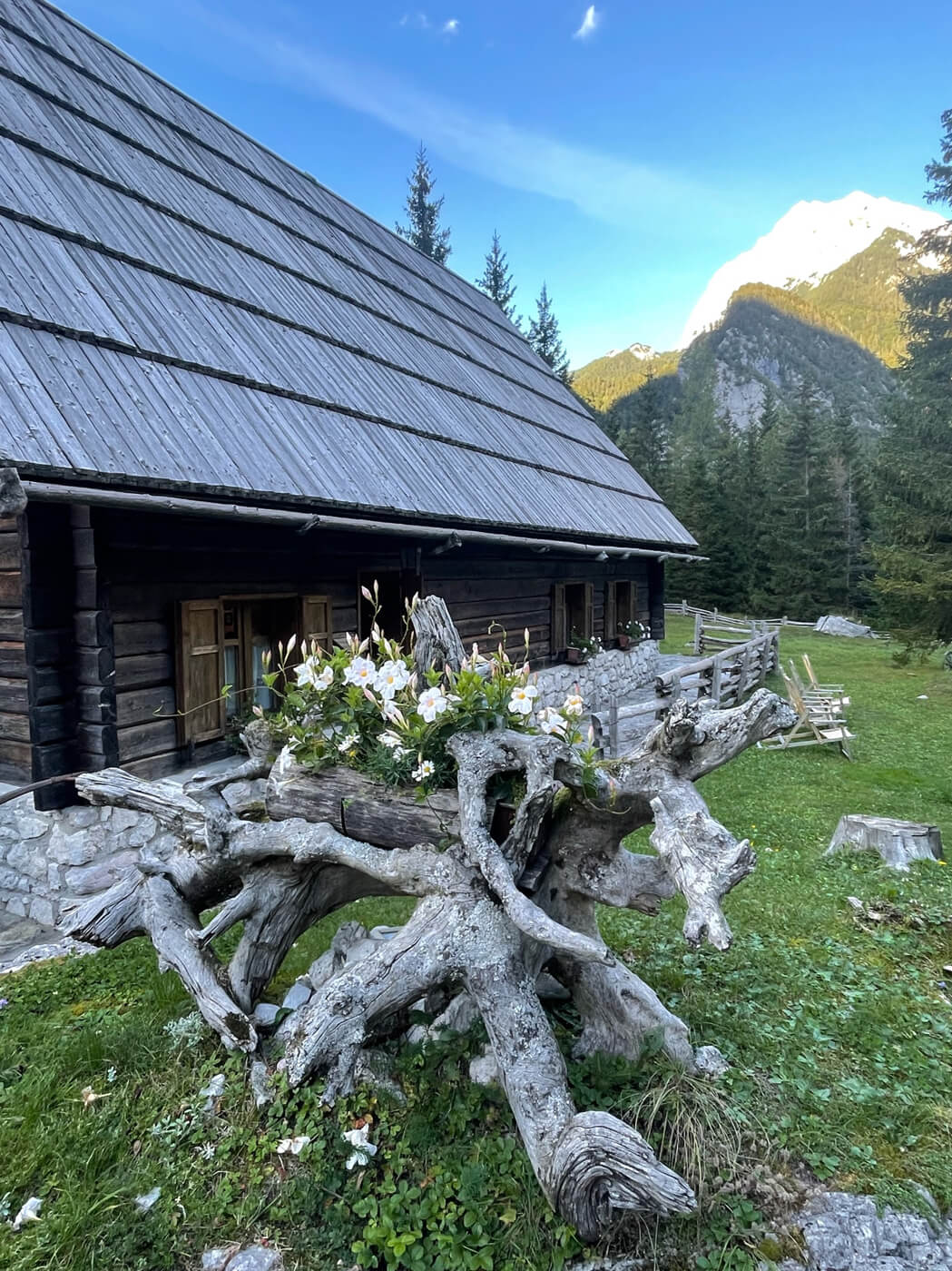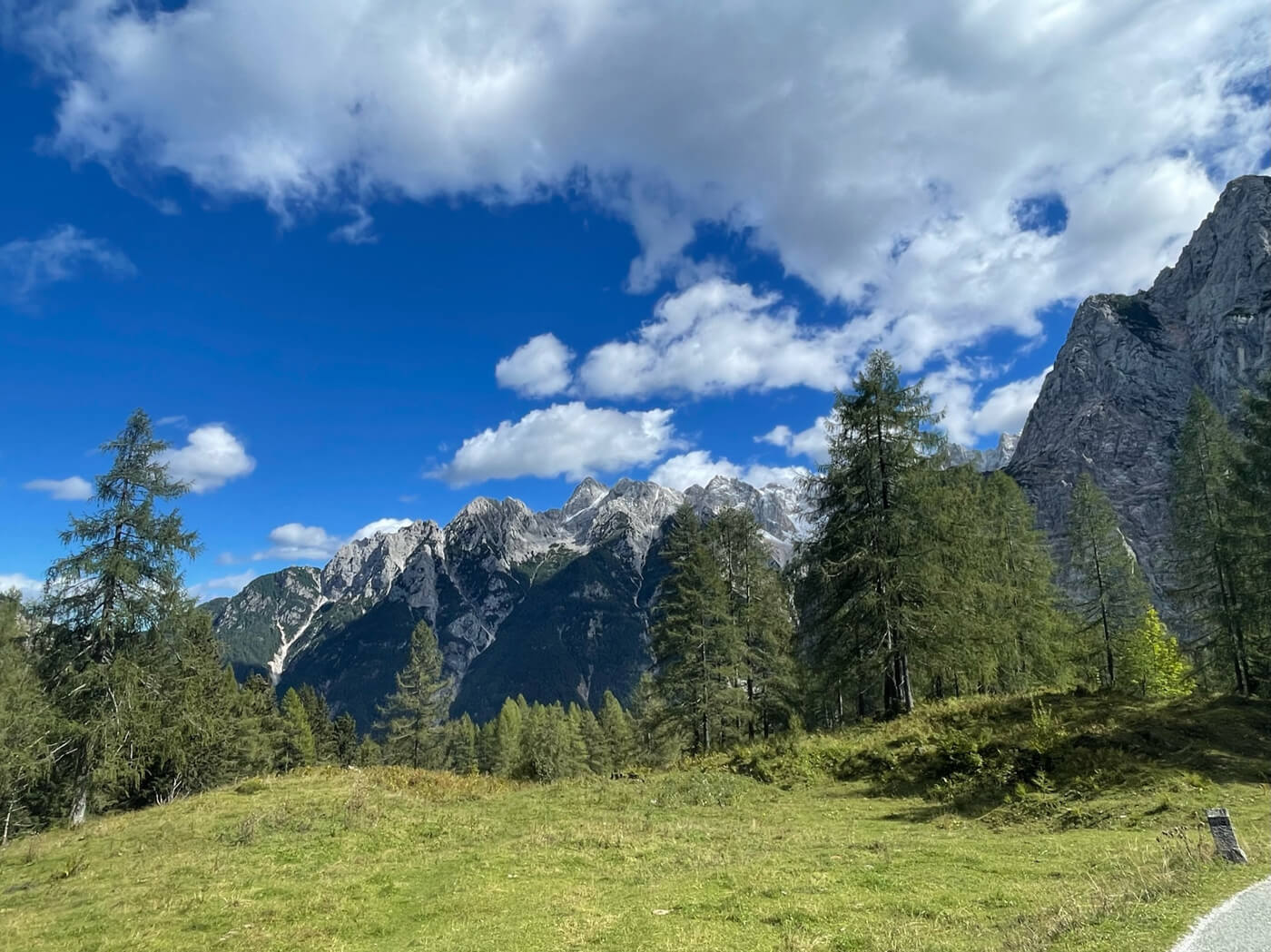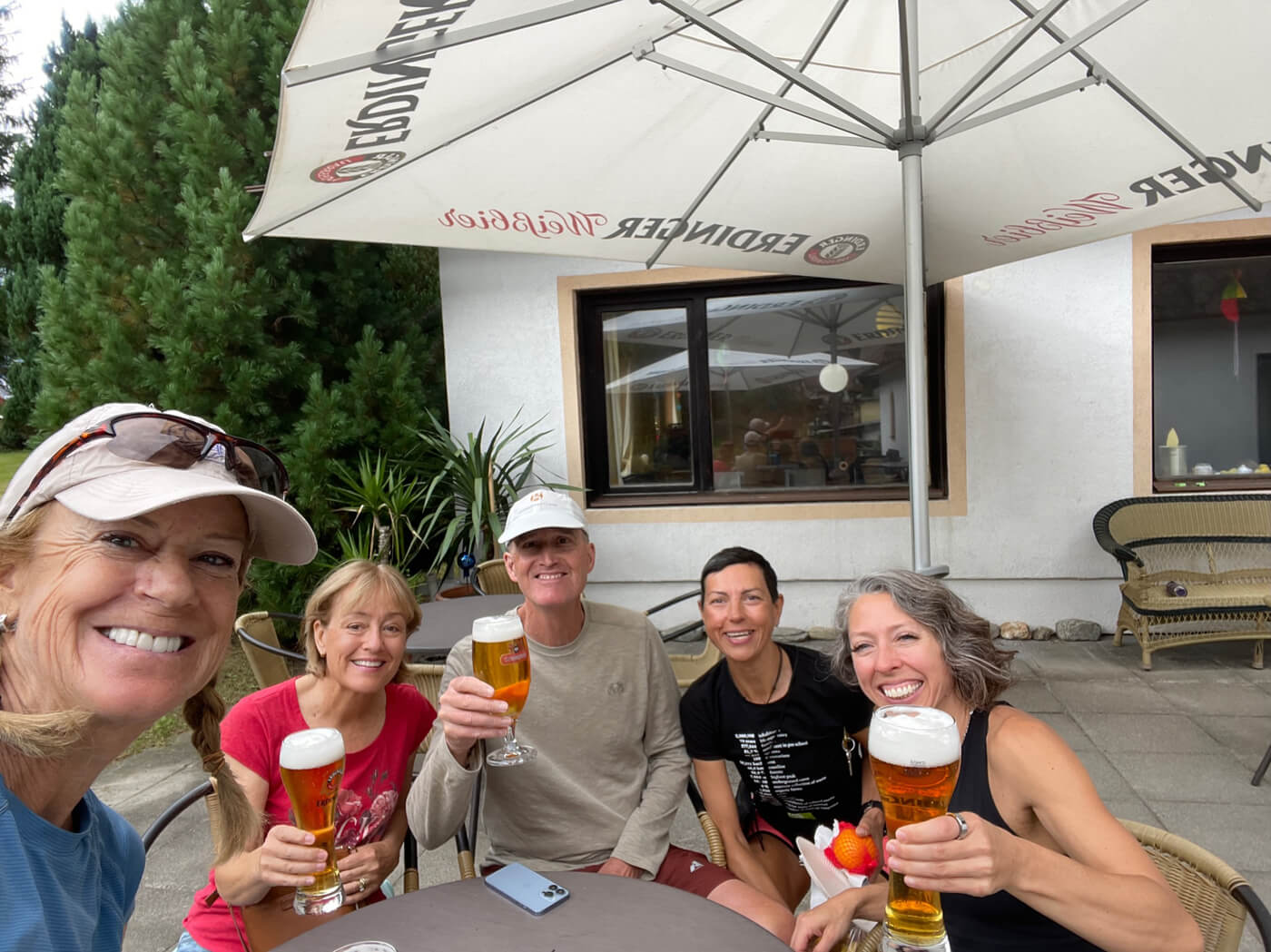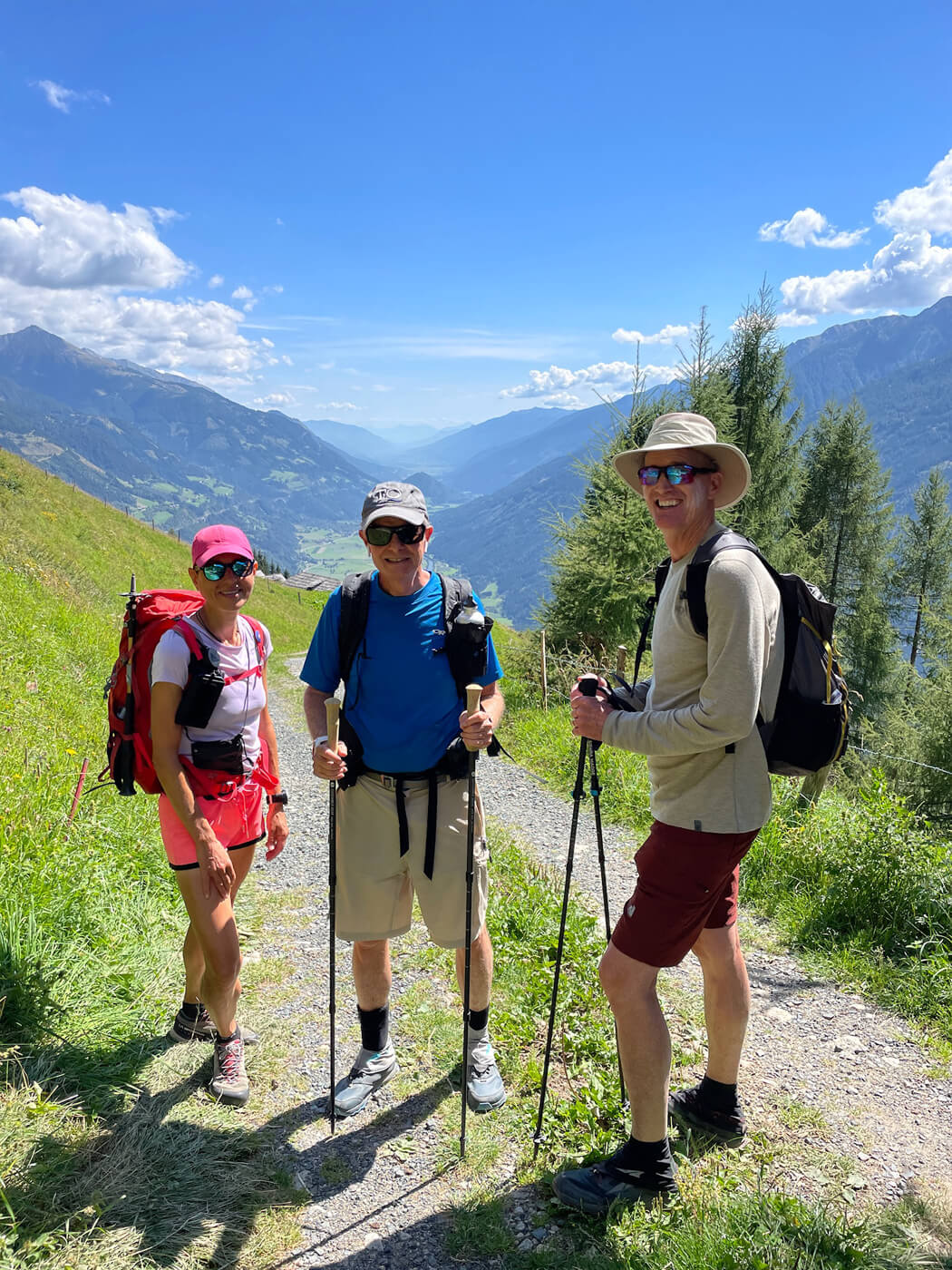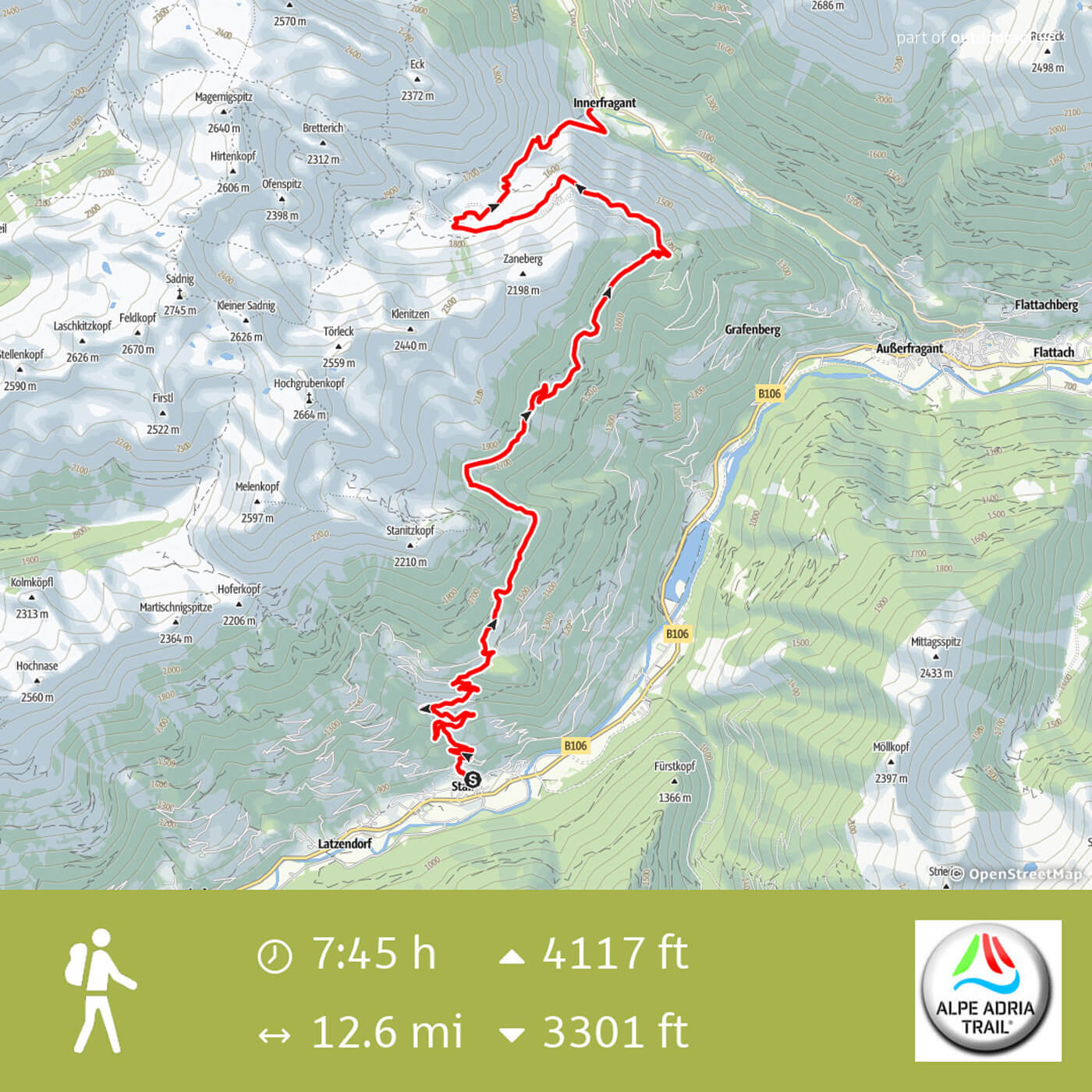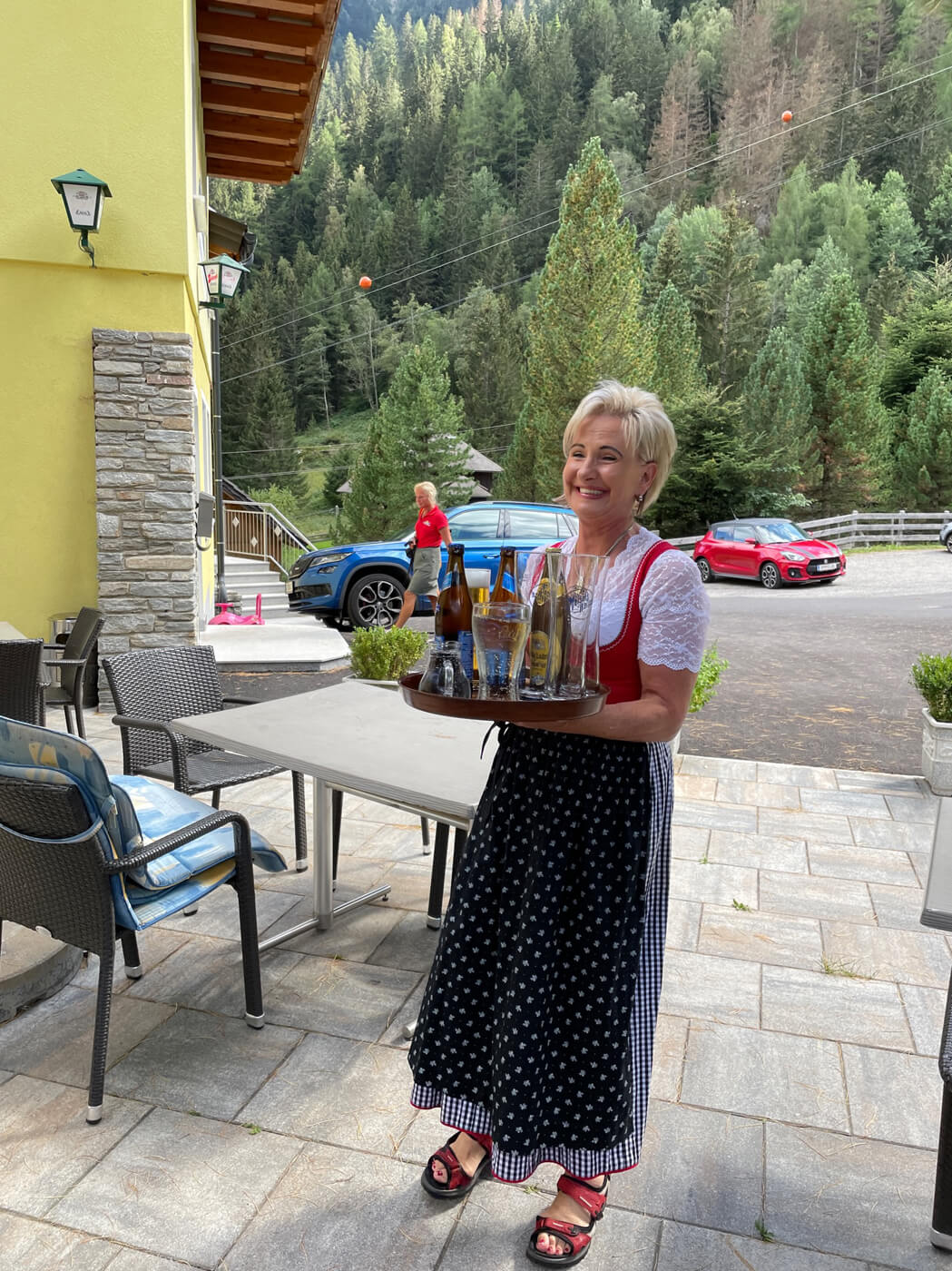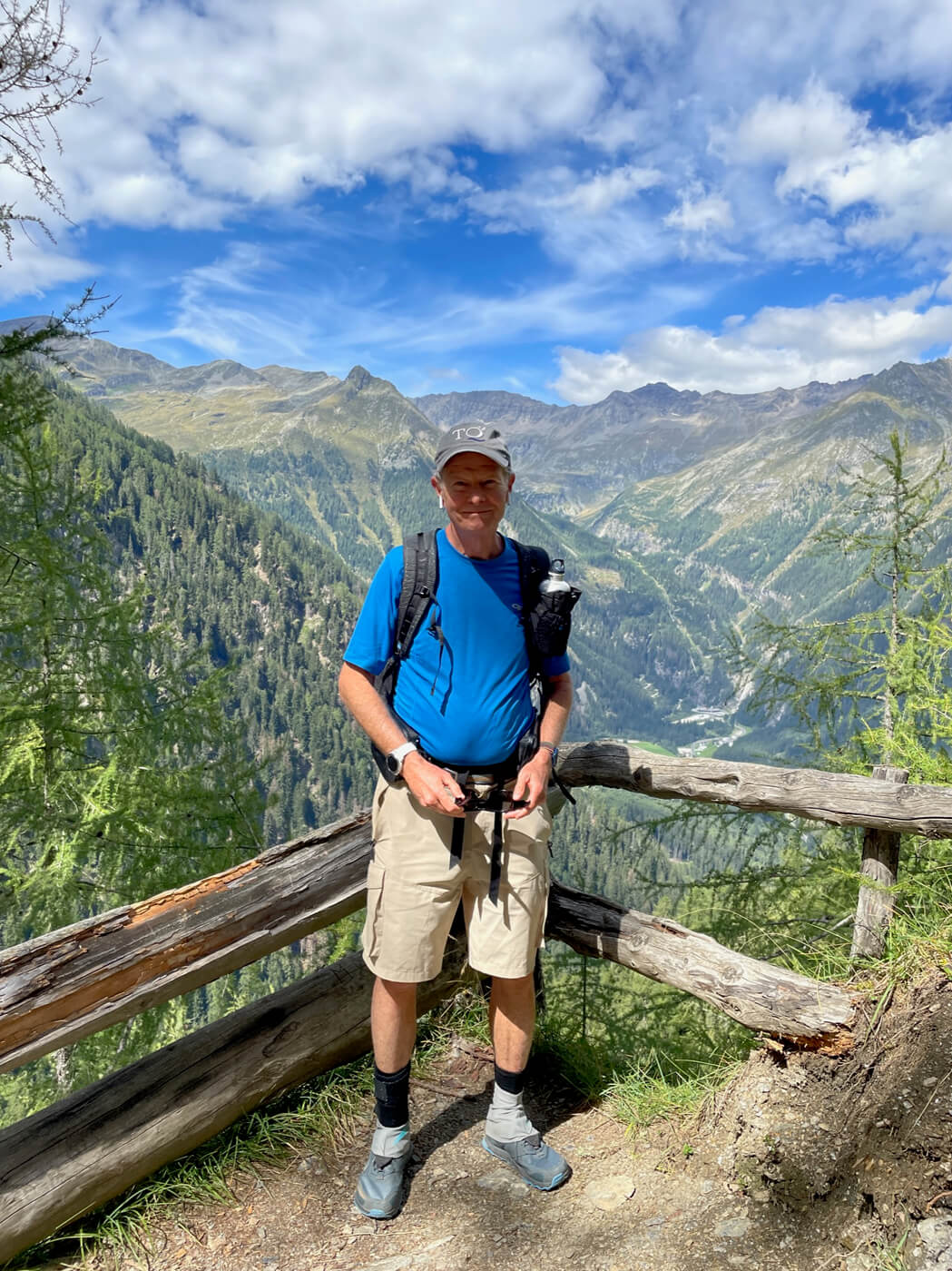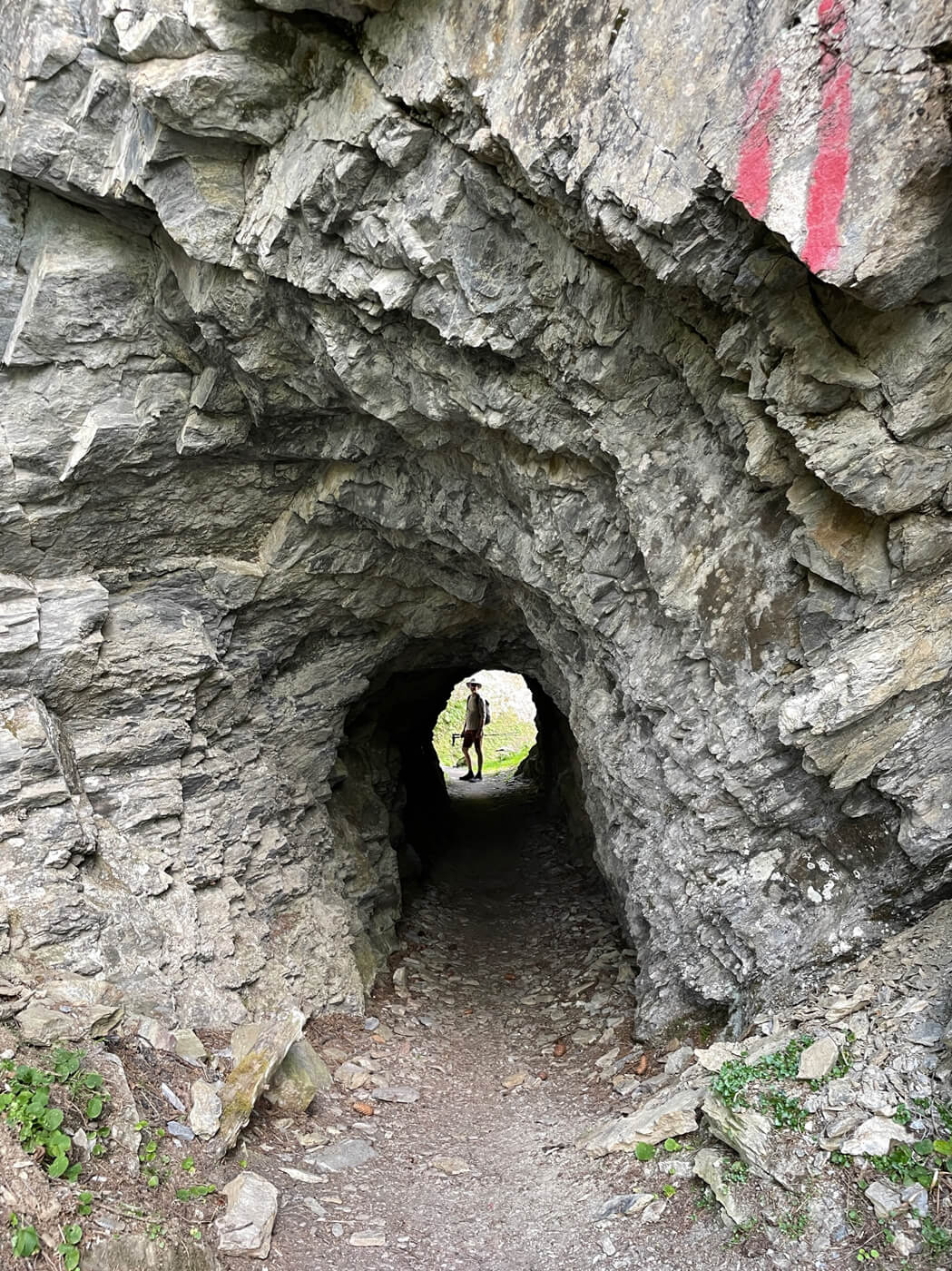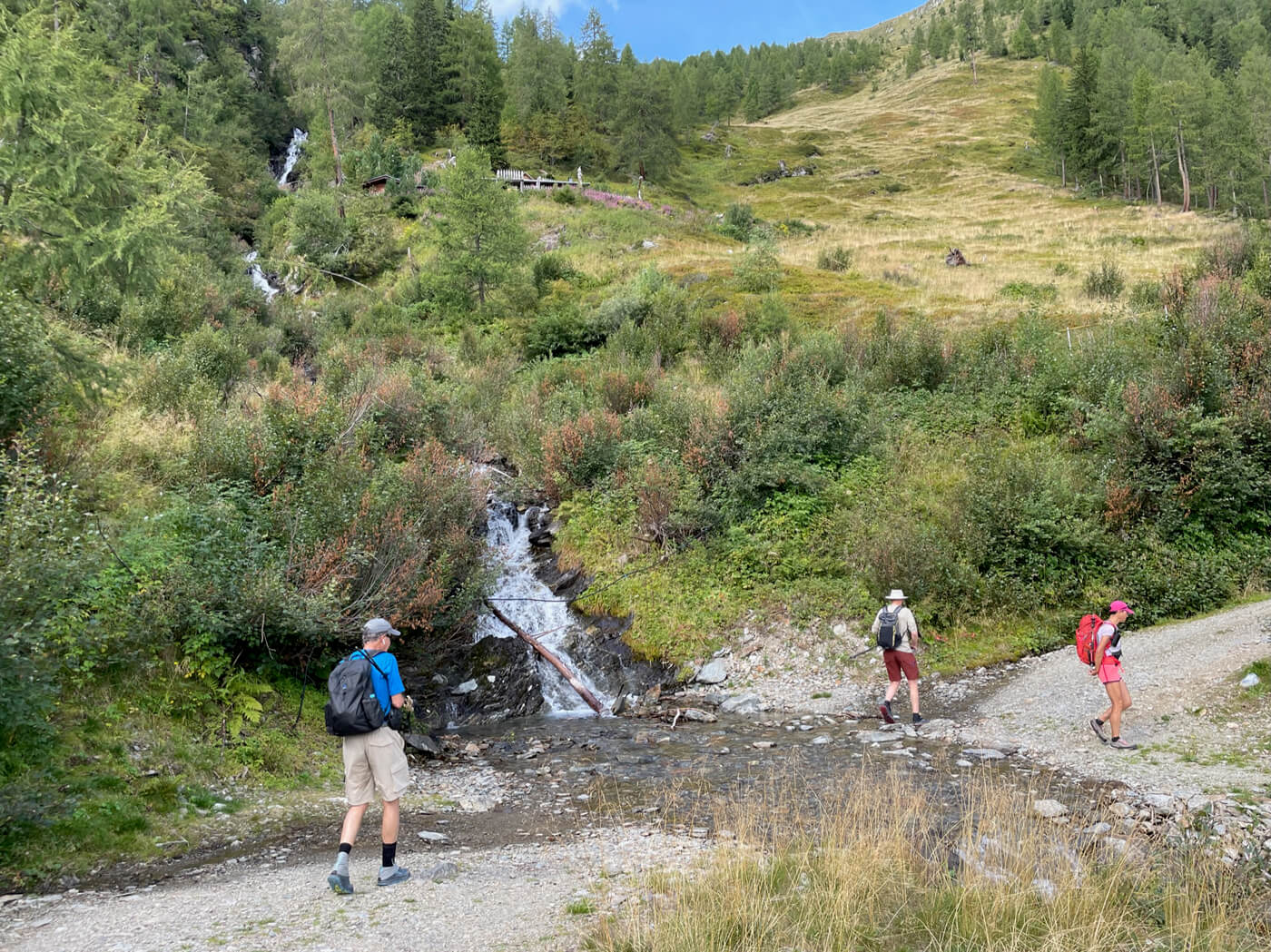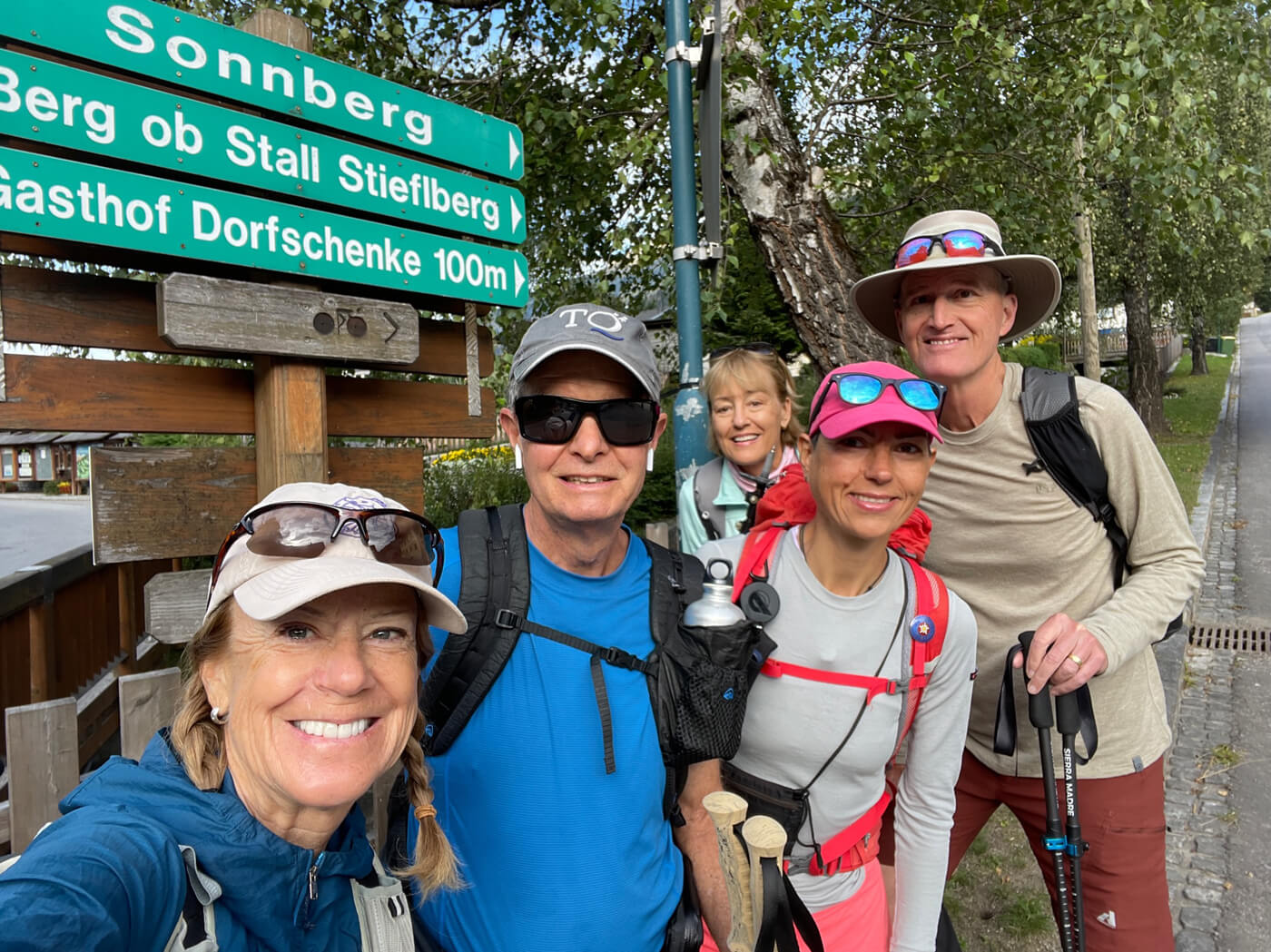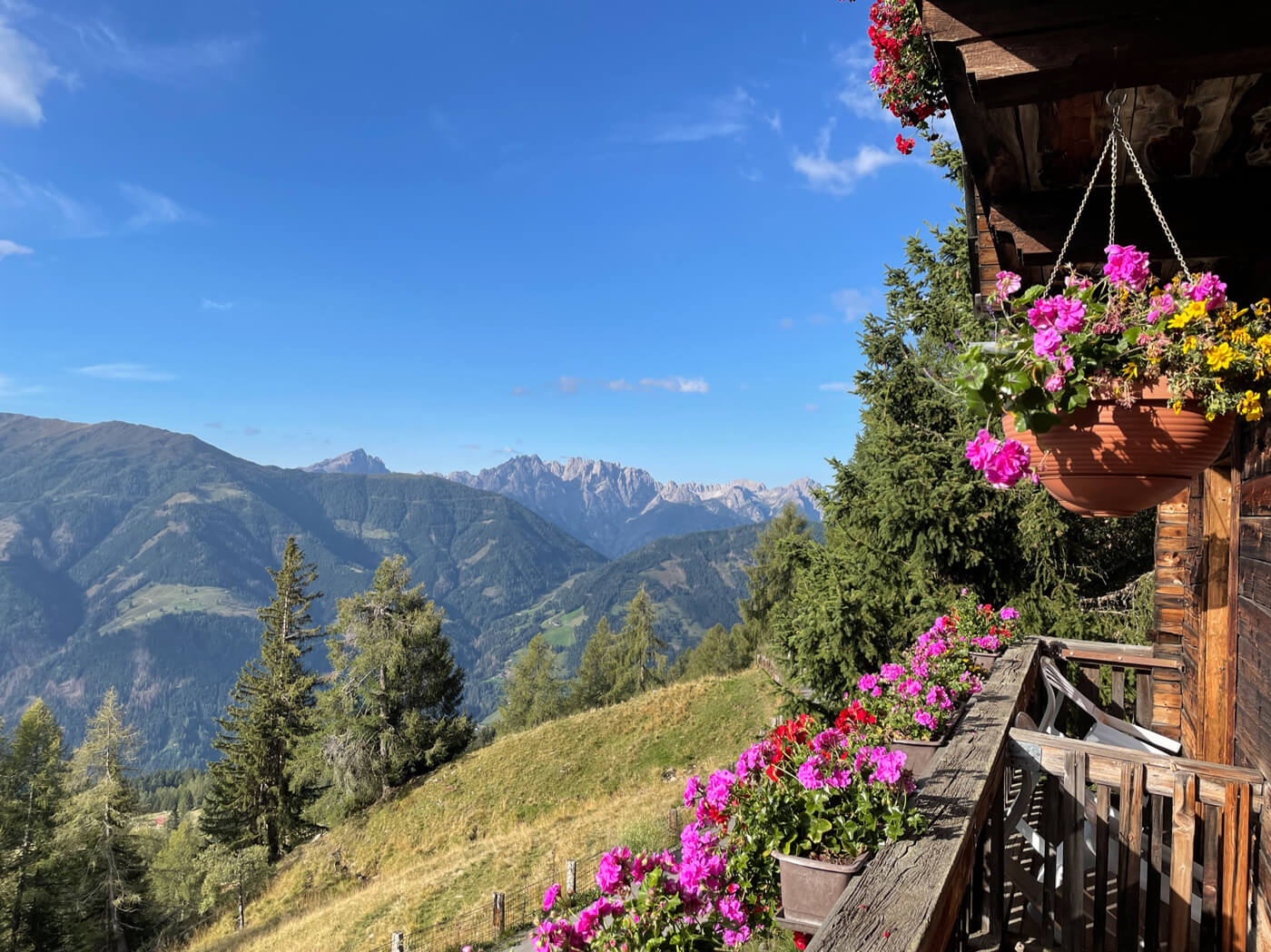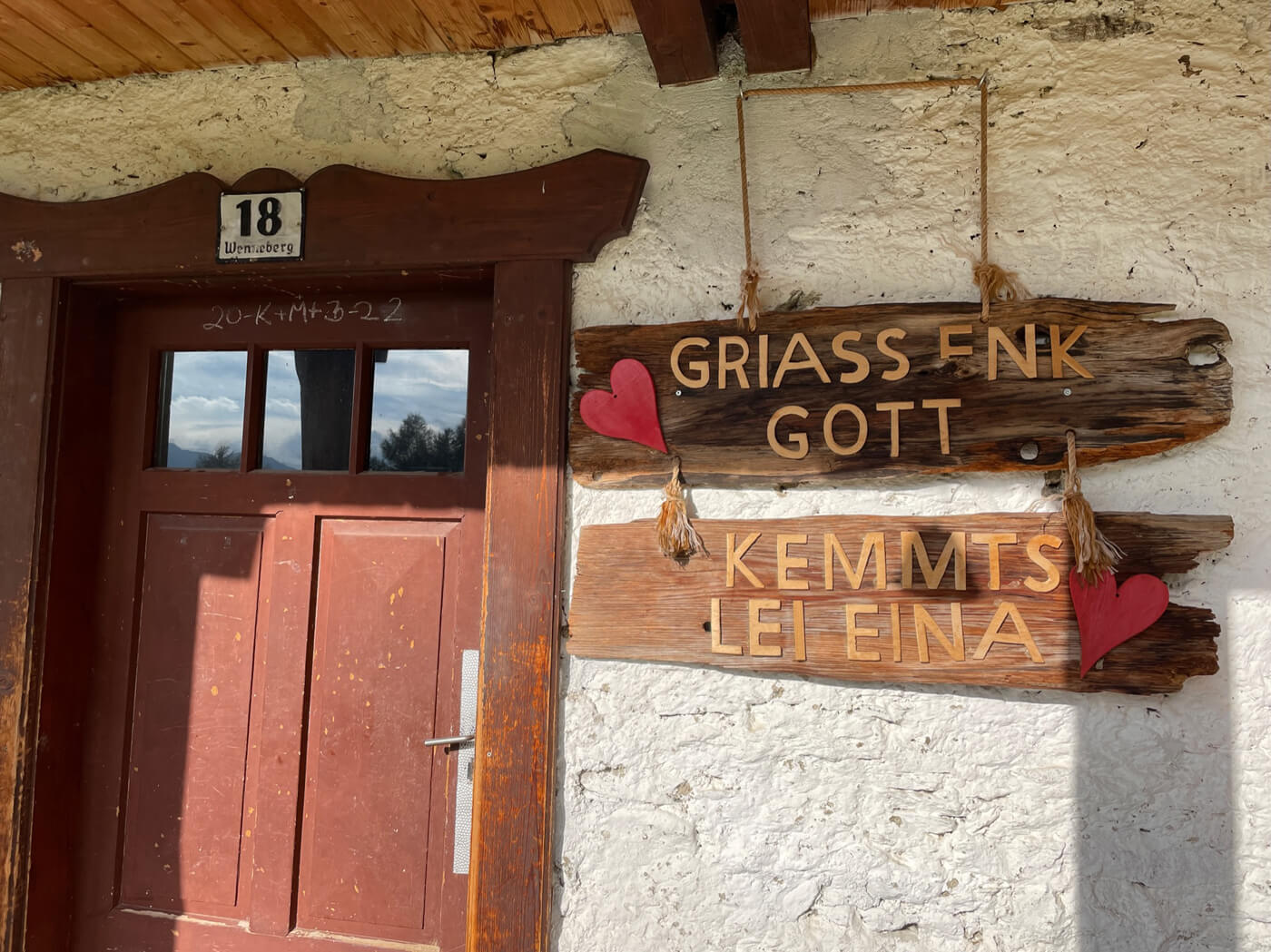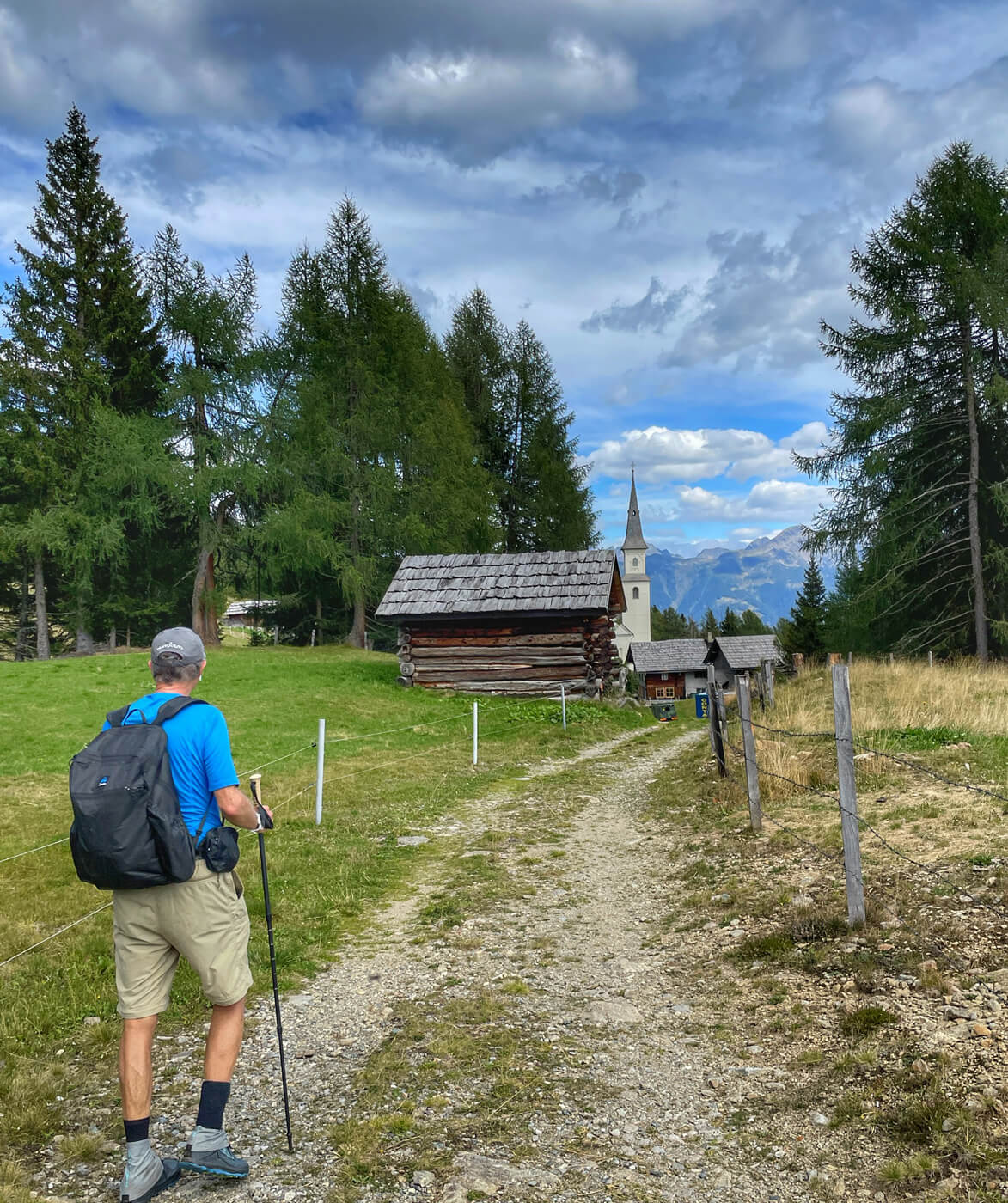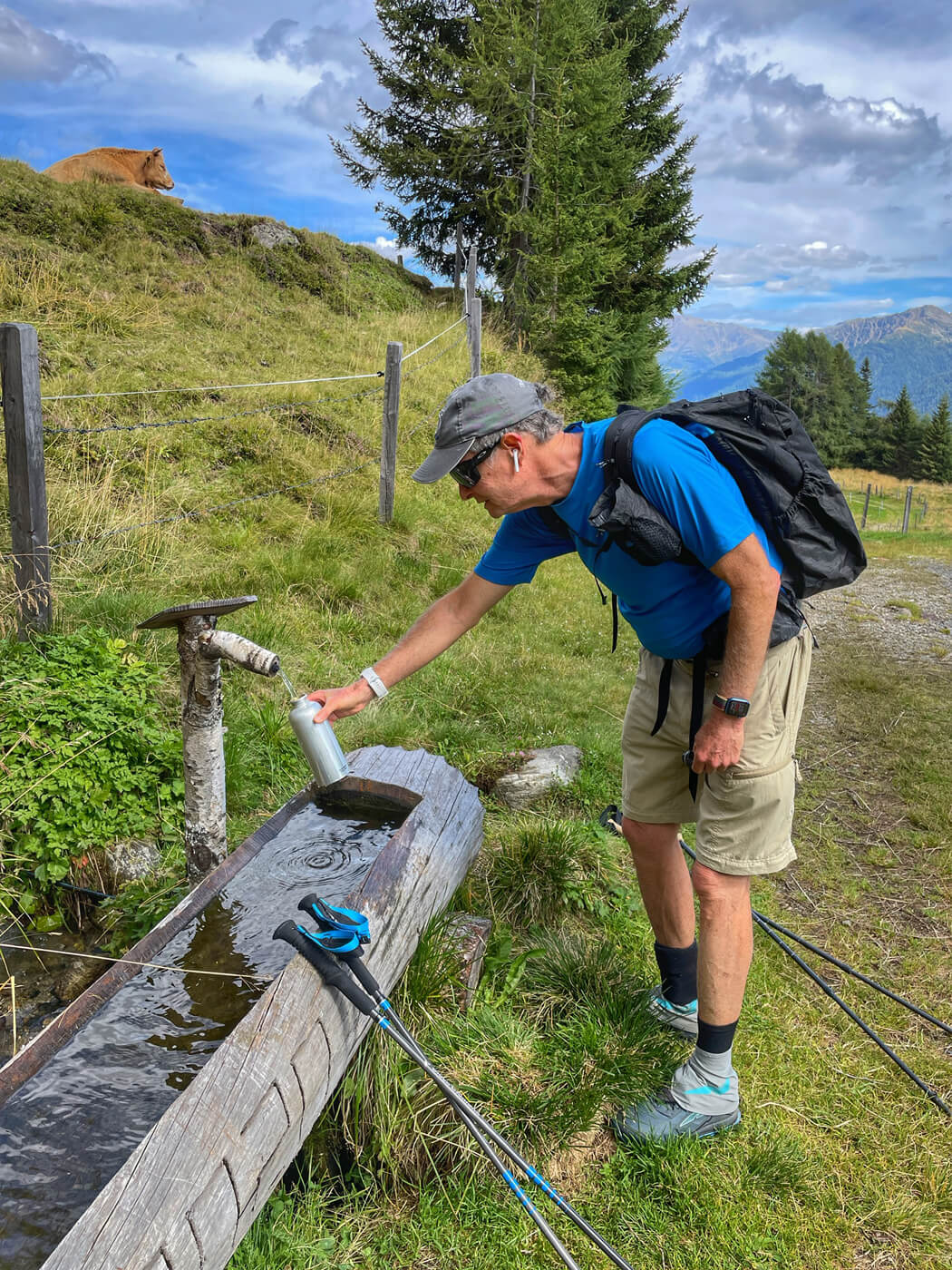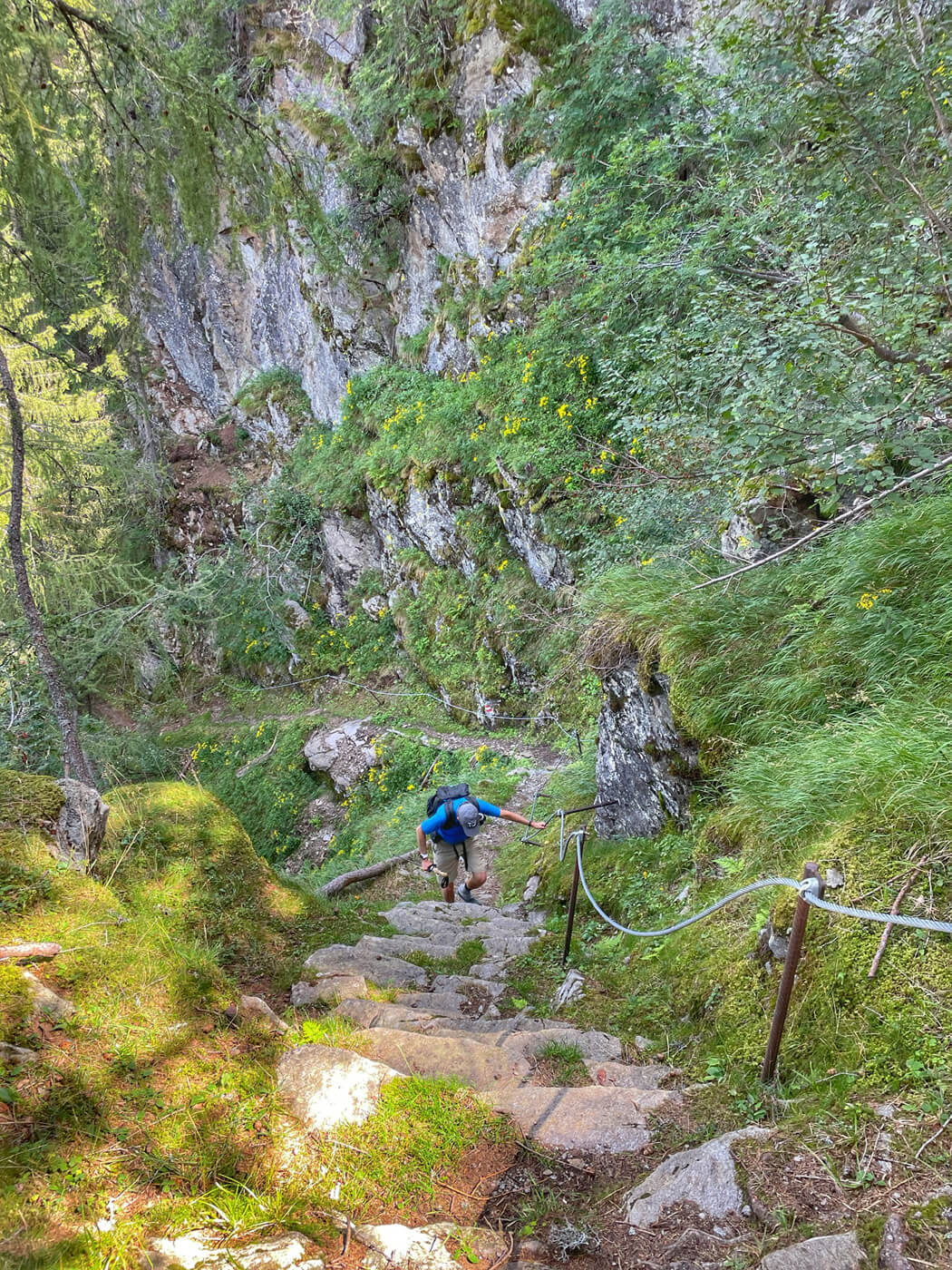 Images by Kathy Dragon